We featured Canadian photographer, Louis Helbig a few weeks ago on our Friday Connect series. We were impressed when we discovered his photographs while reading about the environmental problems associated with the Alberta Tar Sands oil extraction industry.
Mr. Helbig agreed to answer a few questions about his work.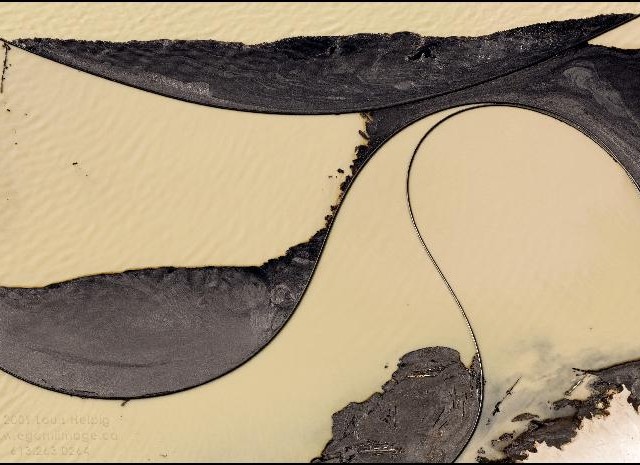 Helbig became interested in photography growing up in Williams Lake, British Columbia, a small logging town in Western Canada.  He first shot pitcures with a Voigtlander camera using 120mm film. Today, he shoots digital photographs from 1000 feet above the ground in a small, two-seater plane. Aerial photography combines his love of photography and flying.
As a young man, Helbig gave up photography to study at the London School of Economics, which led to what he calls a career in "conventional bureaucracy." He admits to being "not very good" at this type of work and he returned to the camera six years ago.  Art is now his full time job. Though, Helbig says that it is only in the last 3 years that he has begun to call himself an artist.
In the summer of 2007, Helbig began the Tar Sands project when he noticed a:
[L]ow-level pervasive buzz in Canada's real time culture, that is in the everyday talk in coffee shops, on door steps, and the many other unsung places where people share what matters with each other. That buzz was all about going to Fort McMurray, Canada's Shangri-La to make one's fortune. Everyone seemed to know someone who had gone or was going, packing up and moving out.
Helbig notes that this migration for money was not being commented on in the Canadian media or politics. It was then that he decided to take to the sky and "shed some light on what was not being addressed in Canada's official institutions, private or public."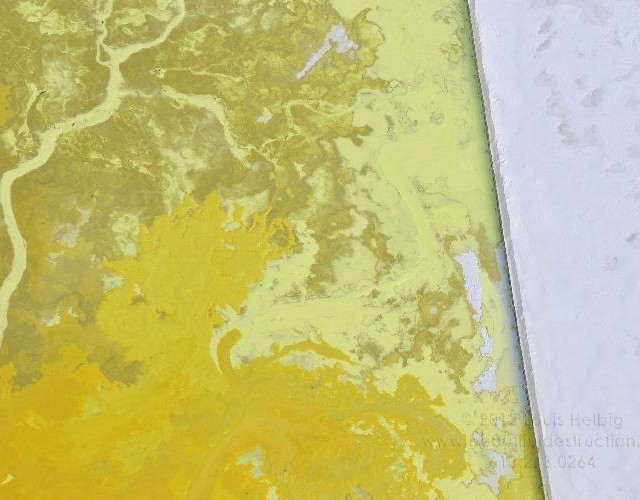 So, what are the Alberta Tar Sands?
The site is home to Athabasca oil sands of northeast Alberta. Oil sands are in 70 countries worldwide, but the largest sites are in Venezuela and, of course, Canada. Estimated in 2003 to contain approximately 174.5 billion barrels of oil, the Alberta Tar Sands energy reserves are held in a mixture of sand, clay, water and bitumen. Bitumen is an extremely viscous form of petroleum that requires extensive processing to separate into a usable product. Bitumen is commonly referred to as tar.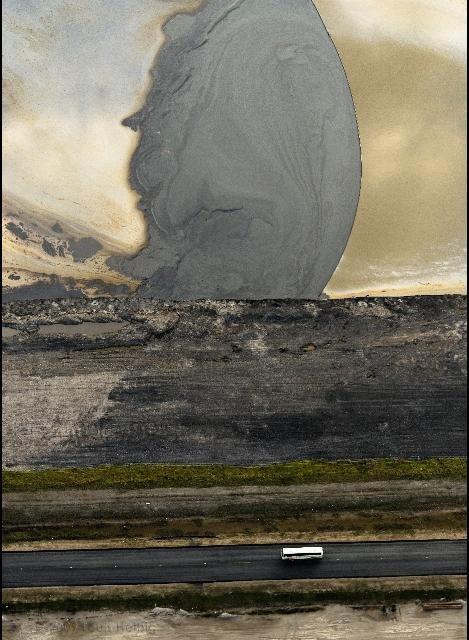 Working with images of the Tar Sands, says Helbig, came from wanting to apply "whatever talent I had/have as an aerial art photographer to something consequential."  He photographed the area in the summer of 2008 and then again in the early part of 2012.
Helbig says that during his recent return to skies over Alberta the public debate around what is happening in Northern Canada has exploded. The Alberta Tar Sands are currently the largest suppliers of oil to the United States outside of the Middle East.  Enbridge, Inc., the large Canadian crude oil company, is proposing to build a new pipeline, named the Northern Gateway Pipeline. This would connect the Tar Sands of Alberta to an international shipping hub in Kitimat, Canada, allowing for the export of crude oil to Asia, thereby expanding the reach of the Tar Sands crude oil industry. There are many who oppose this plan, including First Nations groups who criticize the proposed pipeline because of the potentially negative effect on the health of the environment. The pipeline is set to run through tribal lands and leaks, spills, and or other by products of the crude extraction industry could effect not only the environment but the health of the people who live on that land, say First Nations leaders.  Helbig comments dryly, "The Tar Sands are a big thing. It's the biggest thing in Canada."
Helbig's project is called Beautiful Destruction. A dialectical title that encapsulates the artists complicated view on the issues of the Alberta Tar Sands. He sees and comments on the negative environmental impact of the crude oil industry in Canada, but he is primarily interested in presenting his images and letting the viewer engage with them on their own terms.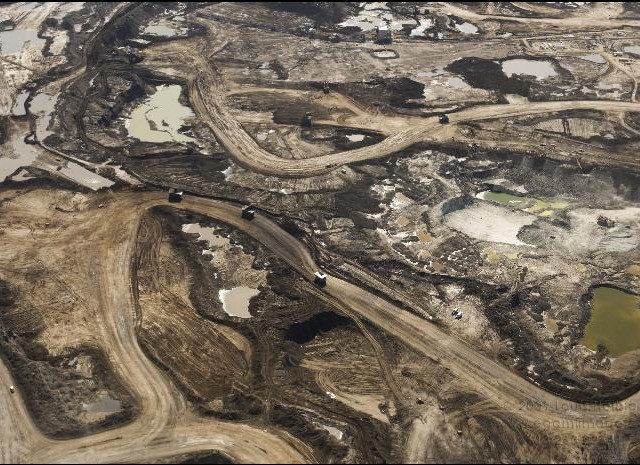 Helbig says:
Many people simply close off their minds when they hear that the photos are of the tar/oil sands. I had one fellow get up in a huff during a presentation I gave at a camera club because he felt that my "message was a well crafted propaganda piece (driven by foreign interest groups) and had no place in the camera club."  His statement … is consistent with industry's fears and messaging which views any imagery as a threat. But I also get the same from the environmental side, where I'm not infrequently condemned for making something so awful appear beautiful. The sooner we can grow up and get real about the issue, and maybe open ourselves up to this art , the better off we might all be.
Even if the photographer himself is not taking sides, we can see the massive impact this resource extraction is having on the landscape of Northern Canada in his photographs and that is an important resource. Helbig wants his images to spark discussion about the issue, and to encourage Canadians and others to engage in the complexties of the Tar Sands project which has been effecting the Canadian environment since 1913.
Note: all images in this post are the property of Louis Helbig. Please visit his website to learn more about the project.
Radio Aktiv Sonic Deep Map (2013)

SUPERKILEN – Extreme Neoliberalism Copenhagen Style

Download our guide:

Video interview:

Watch our interview of SeedBroadcast, a mobile project that is part seed library and part seed-saving-story-collecting machine-recording the stories of seed saving, farming, and food sovereignty work being done around the US.

BOOK: Deep Routes

Bonnie co-edited this collection of essays that reflect on who gets to define a region and what the struggles are in relation to being in a place and demanding social justice across many issues and terrains.

---

Download a poster Bonnie made about biodiversity in a vacant lot in the Amager borough of Copenhagen, in collaboration with biologist, Inger Kærgaard, ornithologist, Jørn Lennart Larsen and botanist, Camilla Sønderberg Brok: A BRIEF TAXONOMY OF A LOT

---

We made and installed a network of bat houses in Urbana, Illinois, to support the local and regional bat population, but also to begin a conversation about re-making the built environment.
READ MORE

---

BOOK REVIEW:

We write often about artists and art groups that work with putting 'culture' back in agriculture. Here is a new favorite: myvillages, a group of three women based in Germany, the Netherlands, and the UK. Read more...