Currently viewing the category: "Living structure"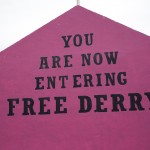 We have often written and talked about our interest in the Living Structures of radical architect, Ken Isaacs. His Matrix system has inspired many aspects of our own home life. The system's clean design and ease of reconfiguration is of both aesthetic and philosophical interest to us.
Continue Reading →
We recently reconfigured our family's co-sleeping, lofted Living Structure (a la Ken Isaacs) into two separate beds. Pictured is our daughter's new Montessori-Living-Structure lowrider! We will make a longer post in a couple of months about this bed after an article we have written about it and other things related to […]
Continue Reading

→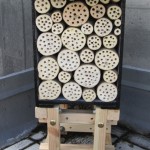 We have a deepening interest in making city habitat for various kinds of creatures. Lately, our activities have been focused on habitat for solitary bees, also known as mason bees.
Here is our newest construction made out of found and re-purposed materials. We built a mini-living structure […]
Continue Reading

→
We have written before about using the Ken Isaacs designed Living Structures system in our home.  The simple grid based system can be used as a starting point for necessary things from shelving to the construction of whole houses. Currently, a Living Structure inspired system is our bed/shelving, providing a more […]
Continue Reading

→
Brett has an old style, heavy duty load carrying bicycle. Made from sturdy metal, the thing can tear down walls. Once, I stopped too quickly in front of him in the bike lane and he crashed into the back of my bike with his. It broke my fender. Pretty serious bike.
Continue Reading →
Ken Isaacs wrote How to Build Your Own Living Structures in 1974.  We built our own Living Structure for sleeping and storing clothes in 2010.
A Living Structure is an organizational system and an idea. Ken Isaacs was an architect and design educator. He is now retired.
[…]
Continue Reading

→
Radio Aktiv Sonic Deep Map (2013)

SUPERKILEN – Extreme Neoliberalism Copenhagen Style

Download our guide:

Video interview:

Watch our interview of SeedBroadcast, a mobile project that is part seed library and part seed-saving-story-collecting machine-recording the stories of seed saving, farming, and food sovereignty work being done around the US.

BOOK: Deep Routes

Bonnie co-edited this collection of essays that reflect on who gets to define a region and what the struggles are in relation to being in a place and demanding social justice across many issues and terrains.

---

Download a poster Bonnie made about biodiversity in a vacant lot in the Amager borough of Copenhagen, in collaboration with biologist, Inger Kærgaard, ornithologist, Jørn Lennart Larsen and botanist, Camilla Sønderberg Brok: A BRIEF TAXONOMY OF A LOT

---

We made and installed a network of bat houses in Urbana, Illinois, to support the local and regional bat population, but also to begin a conversation about re-making the built environment.
READ MORE

---

BOOK REVIEW:

We write often about artists and art groups that work with putting 'culture' back in agriculture. Here is a new favorite: myvillages, a group of three women based in Germany, the Netherlands, and the UK. Read more...