Solitary Bee Habitat: DYRK
We have a deepening interest in making city habitat for various kinds of creatures. Lately, our activities have been focused on habitat for solitary bees, also known as mason bees.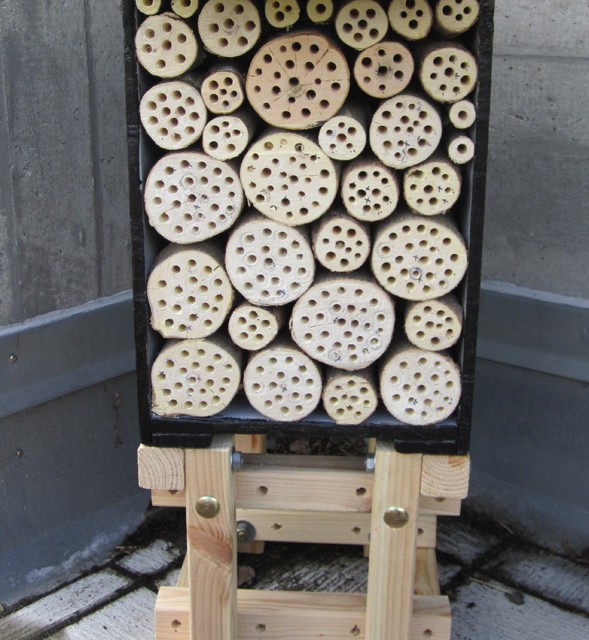 Here is our newest construction made out of found and re-purposed materials. We built a mini-living structure or spaceframe (via our hero, architect, Ken Isaacs) on the bottom of the house so we can potentially connect it to other structures we make in the future. We put it out last Sunday, June 17th, at DYRK, the garden in the sky. We are hoping to attract many solitary bees to bring their pollinating prowess to the garden and the surrounding neighborhood.
Cristian Damgaard and Anders Ca, stewards of DYRK and supporters of our experiments, enlisted the help of young visitors to the garden to push straw in between all the logs that are housed in the old beer crate. We are all hoping that this will attract many unexpected kinds of insects in addition to the bees.
We are starting to work on additional habitats for insects. Our next contribution to DYRK will be an overwintering shelter for insects to help build the natural resources and resilience (deep ecological strength) of the garden.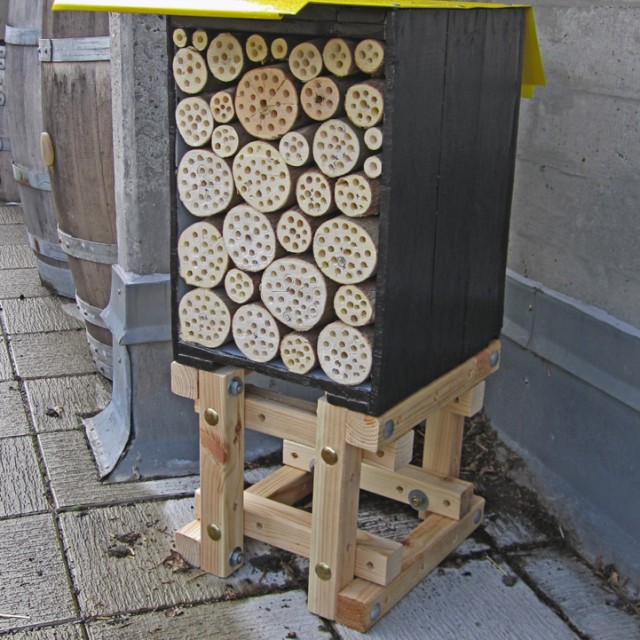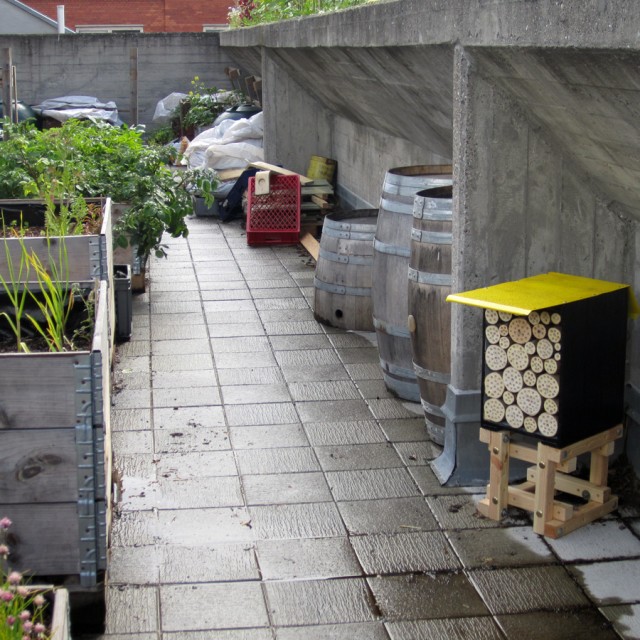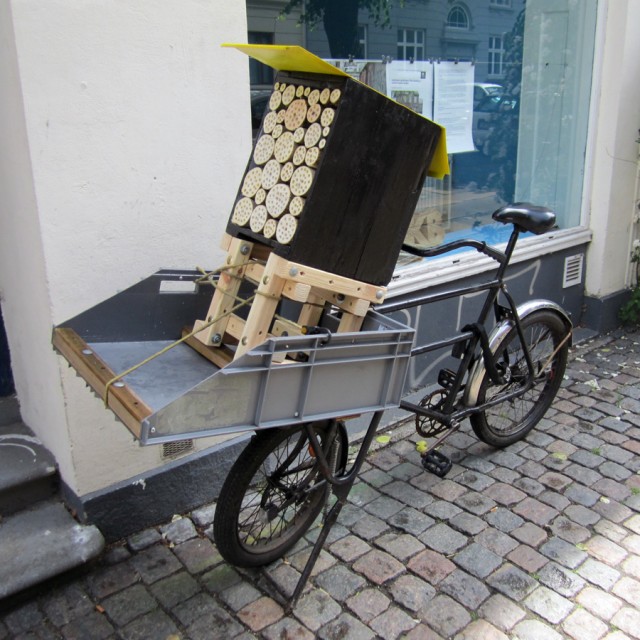 Preferred mode of transportation for the Solitary Bee Habitat
Radio Aktiv Sonic Deep Map (2013)

SUPERKILEN – Extreme Neoliberalism Copenhagen Style

Download our guide:

Video interview:

Watch our interview of SeedBroadcast, a mobile project that is part seed library and part seed-saving-story-collecting machine-recording the stories of seed saving, farming, and food sovereignty work being done around the US.

BOOK: Deep Routes

Bonnie co-edited this collection of essays that reflect on who gets to define a region and what the struggles are in relation to being in a place and demanding social justice across many issues and terrains.

---

Download a poster Bonnie made about biodiversity in a vacant lot in the Amager borough of Copenhagen, in collaboration with biologist, Inger Kærgaard, ornithologist, Jørn Lennart Larsen and botanist, Camilla Sønderberg Brok: A BRIEF TAXONOMY OF A LOT

---

We made and installed a network of bat houses in Urbana, Illinois, to support the local and regional bat population, but also to begin a conversation about re-making the built environment.
READ MORE

---

BOOK REVIEW:

We write often about artists and art groups that work with putting 'culture' back in agriculture. Here is a new favorite: myvillages, a group of three women based in Germany, the Netherlands, and the UK. Read more...