The Powerless Powerpoint lives!
Saturdays in Roskilde include a farmer's market, shopping trips, and ice cream stops. This past Saturday was no different except it was also the ACTS 2014 performance festival, hosted by the Museum of Contemporary Art. Strange droning sounds, pop up performances, and repetitive motions happened around the city. For our contribution to the festival, Brett and I created a new mobile display system with content focused on commenting on the Anthropocene, the recently coined term for the current geological epoch deeply impacted by human society. We worked on designing and printing seven slides with selected letters from the alphabet to articulate anthropogenic concepts.  We then made a ridiculously high sign display system with which to share the printed banners.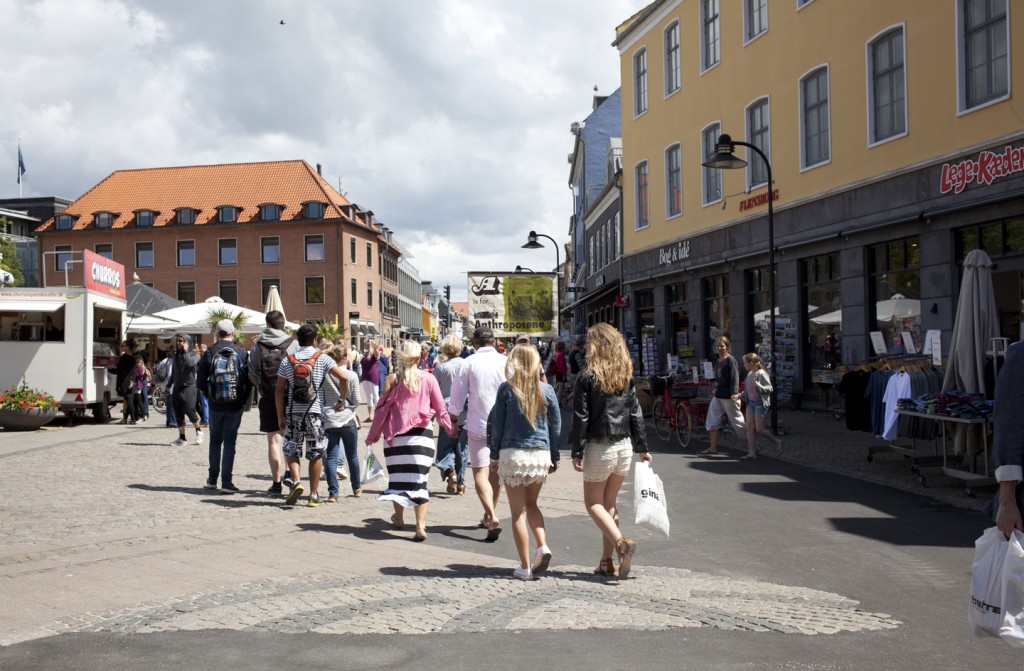 We slowly entered the crowded shopping street in downtown Roskilde with the Powerless Powerpoint: A is for Anthropocene. It towered above the people milling between stores and restaurants, the 1 meter x 1.5 meter banners waving gently in the wind.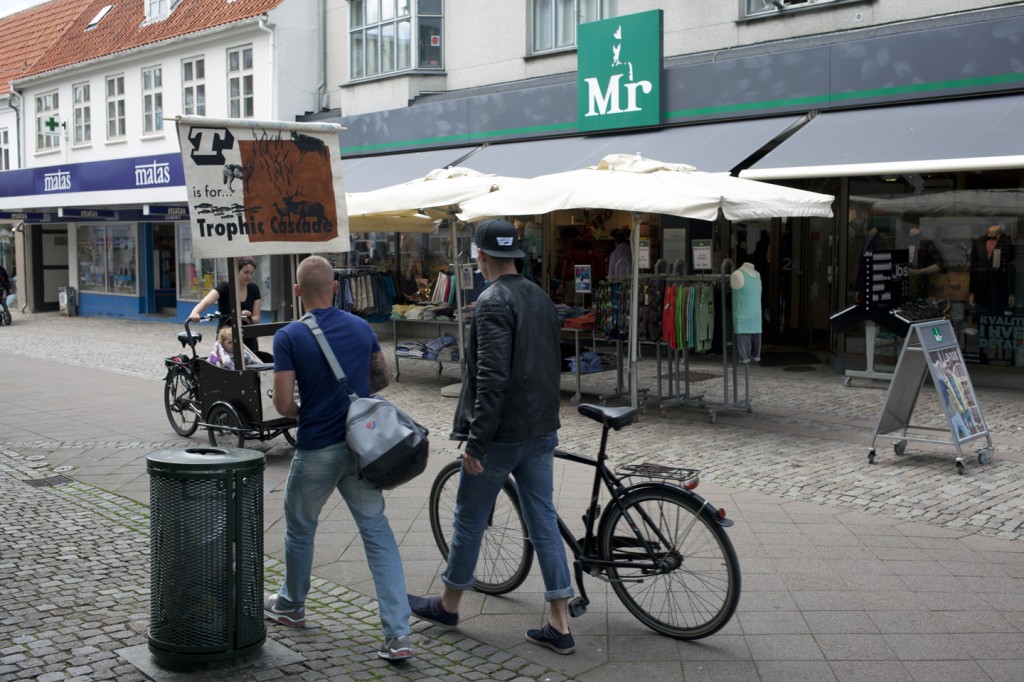 Our giant mobile banner system was our contribution to the performance festival, which included work by artists such as Sharon Hayes, Andrea Geyer, Arendse Krabbe, Ragnhild May, and Anna Lundh, among many others. Though we do not normally create performances as discrete art works—performative activities that often feel like activism do enter our work on a regular basis— we were happy to take part and took this opportunity to make a large scale version of our electricity-free, pedal-powered, moving sign system.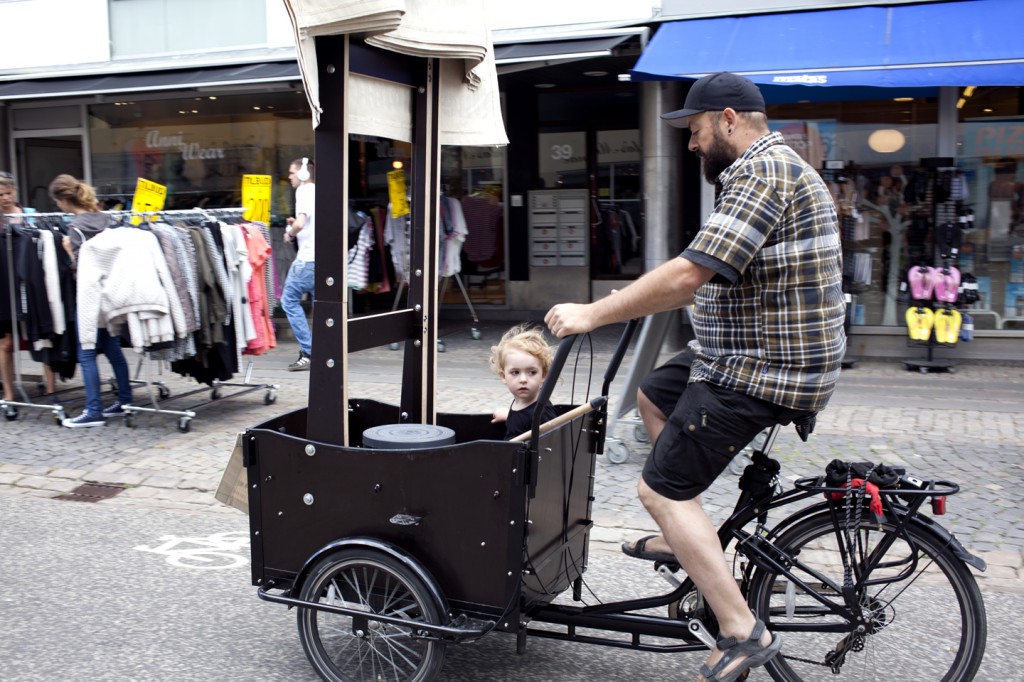 Brett and I took turns riding up and down the shopping street. Hundreds of people saw our presentation, though it is difficult to gage the impact. We received puzzled, sneering, curious and other kinds of glances, but little in the way of comments. Smiles and confused stares were the main acknowledgments. People were too deeply immersed in their shopping experiences to want to step out of them and engage and seemed highly unreceptive to anything that didn't reinforce the ease of their leisure and consumption. Not that we didn't expect passive indifference—it is in fact what is enabling climate change to continue largely unabated to wreak havoc—we  expected a little bit more that the one highly engaged conversation we had.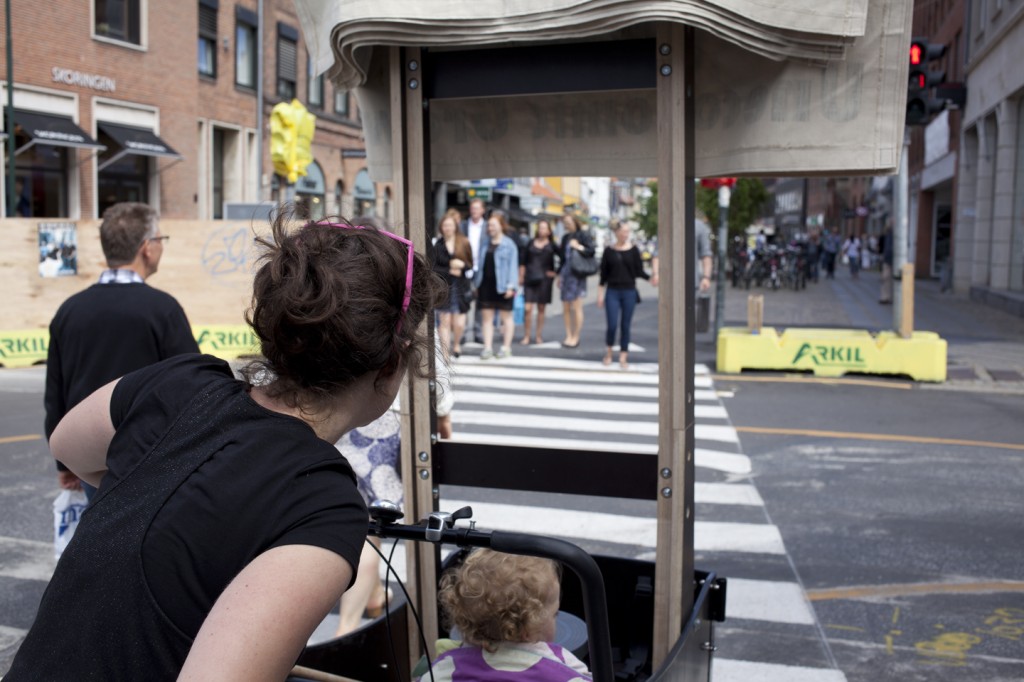 Our daughter, Ada napped for the first few trips, waking up and joining the tour on the third letter of the alphabet. She rode in the wagon of the cargo bike, calmly surveying the scene, but mainly interested in getting ice cream after the production was over.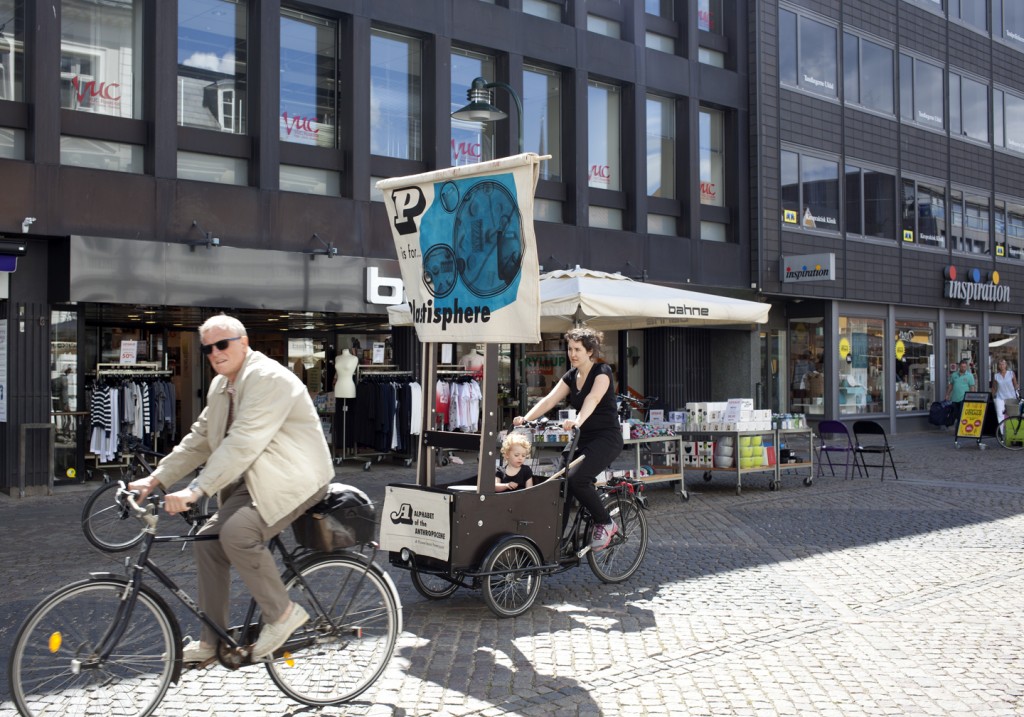 Part of the shopping street is for walking only. We would push the cargo bike for a while and ride for the rest. The giant banner functioned like a sail, moving the bike gently along as we rode.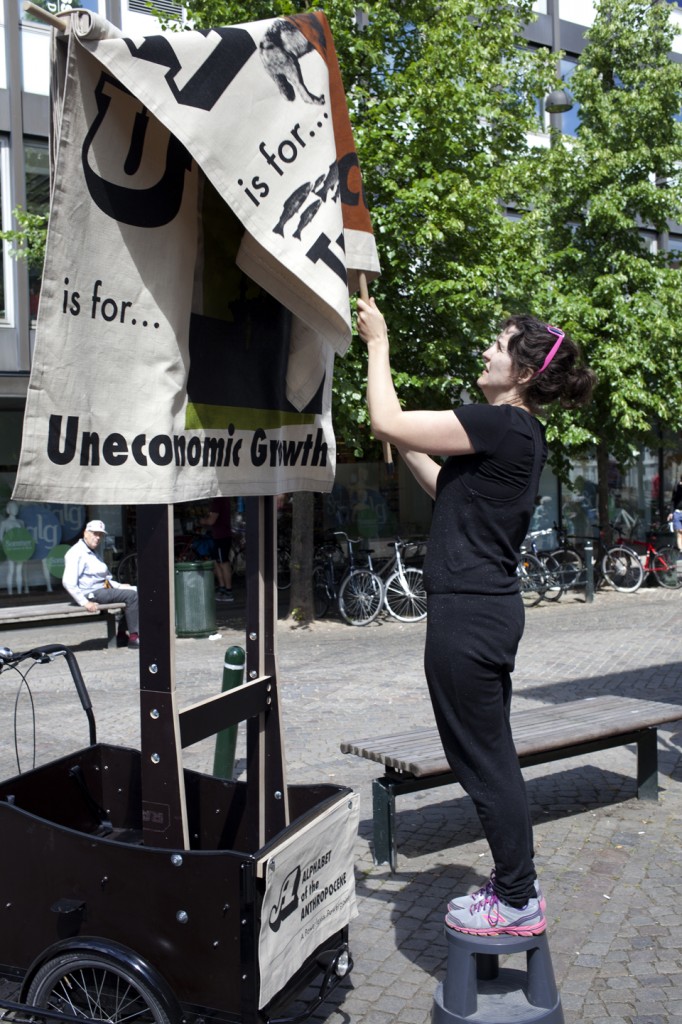 I stood on a step stool to flip each new slide on the mobile display system. With the aid of a broom handle, I cajoled the slides over the top.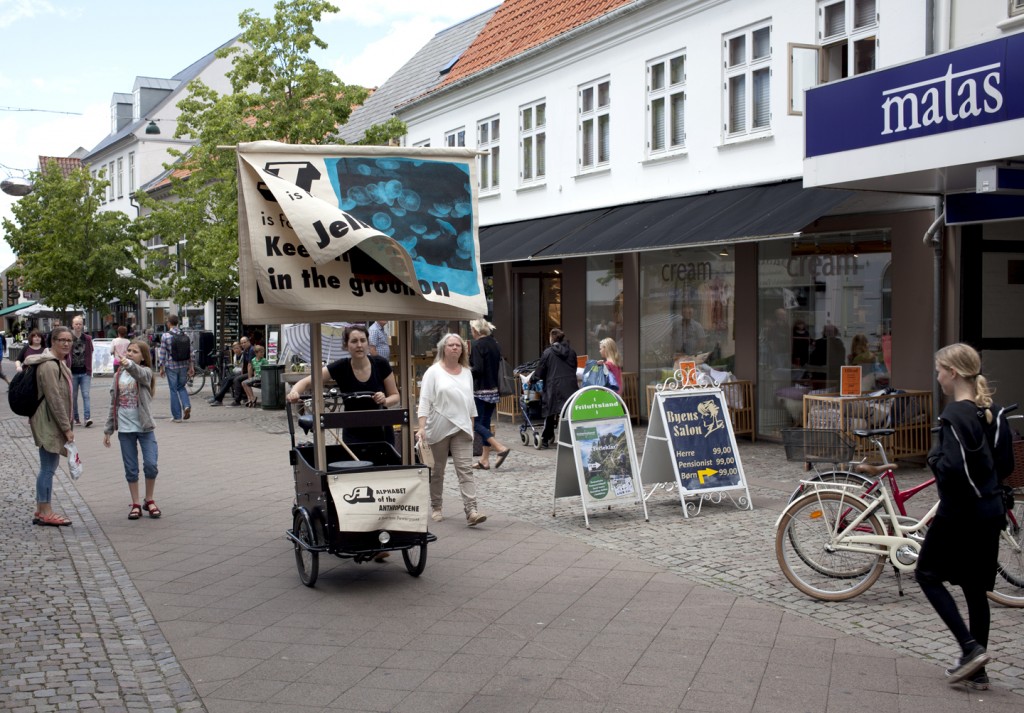 The streets emptied out when the shops closed. We continued our tour until we had displayed all seven of our abbreviated alphabet's letters.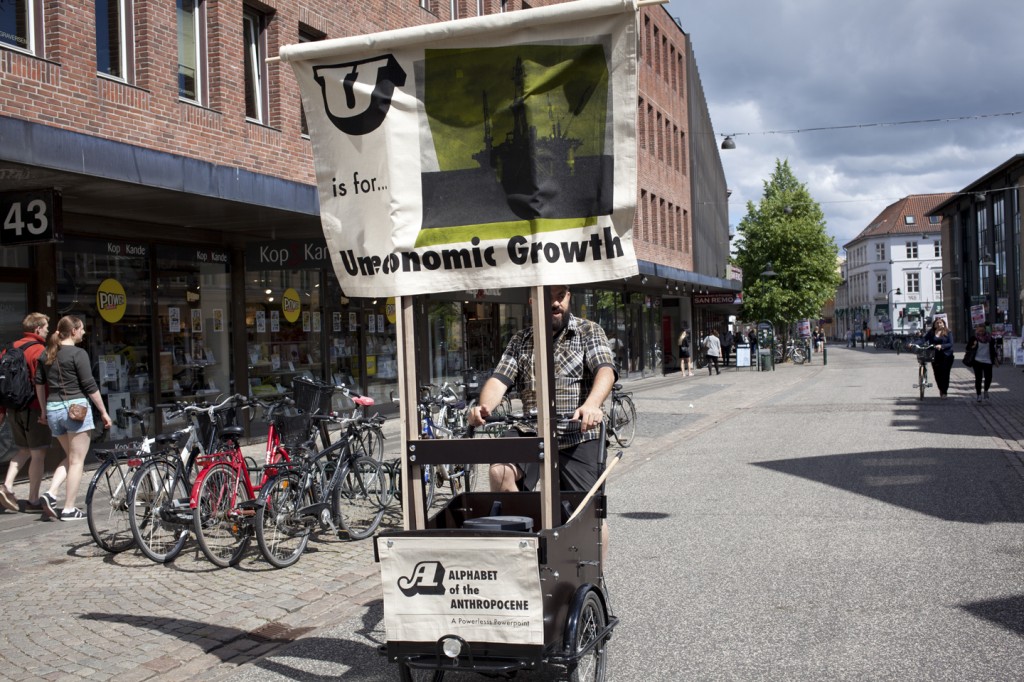 Brett took the final trip with U is for Uneconomic Growth.  For me, this is one of the most important concepts to come out this research because it articulates the problem with a culture focused on limitless growth. ("Uneconomic growth occurs when increases in production come at an expense of resources & well-being worth more than items made.")
He was stopped on this trip by a sympathetic woman who had seen most of the slides and was curious about what we were up to.
We hope to connect with others who are interested in issues of the Anthropocene. We will be making a publication with all of the letters of the alphabet. To see each slide in detail click here.
Thanks again to Judith Schwarzbart, Sanne Kofod Olsen, Helen Nishijo Andersen, Anna Petri, Enrico Passetti and all the other awesome folks at the Museum of Contemporary Art in Roskilde, and the Statens Værksteder for Kunst, for making this possible.
Radio Aktiv Sonic Deep Map (2013)

SUPERKILEN – Extreme Neoliberalism Copenhagen Style

Download our guide:

Video interview:

Watch our interview of SeedBroadcast, a mobile project that is part seed library and part seed-saving-story-collecting machine-recording the stories of seed saving, farming, and food sovereignty work being done around the US.

BOOK: Deep Routes

Bonnie co-edited this collection of essays that reflect on who gets to define a region and what the struggles are in relation to being in a place and demanding social justice across many issues and terrains.

---

Download a poster Bonnie made about biodiversity in a vacant lot in the Amager borough of Copenhagen, in collaboration with biologist, Inger Kærgaard, ornithologist, Jørn Lennart Larsen and botanist, Camilla Sønderberg Brok: A BRIEF TAXONOMY OF A LOT

---

We made and installed a network of bat houses in Urbana, Illinois, to support the local and regional bat population, but also to begin a conversation about re-making the built environment.
READ MORE

---

BOOK REVIEW:

We write often about artists and art groups that work with putting 'culture' back in agriculture. Here is a new favorite: myvillages, a group of three women based in Germany, the Netherlands, and the UK. Read more...