Artist Parents: Antye Greie-Ripatti
We met Antye Greie-Ripatti this past summer in the small Finnish town of Pyhäjoki at Case Pyhäjoki: Artists Respond to Nuclear Influence, a two week retreat bringing together local activists, citizens, and artists from Europe and beyond. Her artist run initiative, Hai Art was an event co-sponsor for Case Pyhäjoki. Antye, aka PoemProducer, aka AGF, aka AGee is orginially from East Germany but now lives on the island of Hailuoto near Pyhäjoki.
When we met Antye she was adamantly arguing against the possible construction of a nuclear power plant close to her home, but anti-nuclear activist is only one of the many hats she wears. Her bio describes her as a vocalist, digital songwriter, producer, performer, e-poet, calligrapher, digital media artist, educator, and curator. We know her as a passionately creative artist, and mother to Lumi, who is ready on a moment's notice to go out to the rocky Finnish coast and create a composition from loud, guttural screams, or to seriously consider the voice and artistic suggestions of her daughter, whom she sees as a true collaborator despite her young age. Antye writes about collaborating with her daughter:
Lumi was with me from day one, she first accompanied me to a show in Italy when she was 9 weeks. We always try to make something, write a song or make a small film. Right now I introduce her to the Internet, to how its made and how it works. I show her code.  She is into math and I figure she would like that. I imagine they don't learn this in school … not to my knowledge, or maybe when they are older like 14, which by that time, they used Internet already a decade.
Lumi has her own (one of our old) computer since she is two, mainly to listen to audio books and watch German sketches. So I want her to understand the medium she is interacting with.
Lumi has been always in and around the studio with us, now when she is older she prefers to make things for herself, she is an artist herself, of course.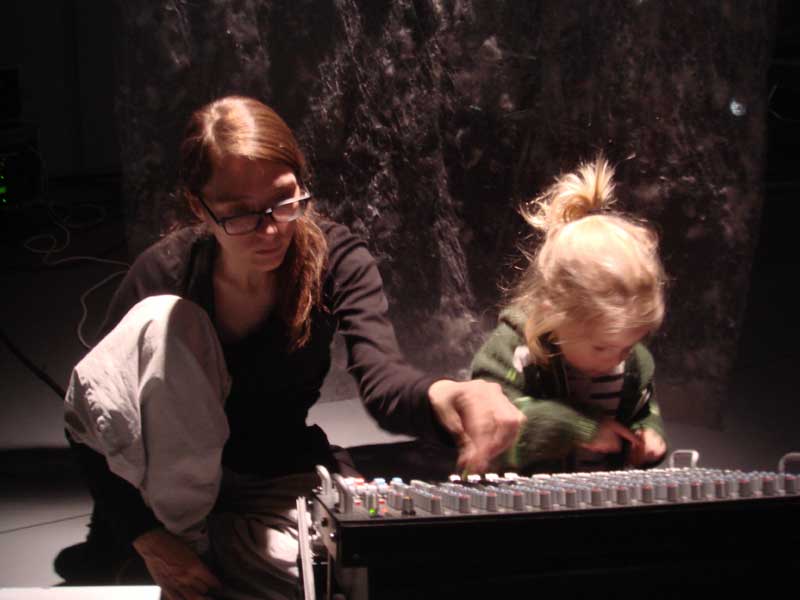 Antye seems to be in constant motion–talking, creating, listening, and composing. Her energy is inspiring and her openness to collaboration even more so.  She  writes:
I find it impossible to work on one project at a time, I imagine that to be a luxury in a world, which is not in crisis since five years or so. All is important. I work on approximately five projects at a time, always. I work from 7am to 11pm everyday with breaks to be with my daughter and partner. Plus, I try to dedicate one hour a day to myself, which is going out to nature or doing yoga. I am an independent artist and most of the time I decide what projects I am committing to. Usually its a mixture of commissions by others, curators, festivals, concert invitations or projects I need to do and find financing or finance it myself.
Right now I am finishing a project, which I ran for two years as artistic director on the Finnish island Hailuoto up north close to Oulu. The project was about transformative art in public and social space. I am working on documentations and reporting which is a necessary process for reflection.
With Hai Art, Antye has collaborated with community members, students and other artists like Juan Duarte Regino to realize projects  in and around the island of Hailuto. Projects like the  SONIC BOAT JOURNEY – "Stones for Pyhajoki" [A live video of the Sonic Boat Journey] , which she collaborated with Ryoko Akama (JP/UK) to realize during the Case Pyhäjoki—an experimental music performance and poetry reading on a boat trip between Hailuto to Pyhäjoki.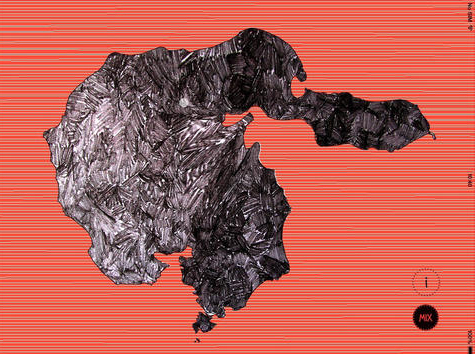 On Hailuto she also curated the educational sonic projects SOUND MAP APP – HAILUOTO – with Juan Duarte Regino and the iPAD ORCHESTRA HAILUOTO [Performance video of iPad Orchestra ]. These two projects involved children and young adults aged 6-24 in the creation of an app for the iPad and sonic composition on the iPad from field recordings.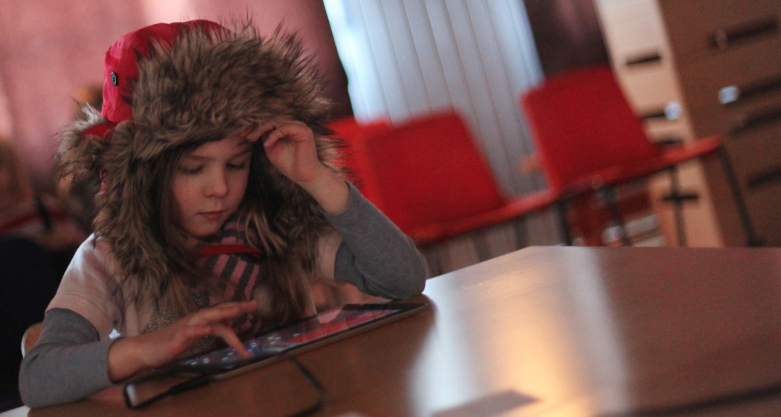 Other curatorial works the prolific AGee has organized include:
ANCHORHOLD – "Community Therapy" – a Grizedale Arts collaboration
SONIC BIKES – "The Marja Trio" by Kaffe Matthews
Interview with the artist for the Sonic Bikes project.
SOUND ROOM – "Impulse" by Anja Erdmann 2013 + "tilt/line" by Carsten Stabenow 2012
Video about the installation "tilt/line"
 ANIMALITY & VULNERABILITY – "A Dance For Cows "with Eija Ranta
KAIKU: Voicing with strangers
More information on this project here.
"Sonic Deep Map" podcast.
She also published via her own record label  AGF Producktion. Recent output from this label includes an album called "Kuuntele" which interprets Finnish poetry in a radical electronic experimental music context. [AGF & Various: Kuuntele]
The role of parenthood in relationship to creative output is also an influence on  Antye's many collaborations. She runs, along with SUE-C, the site  MotherShip documenting projects made by artists with their children. The site is an idiosyncratic and engaging mix of short videos and sound pieces, with drawings and sculptures. (Get in touch if you have made something with your child.)
How in this incredibly packed schedule of teaching, creating, and composing does she make time? It is a question of priorities; Antye writes:
Being a parent is my highest priority, that also means making a living to maintain the base me and my partner built together. Lumi, our daughter is 7 and all she needs to be safe and healthy is coming first. So right now that means get up early, make breakfast be with her until she leaves to school. Be there when she comes back, organize her life and help her to see friends and nuture hobbies. In the afternoon when she plays with friends or dad or is by herself I work more, then her father usually cooks for us and we all eat together. Then we work more and then I spent maybe 1-2 hours with her to listen to her things and bring her to bed. We read, paint, make things listen audio books or music. When she sleeps I work more. When I am exhausted and have no immediate deadline I watch a movie or news, reports, etc.
In conclusion, AGF writes that as an artist parent she feels "more responsible and urgently inspired because the importance of creativity has another dimension."
—
We are pleased to be collaborating with Antye on the Radio Aktiv Sonic Deep Map to be presented by RADIUS in series of broadcasts in Chicago, IL during the month of February. More info on that here.
Radio Aktiv Sonic Deep Map (2013)

SUPERKILEN – Extreme Neoliberalism Copenhagen Style

Download our guide:

Video interview:

Watch our interview of SeedBroadcast, a mobile project that is part seed library and part seed-saving-story-collecting machine-recording the stories of seed saving, farming, and food sovereignty work being done around the US.

BOOK: Deep Routes

Bonnie co-edited this collection of essays that reflect on who gets to define a region and what the struggles are in relation to being in a place and demanding social justice across many issues and terrains.

---

Download a poster Bonnie made about biodiversity in a vacant lot in the Amager borough of Copenhagen, in collaboration with biologist, Inger Kærgaard, ornithologist, Jørn Lennart Larsen and botanist, Camilla Sønderberg Brok: A BRIEF TAXONOMY OF A LOT

---

We made and installed a network of bat houses in Urbana, Illinois, to support the local and regional bat population, but also to begin a conversation about re-making the built environment.
READ MORE

---

BOOK REVIEW:

We write often about artists and art groups that work with putting 'culture' back in agriculture. Here is a new favorite: myvillages, a group of three women based in Germany, the Netherlands, and the UK. Read more...