Survival Strategies for Cultural Workers, The Showroom, London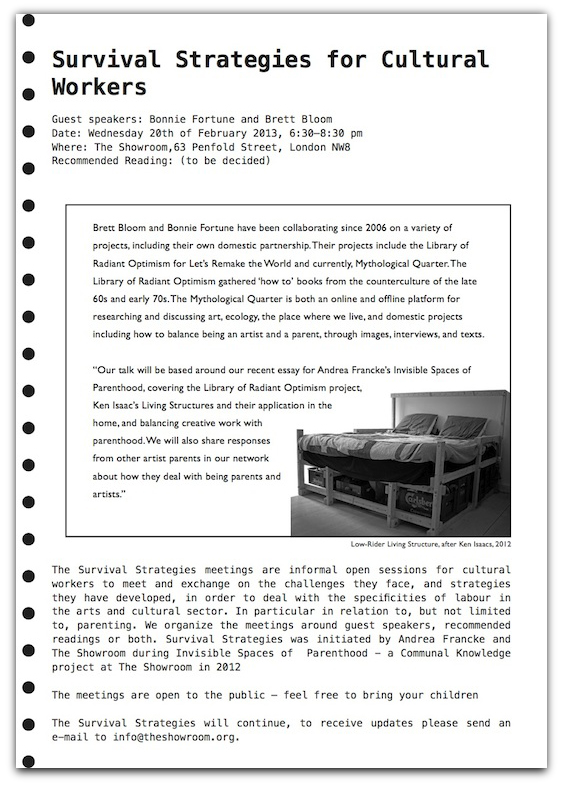 Survival Strategies was initiated by Andrea Francke and The Showroom during Invisible spaces of parenthood: A collection of pragmatic propositions for a better future – a Communal Knowledge project at The Showroom in 2012
The Survival Strategies meetings are informal open sessions for cultural workers to meet and exchange on the challenges they face, and strategies they have developed, in order to deal with the specificities of labour in the arts and cultural sector. In particular in relation to, but not limited to, parenting. We organise the meetings around guest speakers, recommended readings or both.
The meetings are open to the public – feel free to bring your children
For future dates and details please check this page or email: info@theshowroom.org
---
Next meeting:
20 February 2013, 6:30 – 8:30 pm
Speakers: Bonnie Fortune & Brett Bloom
Brett Bloom and Bonnie Fortune have been collaborating since 2006 on a variety of projects, including their own domestic partnership. Their projects include the Library of Radiant Optimism for Let's Remake the World and currently, Mythological Quarter. The Library of Radiant Optimism gathered 'how to' books from the counterculture of the late 60s and early 70s. The Mythological Quarter is both an online and offline platform for researching and discussing art, ecology, the place where we live, and domestic projects including how to balance being an artist and a parent, through images, interviews, and texts.
Bonnie and Brett's talk will be based around their recent essay for Andrea Francke's Andrea Francke's projectISP Manual, covering the Library of Radiant Optimism project, Ken Isaac's Living Structures and their application in the home, and balancing creative work with parenthood. They will also share responses from other artist parents in their own network about how they deal with being parents and artists.
Radio Aktiv Sonic Deep Map (2013)

SUPERKILEN – Extreme Neoliberalism Copenhagen Style

Download our guide:

Video interview:

Watch our interview of SeedBroadcast, a mobile project that is part seed library and part seed-saving-story-collecting machine-recording the stories of seed saving, farming, and food sovereignty work being done around the US.

BOOK: Deep Routes

Bonnie co-edited this collection of essays that reflect on who gets to define a region and what the struggles are in relation to being in a place and demanding social justice across many issues and terrains.

---

Download a poster Bonnie made about biodiversity in a vacant lot in the Amager borough of Copenhagen, in collaboration with biologist, Inger Kærgaard, ornithologist, Jørn Lennart Larsen and botanist, Camilla Sønderberg Brok: A BRIEF TAXONOMY OF A LOT

---

We made and installed a network of bat houses in Urbana, Illinois, to support the local and regional bat population, but also to begin a conversation about re-making the built environment.
READ MORE

---

BOOK REVIEW:

We write often about artists and art groups that work with putting 'culture' back in agriculture. Here is a new favorite: myvillages, a group of three women based in Germany, the Netherlands, and the UK. Read more...