We have written before about using the Ken Isaacs designed Living Structures system in our home.  The simple grid based system can be used as a starting point for necessary things from shelving to the construction of whole houses. Currently, a Living Structure inspired system is our bed/shelving, providing a more efficient use of space in our bedroom. We have also used the Living Structure system for building projects outside the home
.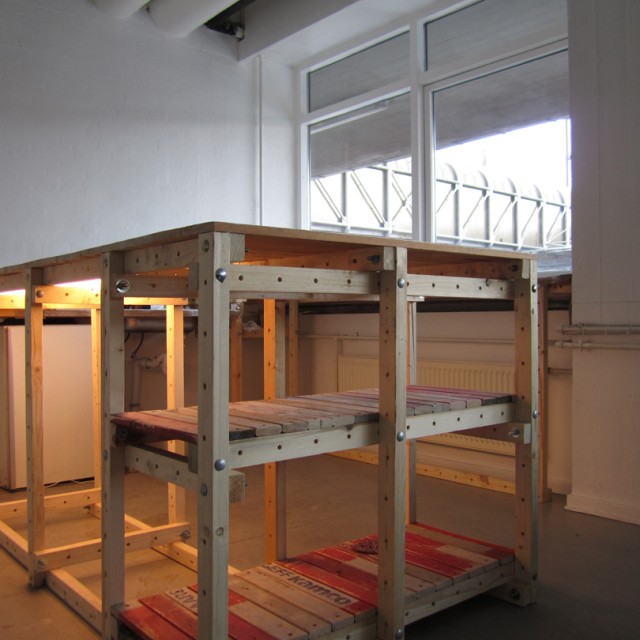 This is a Living Structure inspired bar in the art space, print shop and work space we helped to found in Copenhagen's Vesterbro neighborhood. The bar is made in large part from old pallets as well as store bought wood. The red shelving slats are made from scavenged road construction wood.
Here in Copenhagen, when the city is doing a road construction project, these wooden slats are placed around the construction site to keep people away. They often break and are left behind. We gathered a lot of wood this way to make the shelves on the bar.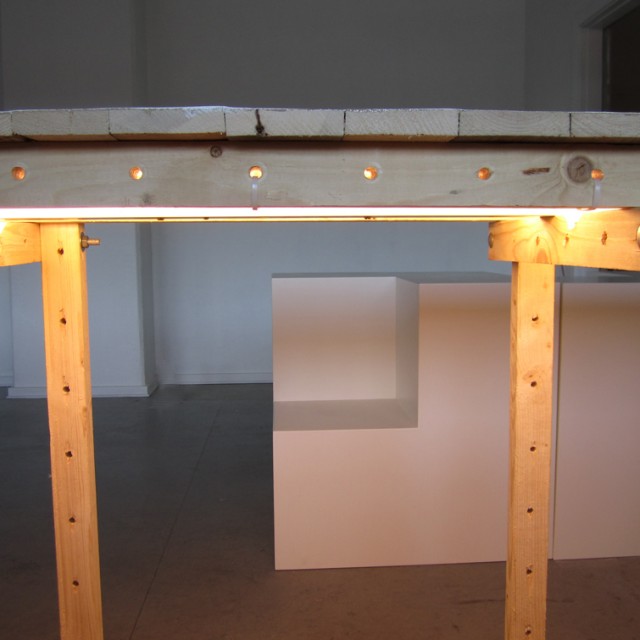 This is a bar and thus bar-shaped. So, it does not completely follow Isaacs's Matrix system, the building block of the Living Structure design based on interlocking squares. It stretches out into more of a rectangle. It is inspired by the Isaacs's system, however, because we kept the flexibility measures of the original Living Structure design. Such as, the evenly space holes for adding more shelving, or for moving existing shelving around. For some finishing touches to this design project, Brett added a light underneath the bar and we coated it all with water proof shellac after painting.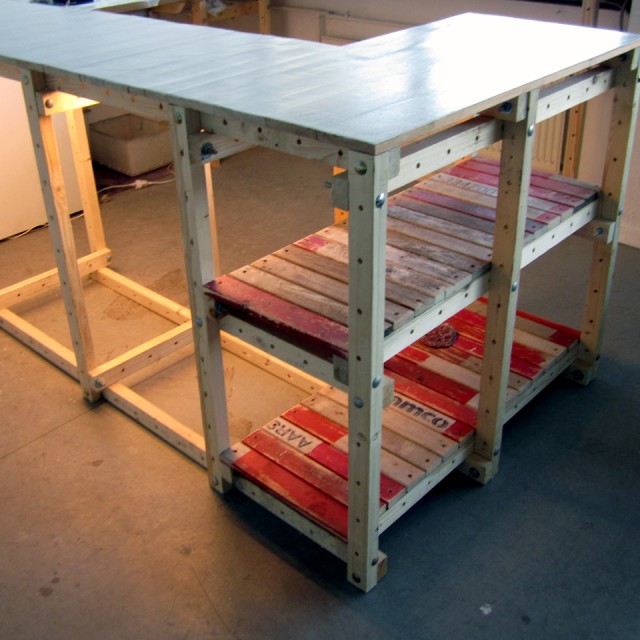 We are interested in shaping the spaces we inhabit with flexible design that maximizes both space use and material use. We keep coming back to the Living Structure system to inspire design solutions that fulfill these needs.
Radio Aktiv Sonic Deep Map (2013)

SUPERKILEN – Extreme Neoliberalism Copenhagen Style

Download our guide:

Video interview:

Watch our interview of SeedBroadcast, a mobile project that is part seed library and part seed-saving-story-collecting machine-recording the stories of seed saving, farming, and food sovereignty work being done around the US.

BOOK: Deep Routes

Bonnie co-edited this collection of essays that reflect on who gets to define a region and what the struggles are in relation to being in a place and demanding social justice across many issues and terrains.

---

Download a poster Bonnie made about biodiversity in a vacant lot in the Amager borough of Copenhagen, in collaboration with biologist, Inger Kærgaard, ornithologist, Jørn Lennart Larsen and botanist, Camilla Sønderberg Brok: A BRIEF TAXONOMY OF A LOT

---

We made and installed a network of bat houses in Urbana, Illinois, to support the local and regional bat population, but also to begin a conversation about re-making the built environment.
READ MORE

---

BOOK REVIEW:

We write often about artists and art groups that work with putting 'culture' back in agriculture. Here is a new favorite: myvillages, a group of three women based in Germany, the Netherlands, and the UK. Read more...