What is a better way to calm down traffic on a busy street? Cities use speed bumps or concrete stanchions. If neighbors take traffic into their own hands, they are likely to get more creative.
For example, Portland, Oregon's City Repair, is famous for their colorfully painted traffic calming projects. Giant sunflowers painted in a roundabout quickly slow down busy city streets. The non-for-profit group calls their process of transforming a concrete street into something more attractive "placemaking." Their slogan is, "Transforming space into place." Besides traffic calming projects, they host workshops on ecological building, bioregionalism, and urban planning and design.
Here in Copenhagen, we found a nice example of neighborhood creativity around city space use on Vævergade in Nørrebro. A series of strategically placed raised beds, or high beds, slow down traffic and pretty up the place.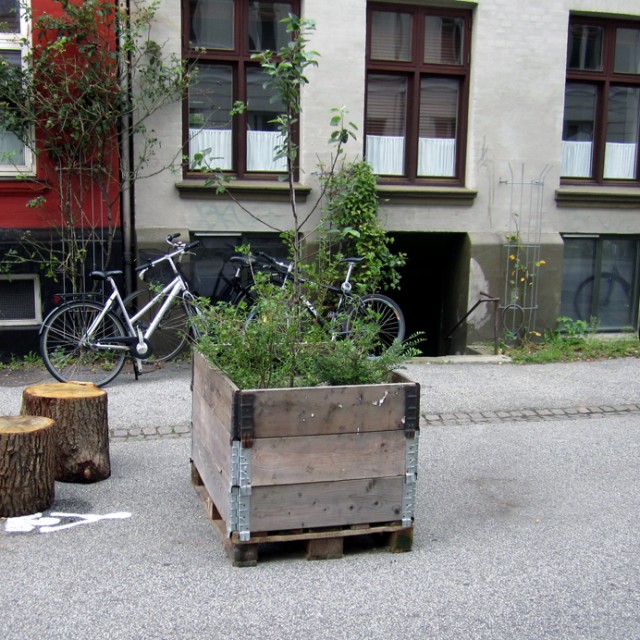 The high beds are made with pallets and collapsible wood and metal frames filled with dirt. They seem to be growing various herbs, trees, and bushes. Nothing too labor intensive, but enough to sprout extra green in the area. Beside each bed are wood stumps for sitting and chatting with your neighbor.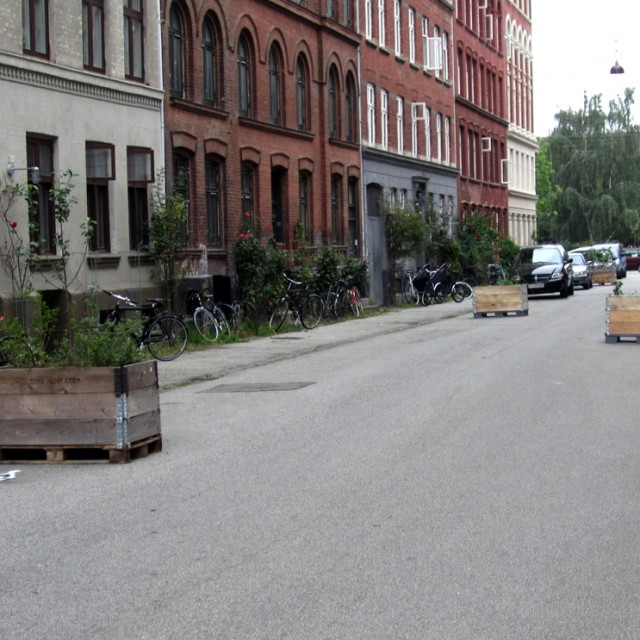 The high beds are designed to slow down fast cars and encourage people to sit and talk in a greener space. All important parts of building a sustainable neighborhood.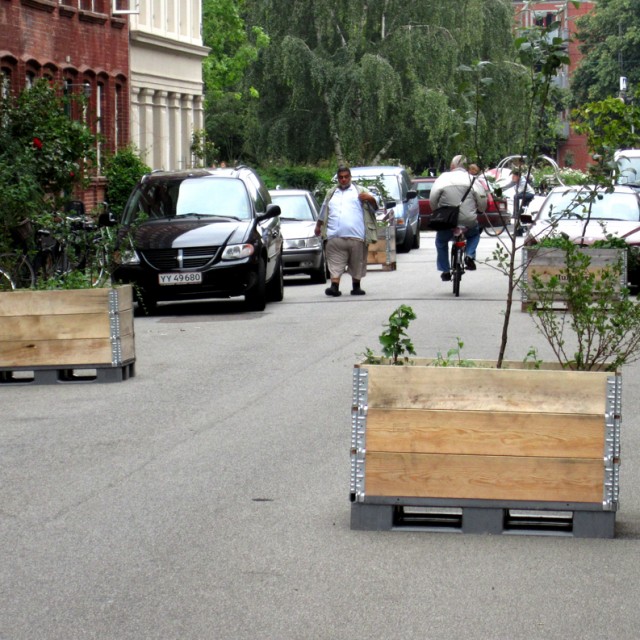 We are not sure who put these amazing beds up, but if you have an idea let us know.
Radio Aktiv Sonic Deep Map (2013)

SUPERKILEN – Extreme Neoliberalism Copenhagen Style

Download our guide:

Video interview:

Watch our interview of SeedBroadcast, a mobile project that is part seed library and part seed-saving-story-collecting machine-recording the stories of seed saving, farming, and food sovereignty work being done around the US.

BOOK: Deep Routes

Bonnie co-edited this collection of essays that reflect on who gets to define a region and what the struggles are in relation to being in a place and demanding social justice across many issues and terrains.

---

Download a poster Bonnie made about biodiversity in a vacant lot in the Amager borough of Copenhagen, in collaboration with biologist, Inger Kærgaard, ornithologist, Jørn Lennart Larsen and botanist, Camilla Sønderberg Brok: A BRIEF TAXONOMY OF A LOT

---

We made and installed a network of bat houses in Urbana, Illinois, to support the local and regional bat population, but also to begin a conversation about re-making the built environment.
READ MORE

---

BOOK REVIEW:

We write often about artists and art groups that work with putting 'culture' back in agriculture. Here is a new favorite: myvillages, a group of three women based in Germany, the Netherlands, and the UK. Read more...