Brett has an old style, heavy duty load carrying bicycle. Made from sturdy metal, the thing can tear down walls. Once, I stopped too quickly in front of him in the bike lane and he crashed into the back of my bike with his. It broke my fender. Pretty serious bike.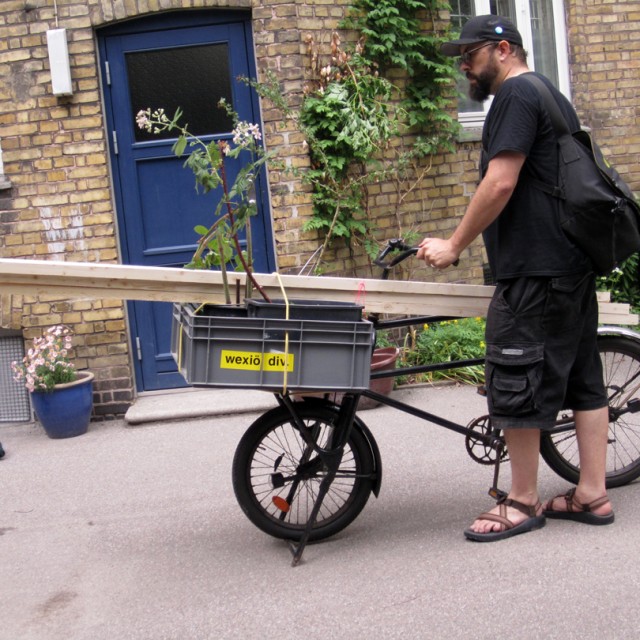 These bikes are experiencing a resurgence in popularity here in Copenhagen. You see a lot around town from old, rusted out, black ones, recently rescued from the trash heap, to refurbished ones with sparkling paint jobs and mudflaps.
For non-Copenhagen readers, this type of cycle is a working cycle, as such, many have a place to stick a name plate between the two metal support bars running from front to seat. Originally used for advertising one's business as you biked around town hauling your gear on the front, now they have become decorative place holders. Brett's is blank right now, but he hopes to add a sign one day.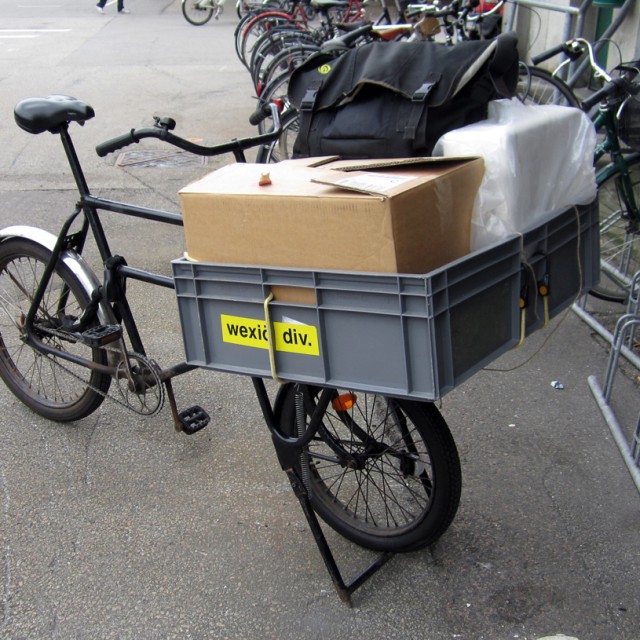 Recently, after pushing the load cycle to the limit hauling books and a used sewing machine, Brett decided to modify the bike to be able to carry more things more efficiently.
In the past if he wanted to extend the front metal platform, he would bungee on the big, grey bin you see in the images. Overall this system worked, but it was a little wobbly and unstable. It also creaked like crazy, making for an unpleasant riding experience. So, he took his power saw to the old, grey bin – modifying it for a stream-lined load cycle with extended carrying capacity. The new bin carrier is turned toward the front and cut at a sharp angle. The bungee cords are still in use for holding things in place.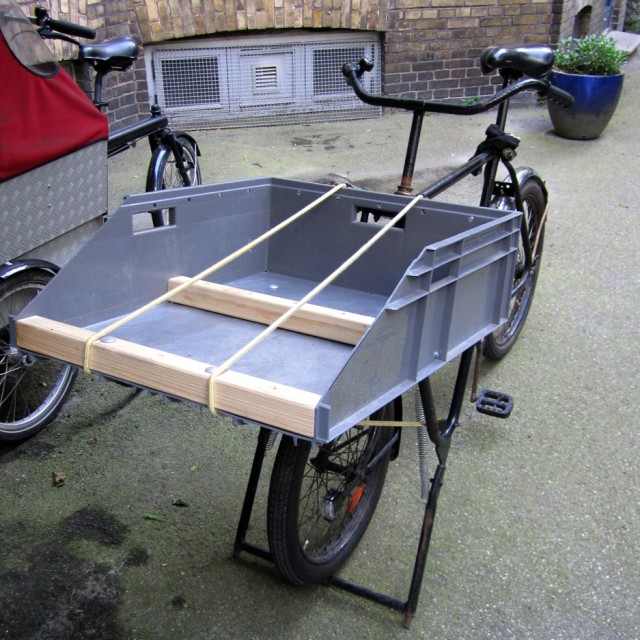 The grey bin hack includes wooden supports that attach to the existing metal platform. This way it doesn't move, providing more stability for heavier hauls. The wooden supports are Living Structure proportional, in keeping with our favorite building system.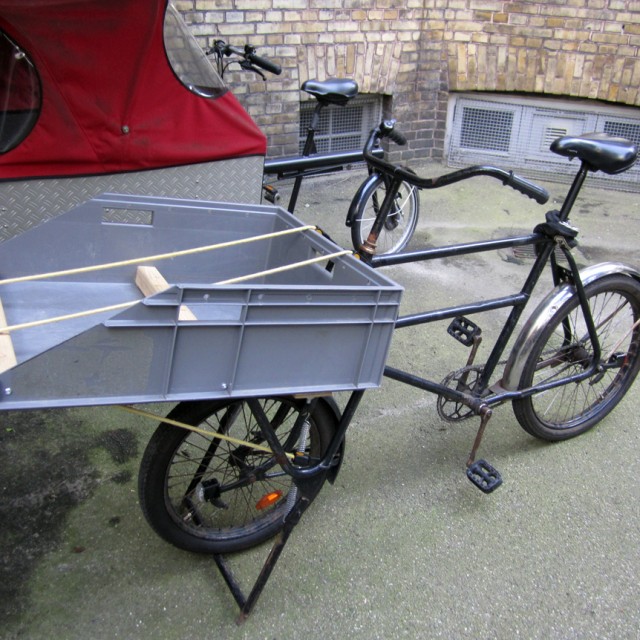 A super hacked load cycle project.
Radio Aktiv Sonic Deep Map (2013)

SUPERKILEN – Extreme Neoliberalism Copenhagen Style

Download our guide:

Video interview:

Watch our interview of SeedBroadcast, a mobile project that is part seed library and part seed-saving-story-collecting machine-recording the stories of seed saving, farming, and food sovereignty work being done around the US.

BOOK: Deep Routes

Bonnie co-edited this collection of essays that reflect on who gets to define a region and what the struggles are in relation to being in a place and demanding social justice across many issues and terrains.

---

Download a poster Bonnie made about biodiversity in a vacant lot in the Amager borough of Copenhagen, in collaboration with biologist, Inger Kærgaard, ornithologist, Jørn Lennart Larsen and botanist, Camilla Sønderberg Brok: A BRIEF TAXONOMY OF A LOT

---

We made and installed a network of bat houses in Urbana, Illinois, to support the local and regional bat population, but also to begin a conversation about re-making the built environment.
READ MORE

---

BOOK REVIEW:

We write often about artists and art groups that work with putting 'culture' back in agriculture. Here is a new favorite: myvillages, a group of three women based in Germany, the Netherlands, and the UK. Read more...