Halloween struck in the Mythological Quarter last night.
We started off with a pumpkin carving workshop at YNKB , a long time art space in the MQ run by a large network of artists. It is an open cultural space that hosts sporadic art shows, talks, screenings, and events.
Several families came out to make some 'jack-0-lanterns.' We shared apple cake and hot cider. We even got some 'trick-or-treaters'–a couple of rockers, a witch, and a wizard.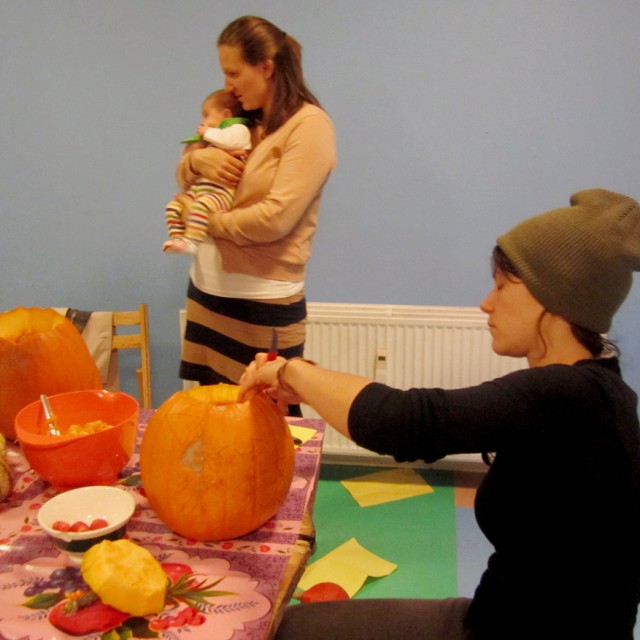 Ada and I had costumes.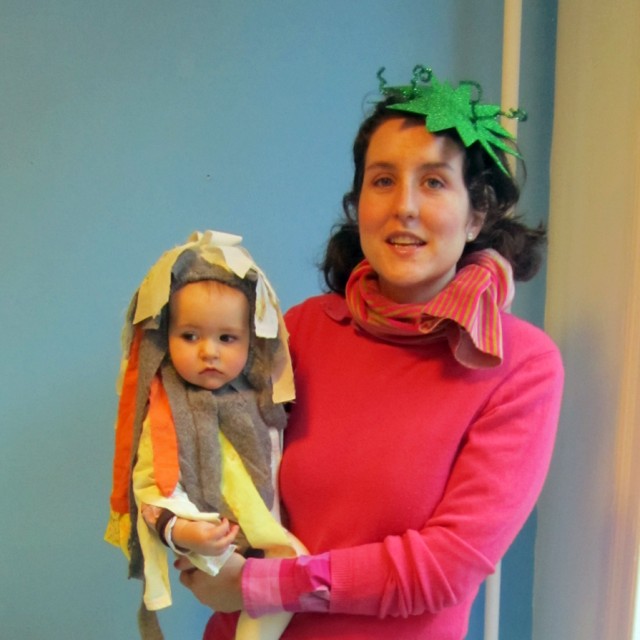 I was a strawberry (out of season fruit is always scary) and Ada was a Wilderman of the Mythological Quarter.  Brett made her costume after becoming inspired by Charles Fréger's photographs of "wilder mann," ritualistic costumes from around European farming communities. Men dress up as strange beasts using fur, plants, ribbons, and masks with exaggerated features as part of ancient pagan rituals to celebrate and acknowledge the life cycle–birth, death, fertility, etc. Fréger traveled from Finland to Spain documenting these costumes.  So, for Ada's first Halloween she is decked out in ritualistic pagan fashion.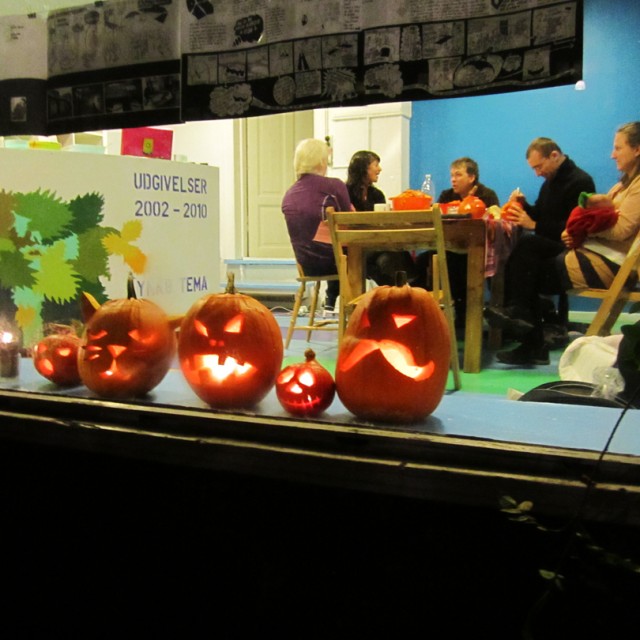 Later in the evening, we went over to Astrid Noacks Atelier for a concert with Shelley Short and Darren Hanlon. More images of that special event coming soon.
Thanks to the Røde Rose Kaffebar for loaning their hotpot for the cider.
It was a happy Halloween connecting neighborhood cultural institutions with friends and family.
Radio Aktiv Sonic Deep Map (2013)

SUPERKILEN – Extreme Neoliberalism Copenhagen Style

Download our guide:

Video interview:

Watch our interview of SeedBroadcast, a mobile project that is part seed library and part seed-saving-story-collecting machine-recording the stories of seed saving, farming, and food sovereignty work being done around the US.

BOOK: Deep Routes

Bonnie co-edited this collection of essays that reflect on who gets to define a region and what the struggles are in relation to being in a place and demanding social justice across many issues and terrains.

---

Download a poster Bonnie made about biodiversity in a vacant lot in the Amager borough of Copenhagen, in collaboration with biologist, Inger Kærgaard, ornithologist, Jørn Lennart Larsen and botanist, Camilla Sønderberg Brok: A BRIEF TAXONOMY OF A LOT

---

We made and installed a network of bat houses in Urbana, Illinois, to support the local and regional bat population, but also to begin a conversation about re-making the built environment.
READ MORE

---

BOOK REVIEW:

We write often about artists and art groups that work with putting 'culture' back in agriculture. Here is a new favorite: myvillages, a group of three women based in Germany, the Netherlands, and the UK. Read more...