Urban habitat: Sheltering a bird flock
On a daily walk around the neighborhood, I noticed an urban habitat site that I hadn't seen before.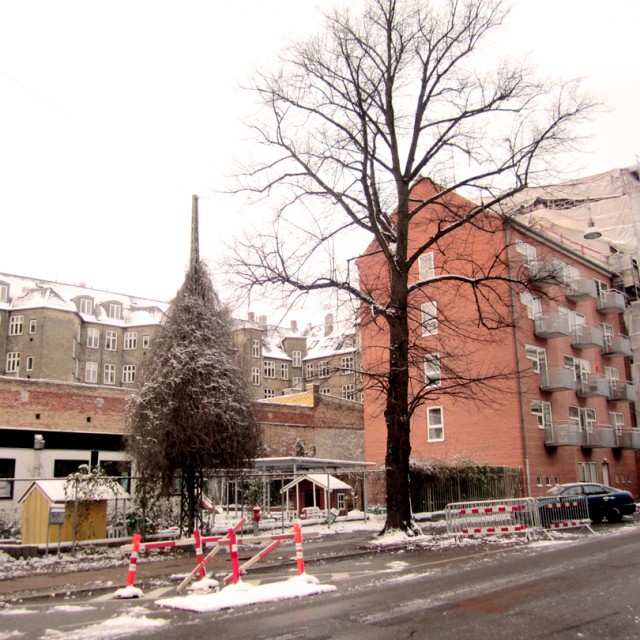 A metal tower is playing host to this large bush. The tower's primary purpose is holding up the street lighting architecture, but it's secondary purpose has overtaken it in form and function. The bush disguises the tower's sharp lines and angles behind a curving, organic pear shape–the home of a flock of birds.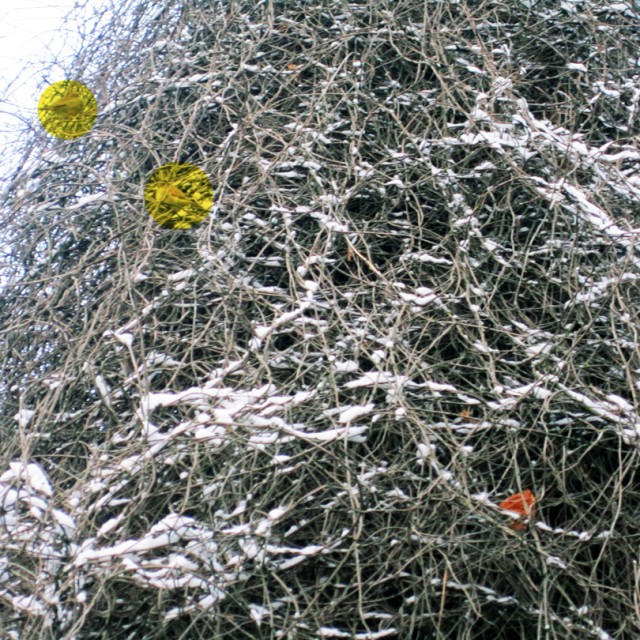 I visited the impromptu bird sanctuary on a snowy day. The flock was still. Here you can barely see two little birds (house/tree sparrows?) nestled into the sprawling bush, sheltered from the snow. The city has trimmed the bottom to allow people to walk on the sidewalk, but seems to be leaving the upper half alone.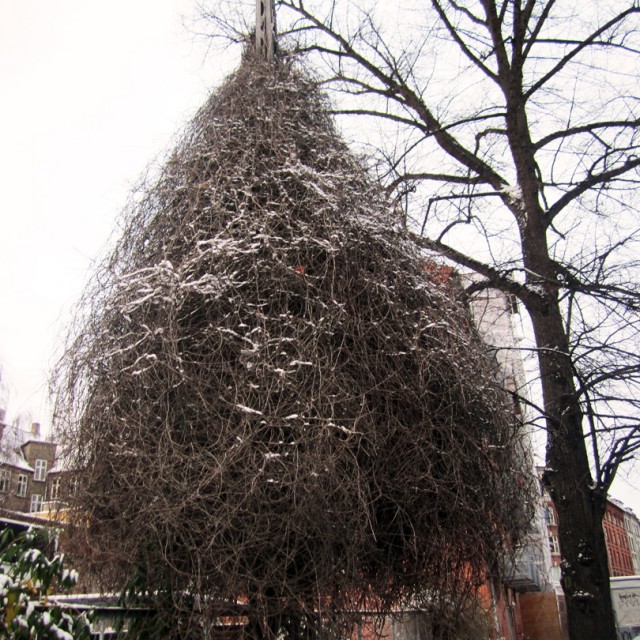 This scraggly bush adds wildness to the street. Accidental habitats are great. Overgrown vines make especially good ones, but what if the city worked habitat into its fabric in a more intetional manner–planning ahead for the inevitable interaction of wildlife.
Radio Aktiv Sonic Deep Map (2013)

SUPERKILEN – Extreme Neoliberalism Copenhagen Style

Download our guide:

Video interview:

Watch our interview of SeedBroadcast, a mobile project that is part seed library and part seed-saving-story-collecting machine-recording the stories of seed saving, farming, and food sovereignty work being done around the US.

BOOK: Deep Routes

Bonnie co-edited this collection of essays that reflect on who gets to define a region and what the struggles are in relation to being in a place and demanding social justice across many issues and terrains.

---

Download a poster Bonnie made about biodiversity in a vacant lot in the Amager borough of Copenhagen, in collaboration with biologist, Inger Kærgaard, ornithologist, Jørn Lennart Larsen and botanist, Camilla Sønderberg Brok: A BRIEF TAXONOMY OF A LOT

---

We made and installed a network of bat houses in Urbana, Illinois, to support the local and regional bat population, but also to begin a conversation about re-making the built environment.
READ MORE

---

BOOK REVIEW:

We write often about artists and art groups that work with putting 'culture' back in agriculture. Here is a new favorite: myvillages, a group of three women based in Germany, the Netherlands, and the UK. Read more...