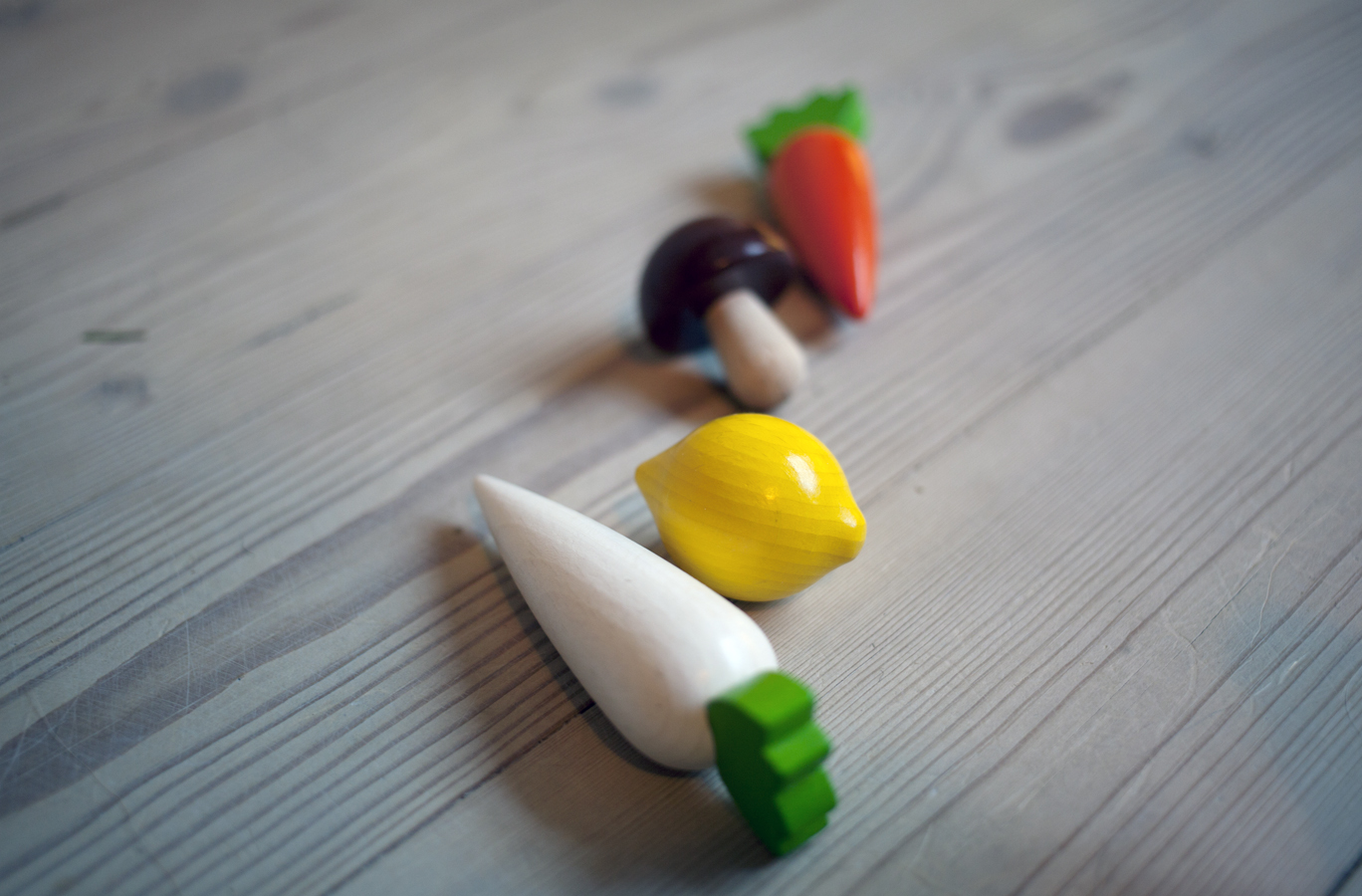 Our daughter received a set of wooden vegetables for her birthday– a radish, a lemon, a mushroom, and a carrot. The sharp, clean lines and shiny, bright colors, are both like and unlike real vegetables–like because of accurate color portrayal but unlike because no vegetable, worth eating, is so free from dirt or imperfections. When we get carrots from the food co-op, we fill up the kitchen skin with black dirt cleaning them for eating. Knots and bumps, whorls and lumps, clumps of dirt, bug bites, and many other things mark the surface of fresh produce showing that it came from the ground, the tree, or the bush, that it is connected to something beyond the plate and fork that you are eating it with.
Fake food is continually a popular toy for children. From wooden vegetables, to plastic peas, to Play-doh pizza making kits, kids love reenacting this integral part of being alive.  I like that she can play with these vegetables and we can start a discussion about where our food comes from, even at this young age.
Radio Aktiv Sonic Deep Map (2013)

SUPERKILEN – Extreme Neoliberalism Copenhagen Style

Download our guide:

Video interview:

Watch our interview of SeedBroadcast, a mobile project that is part seed library and part seed-saving-story-collecting machine-recording the stories of seed saving, farming, and food sovereignty work being done around the US.

BOOK: Deep Routes

Bonnie co-edited this collection of essays that reflect on who gets to define a region and what the struggles are in relation to being in a place and demanding social justice across many issues and terrains.

---

Download a poster Bonnie made about biodiversity in a vacant lot in the Amager borough of Copenhagen, in collaboration with biologist, Inger Kærgaard, ornithologist, Jørn Lennart Larsen and botanist, Camilla Sønderberg Brok: A BRIEF TAXONOMY OF A LOT

---

We made and installed a network of bat houses in Urbana, Illinois, to support the local and regional bat population, but also to begin a conversation about re-making the built environment.
READ MORE

---

BOOK REVIEW:

We write often about artists and art groups that work with putting 'culture' back in agriculture. Here is a new favorite: myvillages, a group of three women based in Germany, the Netherlands, and the UK. Read more...