Maker spaces in the new Make/Shift
I am super excited to be part of issue no. 14 of make/shift: feminisms in motion, the independent feminist culture magazine edited and published by Jess Hoffmann and DariaYudacufski.
My article, Queering the Hackerspace at Ms. Baltazar's Laboratory and Beyond focuses on the work of Stefanie Wuschitz and Lesley Flanigan, two artists who travel the world leading art and technology workshops for women and women identified persons only. The article discusses the work these two inspiring women do in the context of the global hacker and maker space movement and it includes information on other initiatives to achieve gender parity in art/tech and hacker communities.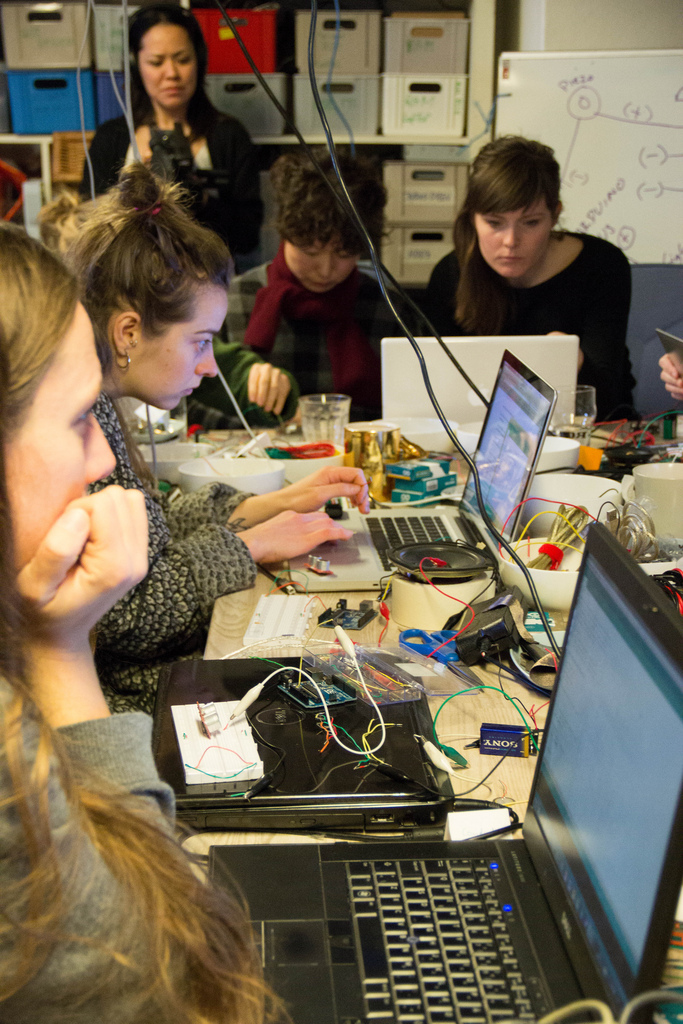 Here is an excerpt from the article:
Like many hackerspaces, Mz. Baltazar's Laboratory (the feminist hacker/maker space, Wuschitz started in Vienna) wants to encourage technology users (now most of us) to become active participants rather than passive consumers. Wuschitz has noticed that women hold on to a "fear of breaking something" when interacting with electronics. In her Tedx talk, she argues that from an early age men are encouraged to do these things while women are not. She now begins workshops by encouraging women to break things, keeping old mobile phones or computers on hand in the MBL space so there is never a lack of spare parts. A recent workshop for young girls had them breaking keyboards and other electronic equipment, then reassembling the pieces to make futuristic dolls. Wuschitz says that the process of demonstrating taking apart a mobile phone to reuse the speakers and motor for an electronic art piece both demystifies the technology and encourages workshop participants by modelling active female led technology experimentation. Through both methods trans and cis women can gain more confidence to take apart and experiment on the ubiquitous technologies that shape our daily lives.
"I always thought of myself as one of the guys. I never thought I needed extra help to work with electronics because I was female," says Lesley Flanigan, a New York based electronic musician who uses her voice and the specialized instruments she makes to create what she calls "physical electronic music." Sceptical at first of Wuschitz's idea to hold women and trans only electronic arts workshops, Flanigan was convinced after a powerful and liberating experience at the first workshop they led together.  She says:
 The fact that I even thought of myself as being "just one of the guys" is problematic. It shows that technologies are not gender neutral. If you are working with electronics in a mixed gender space, the guys are guys, and women become "one of the guys."
Support independent culture and order a copy of 
make/shift 
here
. Then you can read the rest of the article along with other pieces by Nomy Lamm, Jessica Lawless, and Meg Stone among many other inspiring people.
Radio Aktiv Sonic Deep Map (2013)

SUPERKILEN – Extreme Neoliberalism Copenhagen Style

Download our guide:

Video interview:

Watch our interview of SeedBroadcast, a mobile project that is part seed library and part seed-saving-story-collecting machine-recording the stories of seed saving, farming, and food sovereignty work being done around the US.

BOOK: Deep Routes

Bonnie co-edited this collection of essays that reflect on who gets to define a region and what the struggles are in relation to being in a place and demanding social justice across many issues and terrains.

---

Download a poster Bonnie made about biodiversity in a vacant lot in the Amager borough of Copenhagen, in collaboration with biologist, Inger Kærgaard, ornithologist, Jørn Lennart Larsen and botanist, Camilla Sønderberg Brok: A BRIEF TAXONOMY OF A LOT

---

We made and installed a network of bat houses in Urbana, Illinois, to support the local and regional bat population, but also to begin a conversation about re-making the built environment.
READ MORE

---

BOOK REVIEW:

We write often about artists and art groups that work with putting 'culture' back in agriculture. Here is a new favorite: myvillages, a group of three women based in Germany, the Netherlands, and the UK. Read more...