This is number 6 in our seriesof posts on apartment search signs. We are attracted to these signs because they are handmade expressions of personal need in public space and the people making them chose to use this method in an increasingly digital world. They also describe Copenhagen, a city that has huge challenges with affordable housing.
Recently the student group, Hjemløse Studerende (Homeless Students), attempted to squat an empty building in Copenhagen to draw attention to the problem. The city has promised to build more student housing, but the projected rents for the planned construction would still be cost prohibitive (5,000 kr/around $900).
But students are not the only people needing affordable housing–single mothers, immigrants, among others–need affordable shelter.
Here are three new signs spotted around Copenhagen's Nørrebro neighborhood from a diverse selection of apartment hunters.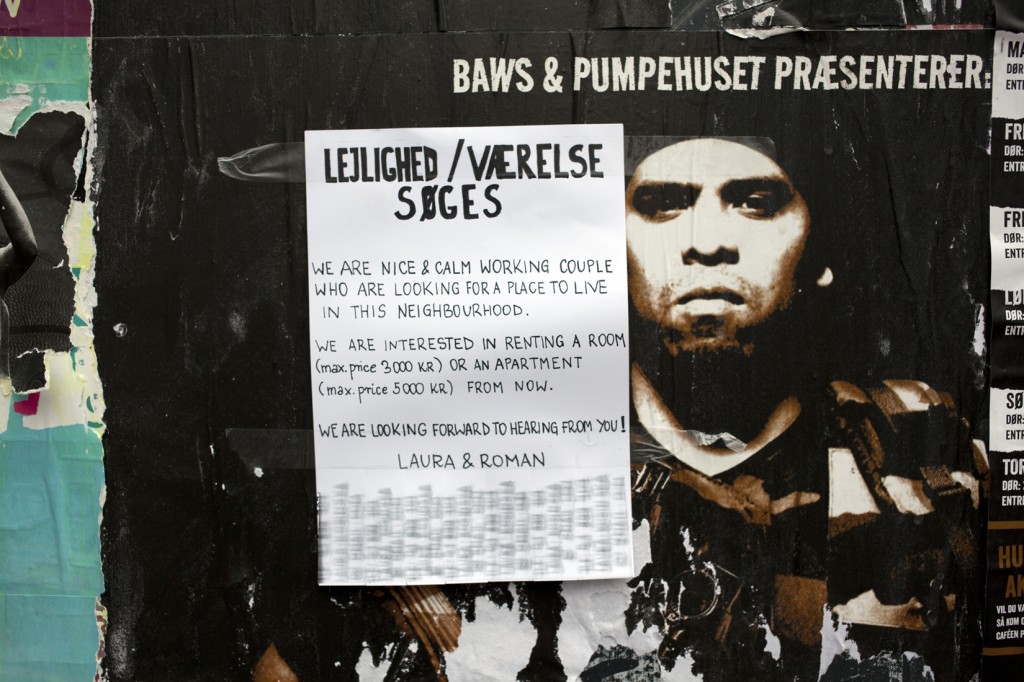 No need for a translation because this is a rare English apartment hunt sign. The apartment hunters have adopted the typical language of the Danish signs.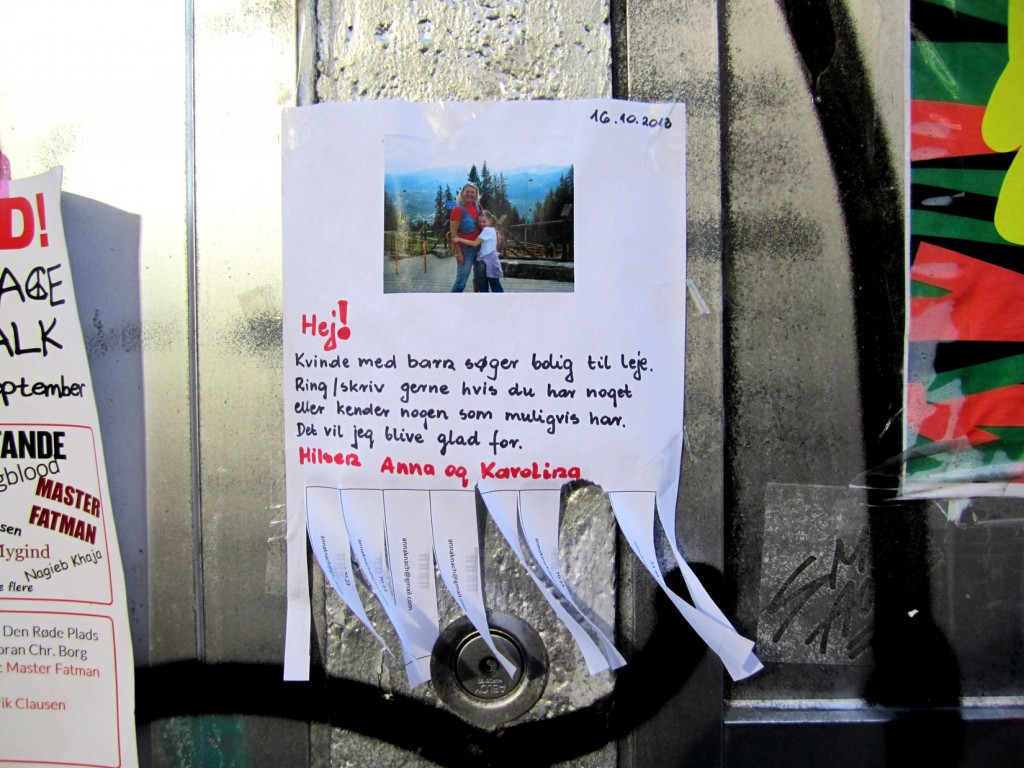 I snapped the next two signs on Nørrebrogade on a wall full of fliers for concerts and flea markets.
The first one, above, reads:
Hey!
Woman with child searches for an apartment to rent. Call/write if you or anyone you know potentially has one. I will be really happy for that.
Greetings.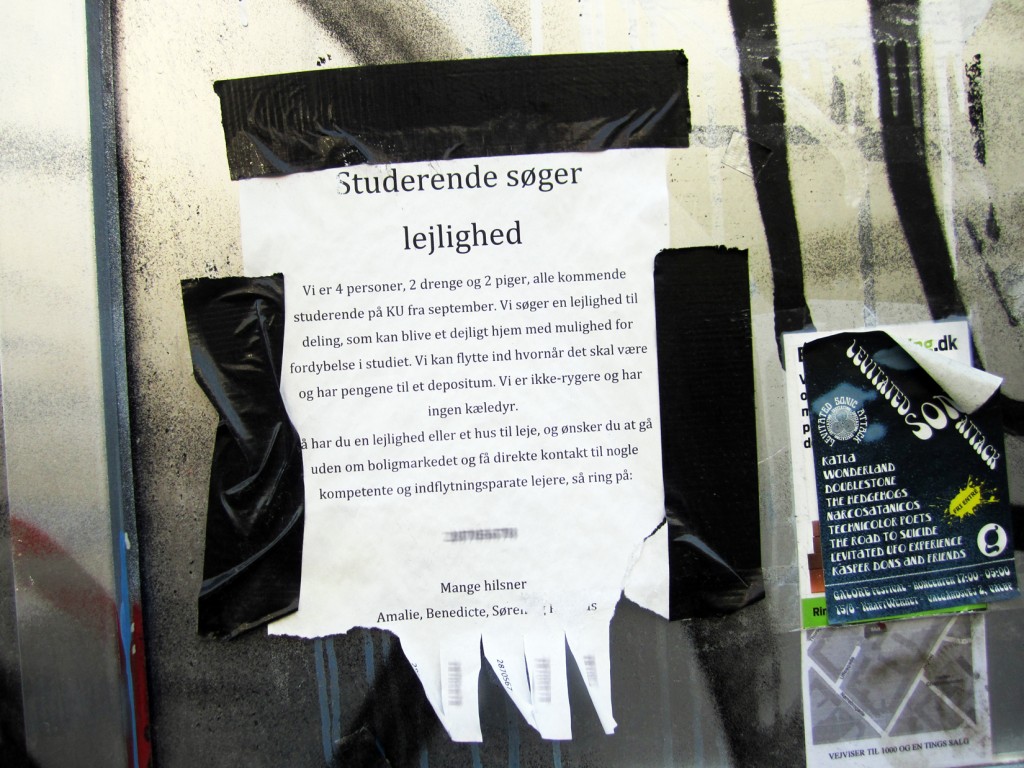 And this one reads:
We are 4 people, 2 boys and 2 girls, all beginning as students at KU (Kobenhavns Universitiet) in September.  We are searching for an apartment to share that can be both a nice home and a place to immerse ourselves in research. We are ready to move in and have money for the deposit. We don't smoke and don't have any pets.
So, do you have an apartment or a house to rent and wish to stay off the housing market with direct contact to some competent and ready to move in renters, just call us.
Radio Aktiv Sonic Deep Map (2013)

SUPERKILEN – Extreme Neoliberalism Copenhagen Style

Download our guide:

Video interview:

Watch our interview of SeedBroadcast, a mobile project that is part seed library and part seed-saving-story-collecting machine-recording the stories of seed saving, farming, and food sovereignty work being done around the US.

BOOK: Deep Routes

Bonnie co-edited this collection of essays that reflect on who gets to define a region and what the struggles are in relation to being in a place and demanding social justice across many issues and terrains.

---

Download a poster Bonnie made about biodiversity in a vacant lot in the Amager borough of Copenhagen, in collaboration with biologist, Inger Kærgaard, ornithologist, Jørn Lennart Larsen and botanist, Camilla Sønderberg Brok: A BRIEF TAXONOMY OF A LOT

---

We made and installed a network of bat houses in Urbana, Illinois, to support the local and regional bat population, but also to begin a conversation about re-making the built environment.
READ MORE

---

BOOK REVIEW:

We write often about artists and art groups that work with putting 'culture' back in agriculture. Here is a new favorite: myvillages, a group of three women based in Germany, the Netherlands, and the UK. Read more...