Indoor plants require attention. You are the weather system. Sadly, I often forget to water the plants I am trying to grow indoors. I have created many an artificial drought from inattention. I get busy with my daily life and soon I have a sad, little wilted plant that is past the point of saving.
We became interested in passive watering systems for this reason. Spending the time at the beginning of indoor plant stewardship to address how it will be watered prevents a tragic end in the future.
A personal favorite is the string method. Put a string in the bottom of the container when you are initially potting the plant, poking a hole in the bottom to pull the string through. Then place the first container inside a slightly larger container half-filled with water. The string hangs down, sucking up water into your plant's root system. This waters your plant for weeks while you go about your business. Perfect for those who are ecologically minded, yet forgetful.
Recently, we added another great passive water system to our kitchen. The Dish Drying Rack Herb Garden Watering System.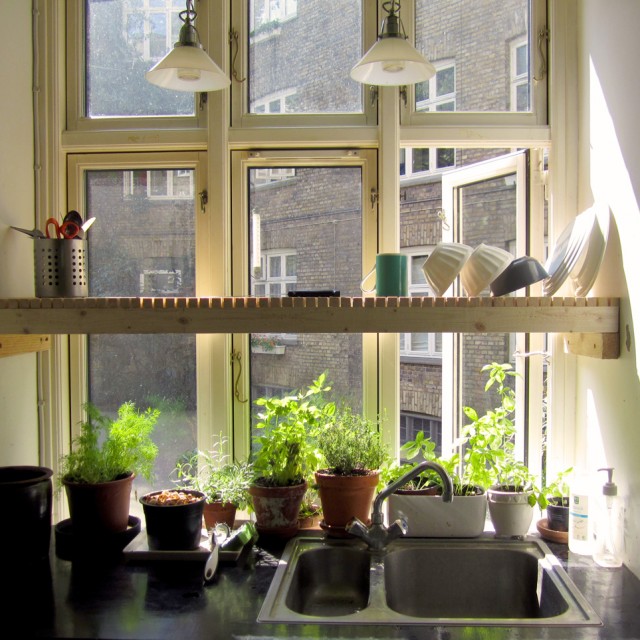 Brett built the simple wooden rack over our kitchen sink to hold dishes as while they are drying.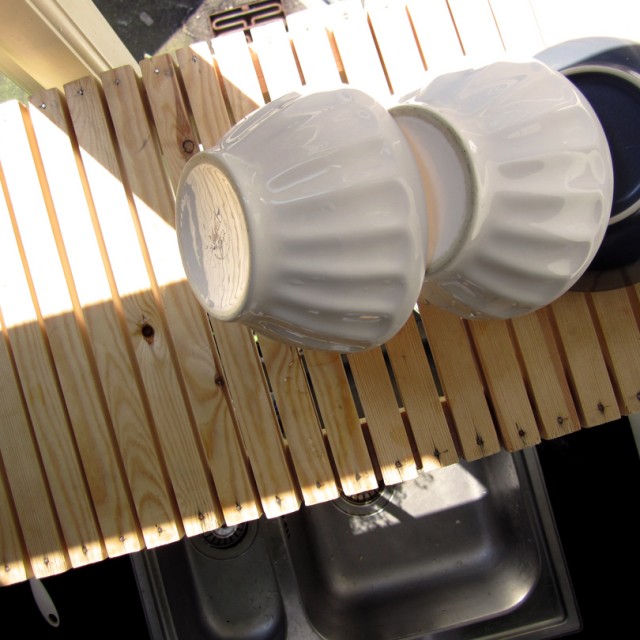 The shelf has thin slats that let water from the damp dishes drip on to the basil, dill, rosemary, thyme, and cilantro plants sitting below.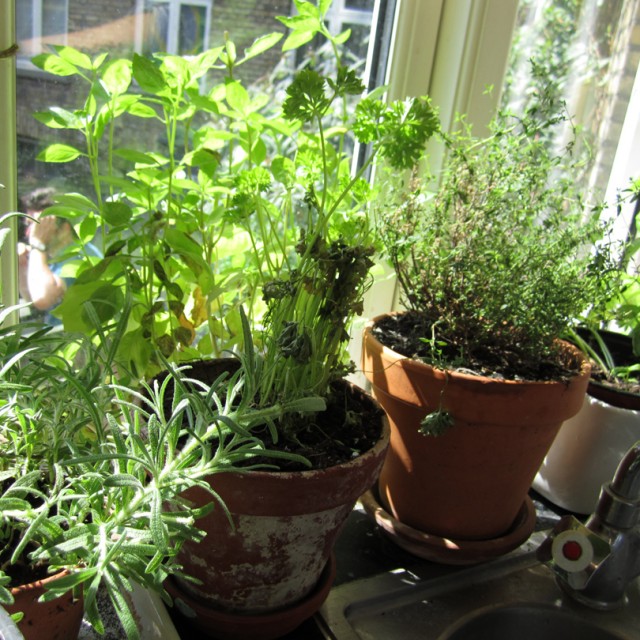 The plants get plenty of sunlight from the kitchen window and water from the dishes above done three times a day. This new kitchen system is working for us on several levels–practical, aesthetic, and functional.
Radio Aktiv Sonic Deep Map (2013)

SUPERKILEN – Extreme Neoliberalism Copenhagen Style

Download our guide:

Video interview:

Watch our interview of SeedBroadcast, a mobile project that is part seed library and part seed-saving-story-collecting machine-recording the stories of seed saving, farming, and food sovereignty work being done around the US.

BOOK: Deep Routes

Bonnie co-edited this collection of essays that reflect on who gets to define a region and what the struggles are in relation to being in a place and demanding social justice across many issues and terrains.

---

Download a poster Bonnie made about biodiversity in a vacant lot in the Amager borough of Copenhagen, in collaboration with biologist, Inger Kærgaard, ornithologist, Jørn Lennart Larsen and botanist, Camilla Sønderberg Brok: A BRIEF TAXONOMY OF A LOT

---

We made and installed a network of bat houses in Urbana, Illinois, to support the local and regional bat population, but also to begin a conversation about re-making the built environment.
READ MORE

---

BOOK REVIEW:

We write often about artists and art groups that work with putting 'culture' back in agriculture. Here is a new favorite: myvillages, a group of three women based in Germany, the Netherlands, and the UK. Read more...