Friday Connect: Berlin Gardens
This week's link love is all about city gardens. We understand that some people might have city garden fatigue, at least hearing about them, and we encourage you to do more than read about them and to get involved with – or better, help start – a garden where you live.  We love urban gardens and while in Berlin we have gotten to see some really awesome initiatives. First, we would like to share a photo essay from our visit to the Allmende-Kontor, a crazy raised bed garden and community gardening resource on the grounds of the old Tempelhof Airport in Berlin. This historic airport was closed in 2008 and opened up to the public as a park in 2010. The physical scale of a park on the grounds of an airport was disorienting. This was space made for giant machines, not for people. We have never really encountered an urban space like this that was so vast, in the center of 4 million people, and without trees or other vertical obstructions.
Overview of the park and the garden: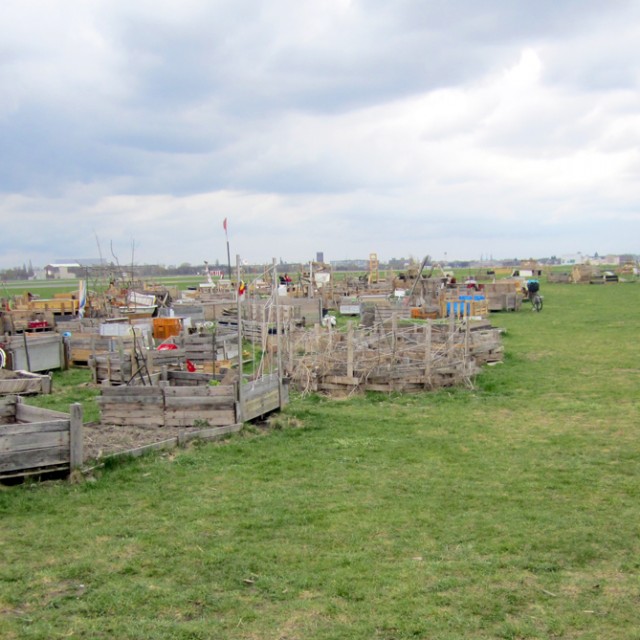 Bathtub raised bed: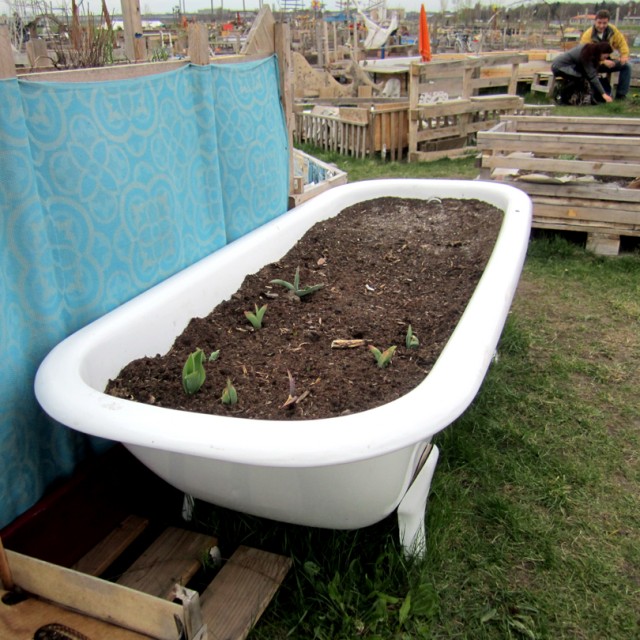 Records, pallets, and bed frames making a beautiful hodge-podge of raised beds: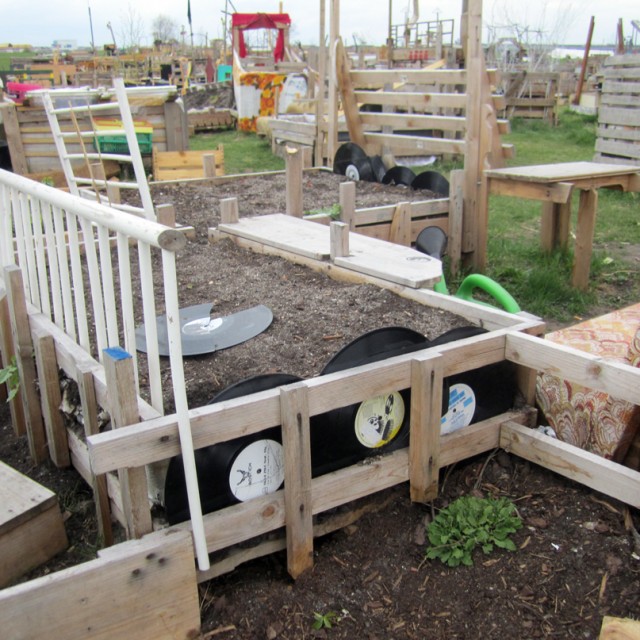 and one more: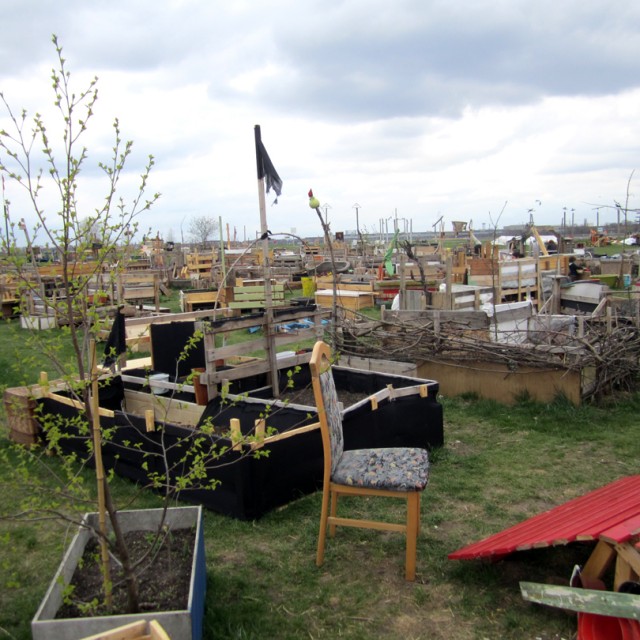 The garden at Tempelhof is considered to be part of the concept of "intermediate use" being promoted by the City of Berlin. From their website:
"Intermediate and 'pioneer' uses are the results of economic and social structural transformation. In other words, new and open spaces that provide room for experimentation and creative potential arise in areas where the original use of the location has come to an end."
A group of people started the project to become a hub, networking all the community gardening efforts in the city, with a garden springing up around the offices of this initiative. They have a seed bank and offer instruction in gardening. The idea of intermediate use, is another way to describe gentrification, but the garden is a wonderful experience.  Here is the website for the garden at the airport.
Today, we are visiting the Prinzessinnen Garden , another Berlin community garden, that has revitalized an abandoned lot. We will be posting more about this Berlin garden next week.
We are returning to Copenhagen on Saturday and while sad about leaving Berlin, are looking forward to getting back to our city's gardens.
Like our friends at Dryk Nørrebro and the Skolehaver (teaching garden) in Bispebjerg.
Radio Aktiv Sonic Deep Map (2013)

SUPERKILEN – Extreme Neoliberalism Copenhagen Style

Download our guide:

Video interview:

Watch our interview of SeedBroadcast, a mobile project that is part seed library and part seed-saving-story-collecting machine-recording the stories of seed saving, farming, and food sovereignty work being done around the US.

BOOK: Deep Routes

Bonnie co-edited this collection of essays that reflect on who gets to define a region and what the struggles are in relation to being in a place and demanding social justice across many issues and terrains.

---

Download a poster Bonnie made about biodiversity in a vacant lot in the Amager borough of Copenhagen, in collaboration with biologist, Inger Kærgaard, ornithologist, Jørn Lennart Larsen and botanist, Camilla Sønderberg Brok: A BRIEF TAXONOMY OF A LOT

---

We made and installed a network of bat houses in Urbana, Illinois, to support the local and regional bat population, but also to begin a conversation about re-making the built environment.
READ MORE

---

BOOK REVIEW:

We write often about artists and art groups that work with putting 'culture' back in agriculture. Here is a new favorite: myvillages, a group of three women based in Germany, the Netherlands, and the UK. Read more...