Wednesday picture: rotting log
We are currently far from our home in Copenhagen, traveling around a part of the U.S. ravaged by globally warmed droughts with record breaking heat, and intense derecho (straight ahead) storms that eat houses, trees, people, and many other things in their path. The landscape, from Indiana to Tennessee, feels stressed out, thirsty, and edgy in a way we have never encountered before. Giant wildfires out west, and over 1000 record breaking high temperatures combine to give one a sense that we are in much more serious trouble than we thought.
Our summer has been a soupy mess of intense heat, news of crop failures, automated dispensers with anti-bacterial soap in home bathrooms, forays in car cities, and the poorest air quality we have encountered since moving away from Chicago. It is stunning to witness a deeply irresponsible national discourse that denies what is happening out of fear and adherence to an ideology of over consumption and habits people are too comfortable to change. It is starting to collapse. This is very clear.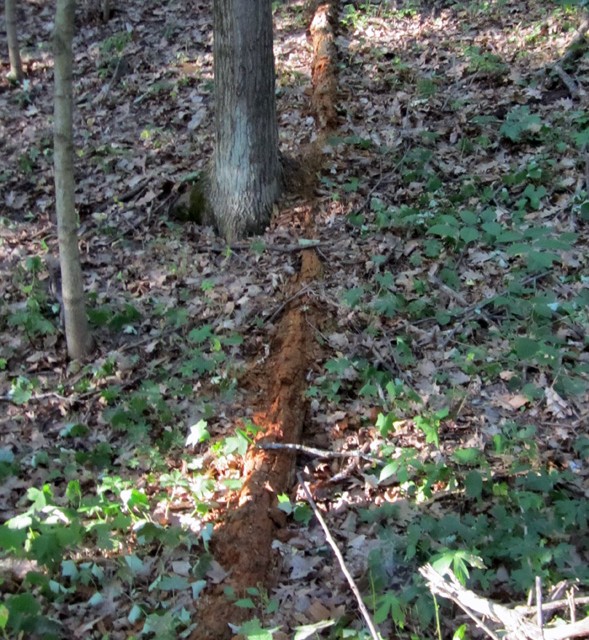 It is against this back drop that walks in the forest came as a deep relief. This rotting log called out to us. It has a distinct presence like a giant snake that was severed at both ends. It appears to be melting into the floor of the forest. Perhaps the heat forced this metaphor. The tree's decay has taken a long time to reach this state, probably many years. It has done as much good in its life as in its death, feeding the soil, other trees, countless insects, providing shelter for small animals, fungus, and giving an enormous amount back to the place that it came from. We were relieved by the knowledge and evidence it offers us about a completely different way of being in the world. This rotting log demonstrates resilience (a term we try to use more than sustainable as it implies the possibility of surviving stress, disasters, and other pressures put on the forest) in a very simple and direct way. We are trying to learn from this rotting log. Coming across it was a revelation and a high point of our trip.
Radio Aktiv Sonic Deep Map (2013)

SUPERKILEN – Extreme Neoliberalism Copenhagen Style

Download our guide:

Video interview:

Watch our interview of SeedBroadcast, a mobile project that is part seed library and part seed-saving-story-collecting machine-recording the stories of seed saving, farming, and food sovereignty work being done around the US.

BOOK: Deep Routes

Bonnie co-edited this collection of essays that reflect on who gets to define a region and what the struggles are in relation to being in a place and demanding social justice across many issues and terrains.

---

Download a poster Bonnie made about biodiversity in a vacant lot in the Amager borough of Copenhagen, in collaboration with biologist, Inger Kærgaard, ornithologist, Jørn Lennart Larsen and botanist, Camilla Sønderberg Brok: A BRIEF TAXONOMY OF A LOT

---

We made and installed a network of bat houses in Urbana, Illinois, to support the local and regional bat population, but also to begin a conversation about re-making the built environment.
READ MORE

---

BOOK REVIEW:

We write often about artists and art groups that work with putting 'culture' back in agriculture. Here is a new favorite: myvillages, a group of three women based in Germany, the Netherlands, and the UK. Read more...