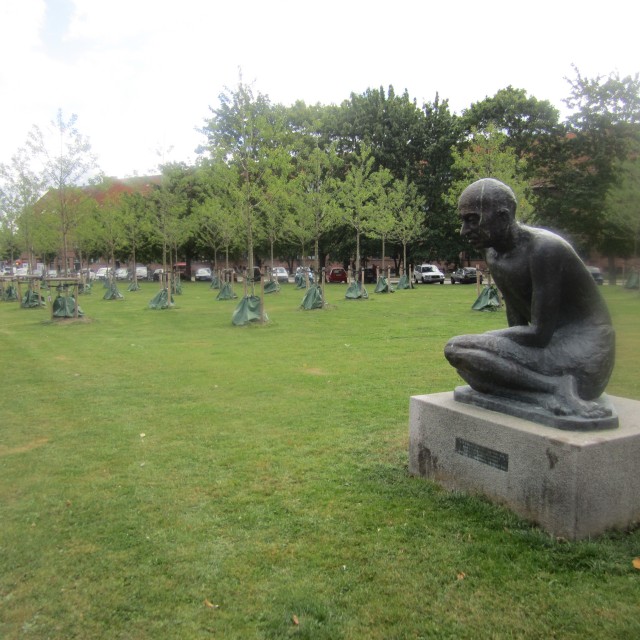 We went on a walk in Bellahøj a few weekends ago. While there, we found a tiny park with a monument to Gandhi, the Indian anti-colonial activist. In Gandhi Park, we also found an installation of newly planted trees. These trees were part of the 100,000 Trær plan that the City of Copenhagen has initiated. The city's stated goal is to plant 100, 00 trees by 2025, one tree for every 5 Copenhageners.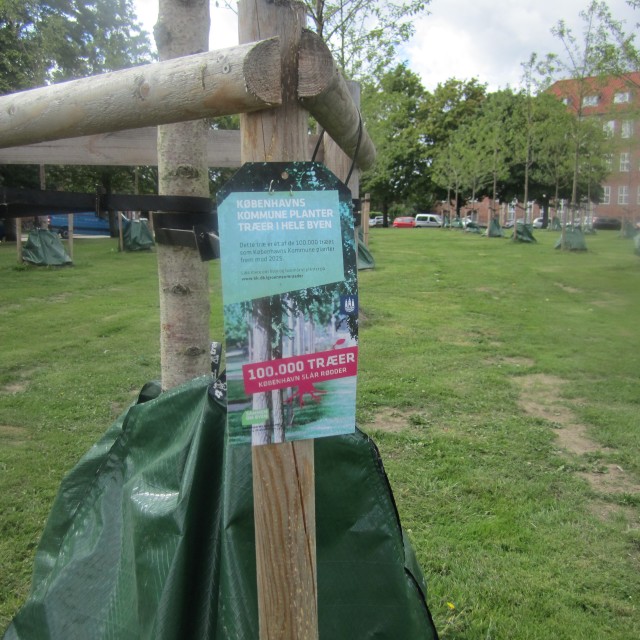 Copenhagen's environmental minister, Bo Asmus Kjeldgaard, was inspired to start the project because of Mayor Michael Bloomberg's 1 million tree planting project across the parks of New York City. In Copenhagen, trees are being planted in parks and along roadways. During the sensitive phase of the first year or so, before they take solid root, the trees are guarded with wooden supports. Planted tree types include: alder, sweetgum, Norwegian maple, elm and birch trees, among other types. Tree types were chosen for the ability to withstand drought and their longevity. A point of interest includes the planting of edible trees–hazelnuts and walnuts are on the list of species that are slated to put down roots in the Danish metropolis in the coming years.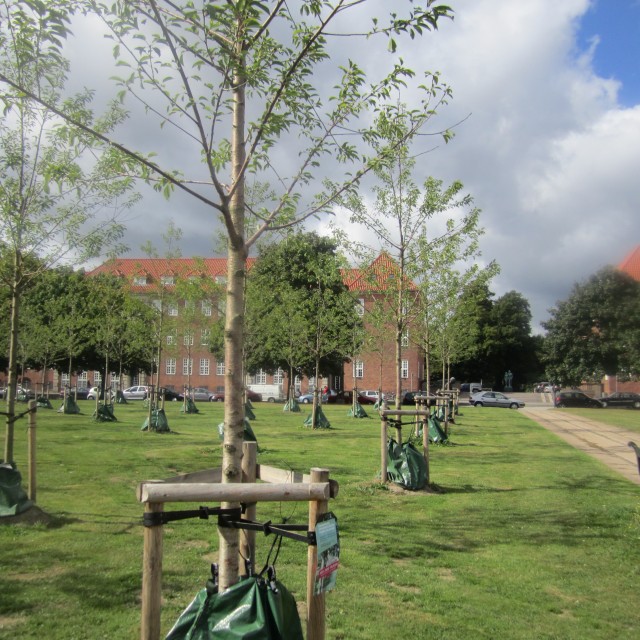 The general language of the new tree plan is to build a greener, cleaner environment for the residents of Copenhagen. The plan is being touted as a way for the city to help with the global climate change problem. Schools and residents can apply to have tree plantings in their neighborhood. The trees, along with green roofs and 'pocket parks,' are part of Copenhagen's general goal to be CO2 neutral by 2025–an ambitious goal aimed at making Copenhagen a global environmental leader. Now if the city could boldy deal with reducing the number of cars that enter the city from the suburbs, we will be hopeful that that goal can be met.
Radio Aktiv Sonic Deep Map (2013)

SUPERKILEN – Extreme Neoliberalism Copenhagen Style

Download our guide:

Video interview:

Watch our interview of SeedBroadcast, a mobile project that is part seed library and part seed-saving-story-collecting machine-recording the stories of seed saving, farming, and food sovereignty work being done around the US.

BOOK: Deep Routes

Bonnie co-edited this collection of essays that reflect on who gets to define a region and what the struggles are in relation to being in a place and demanding social justice across many issues and terrains.

---

Download a poster Bonnie made about biodiversity in a vacant lot in the Amager borough of Copenhagen, in collaboration with biologist, Inger Kærgaard, ornithologist, Jørn Lennart Larsen and botanist, Camilla Sønderberg Brok: A BRIEF TAXONOMY OF A LOT

---

We made and installed a network of bat houses in Urbana, Illinois, to support the local and regional bat population, but also to begin a conversation about re-making the built environment.
READ MORE

---

BOOK REVIEW:

We write often about artists and art groups that work with putting 'culture' back in agriculture. Here is a new favorite: myvillages, a group of three women based in Germany, the Netherlands, and the UK. Read more...