Our resilient soy bean plant
Last year we grew some heirloom soybeans at DRYK Nørrebro, the roof top urban garden in our neighborhood. We wanted to grow seeds that could tell a story and be shared from year to year. Growing these soy beans, which even though they came from a seed bank in Russia miles away, became a way for us to connect to our adopted home.
We chose the soy bean plant because it is a plant grown around the world for a wide variety of reasons. It is also often a highly modified seed. We moved to Nørrebro in Copenhagen from the Midwestern United States where miles and miles of soybean plants signify industrial agriculture and all of its attendant problems, from soil depletion to food security issues. Saving seeds, sharing them in your community from year to year, is an important part of how preserve our planet's biodiversity and its resilience in the face of natural disasters.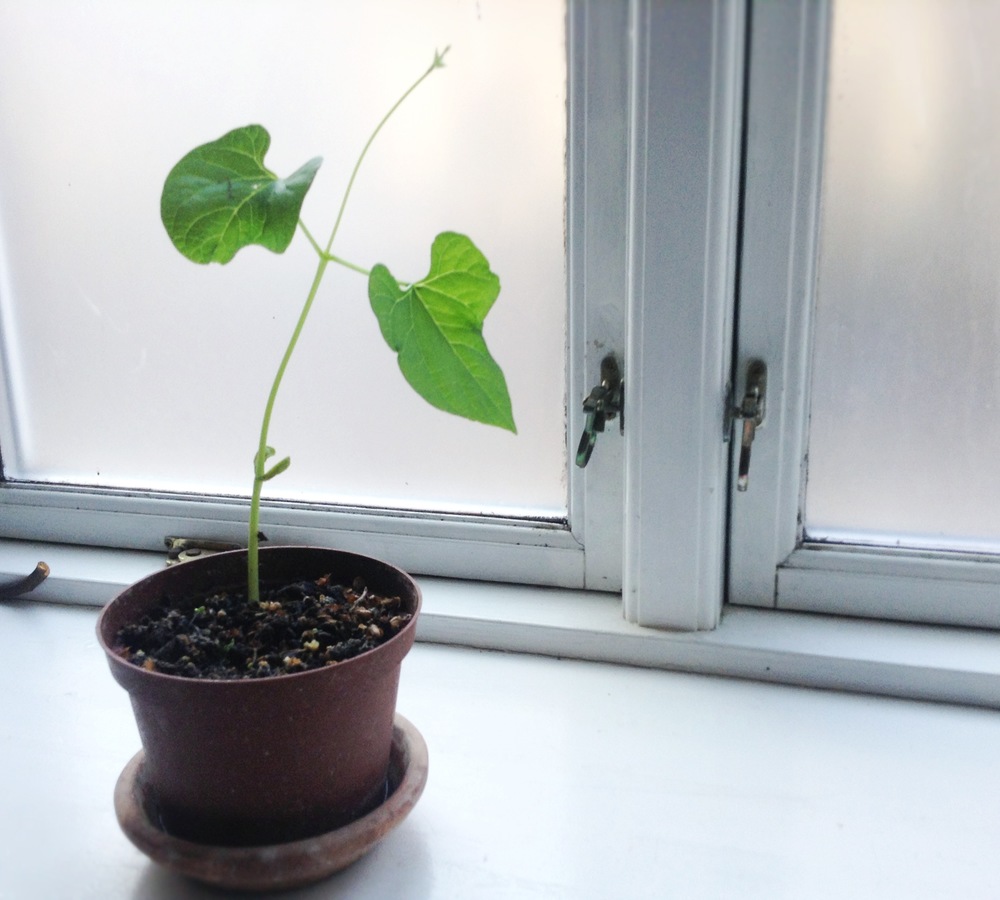 Part of the process of saving seeds is replanting some of the seeds each year to keep them vital. Here is one of our soy bean starts, springing up in our home.
No more monoculture!
Radio Aktiv Sonic Deep Map (2013)

SUPERKILEN – Extreme Neoliberalism Copenhagen Style

Download our guide:

Video interview:

Watch our interview of SeedBroadcast, a mobile project that is part seed library and part seed-saving-story-collecting machine-recording the stories of seed saving, farming, and food sovereignty work being done around the US.

BOOK: Deep Routes

Bonnie co-edited this collection of essays that reflect on who gets to define a region and what the struggles are in relation to being in a place and demanding social justice across many issues and terrains.

---

Download a poster Bonnie made about biodiversity in a vacant lot in the Amager borough of Copenhagen, in collaboration with biologist, Inger Kærgaard, ornithologist, Jørn Lennart Larsen and botanist, Camilla Sønderberg Brok: A BRIEF TAXONOMY OF A LOT

---

We made and installed a network of bat houses in Urbana, Illinois, to support the local and regional bat population, but also to begin a conversation about re-making the built environment.
READ MORE

---

BOOK REVIEW:

We write often about artists and art groups that work with putting 'culture' back in agriculture. Here is a new favorite: myvillages, a group of three women based in Germany, the Netherlands, and the UK. Read more...