Superkilen: Participatory Park Extreme!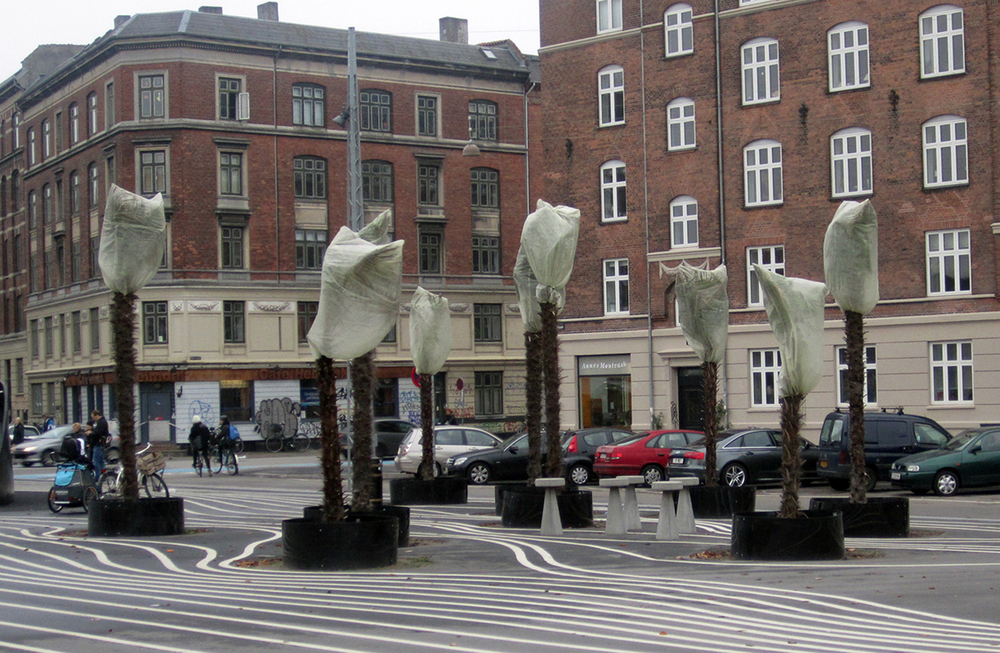 We spend a lot of time paying attention to various aspects of our neighborhood. Sometimes it is through casual observations made in the course of our daily comings and goings. Other times, it is a sustained reflection and recurring engagement with things over longer periods. This post is about the latter impulse; I have been working on an essay, about a park in our neighborhood, for the past several months. The park is called Superkilen [Super-wedge] and was designed by the starchitects BIG (Bjarke Ingels Group), the art group Superflex, and landscape designers Topotek. The park has received a lot of attention and awards, but no real scrutiny in Denmark or abroad. The story that the City of Copenhagen, the designers, and the funders, Realdania, tell is a happy, visually appealing one. The story is one of building community. But, in reality the park, and its public projection, is an elaborate effort to hide power and ideology. This is done by creating the appearance of democracy at the expense of area residents, using large amounts of money to force private interests on the public land, and the building of a deeply ecologically irresponsible public space that spatializes neoliberal values in very concrete and troubling ways. The details of this are laid out in my essay.
A Danish version of my text was published this month in the magazine Kritik. It is available in stores throughout Denmark. If you read Danish and live outside Denmark, but would like a copy of the text, please leave a reply to this post with an email address, and I can send you a PDF. The English version of the essay has been reworked thanks to Sharon Irish and is now available on this site.
Radio Aktiv Sonic Deep Map (2013)

SUPERKILEN – Extreme Neoliberalism Copenhagen Style

Download our guide:

Video interview:

Watch our interview of SeedBroadcast, a mobile project that is part seed library and part seed-saving-story-collecting machine-recording the stories of seed saving, farming, and food sovereignty work being done around the US.

BOOK: Deep Routes

Bonnie co-edited this collection of essays that reflect on who gets to define a region and what the struggles are in relation to being in a place and demanding social justice across many issues and terrains.

---

Download a poster Bonnie made about biodiversity in a vacant lot in the Amager borough of Copenhagen, in collaboration with biologist, Inger Kærgaard, ornithologist, Jørn Lennart Larsen and botanist, Camilla Sønderberg Brok: A BRIEF TAXONOMY OF A LOT

---

We made and installed a network of bat houses in Urbana, Illinois, to support the local and regional bat population, but also to begin a conversation about re-making the built environment.
READ MORE

---

BOOK REVIEW:

We write often about artists and art groups that work with putting 'culture' back in agriculture. Here is a new favorite: myvillages, a group of three women based in Germany, the Netherlands, and the UK. Read more...