Radio Aktiv in the Audible Dwelling
On September 8, Sunday, the first broadcast was made of the Radio Aktiv Sonic Deep Map, a radio show created for broadcast made up of various recorded material gathered at the Case Pyhäjoki camp for artists, theorists, scholars, cultural producers, and activists to respond to the threat of nuclear power in Pyhäjoki, Finland.
Case Pyhäjoki, organized by Mari Keski-Korsu and others, took place over two weeks in August, 2013. As a group we learned about the small town in Finland facing the possibility that a nuclear power plant will be built there. One of the ways we decided to process this experience and communicate it to others has been through sound and making a radio show for further transmission. We conducted interviews with local activists with the organization Pro Hanhikivi–led by two mothers, Hanna Halmeenpää and Helena Maijala, who are fighting every day to stop the plant; we made field recordings in the stunning seaside landscape of the Hanhikivi Cape; we did group vocalization excercises-humming and screaming; we told fairy tales; we traveled by boat; and we documented the sounds made in the geiger counter building workshop.
Poem producer, sound artist, electronic musician and general awesome woman, Antye Greie took all of these sonic elements and edited them into a 30 min. and 60 min. broadcast-ready programs to be sent out into the world.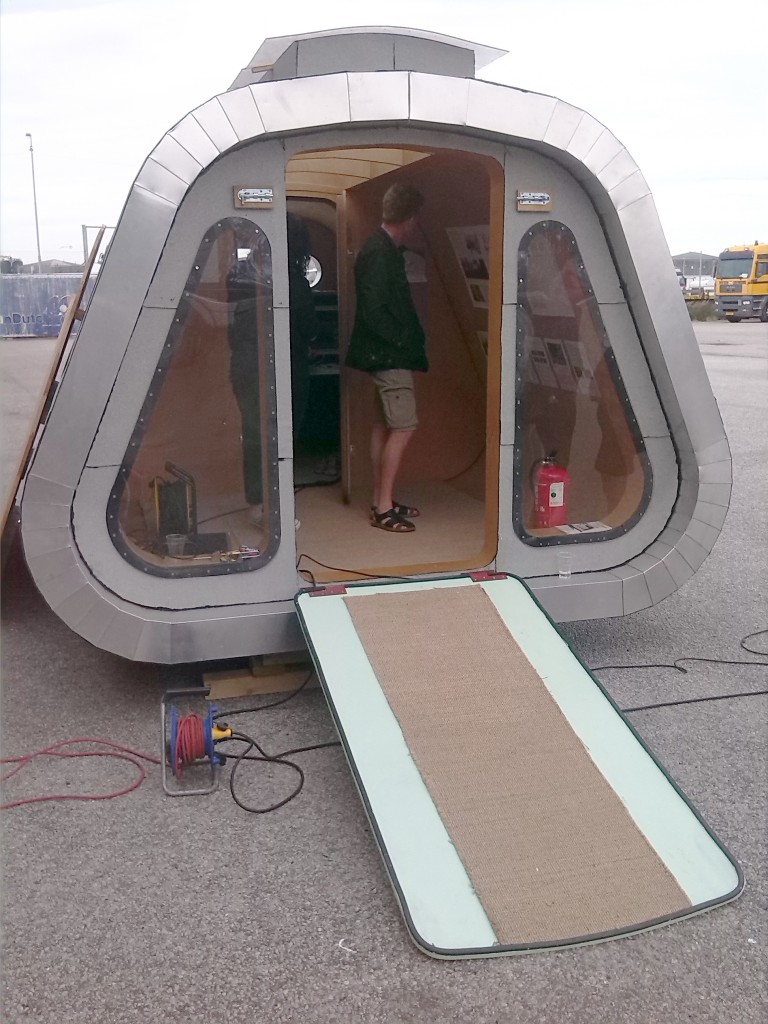 The first broadcast took place via the Audible Dwelling, a project of artist group-Learning Site (Rikke Luther and Cecilia Wendt). The Audible Dwelling version 0.2 sits in Malmö, Sweden. It is a house for broadcast and amplification. The project "examines the relation of speech to place and architecture to political and cultural landscape."
Learning Site kindly broadcast the 30 min version of Radio Aktiv Sonic Deep Map along with a few other pieces at this Sunday afternoon event.
The Radio Aktiv Sonic Deep Map broadcast will now be sent out into the world with upcoming broadcasts in Germany and Finland. We will keep you posted as schedules become available.
Listen to the Radio Aktiv-Sonic Deep Map here:
Here are some images taken during the making of the Radio Aktiv Sonic Deep Map: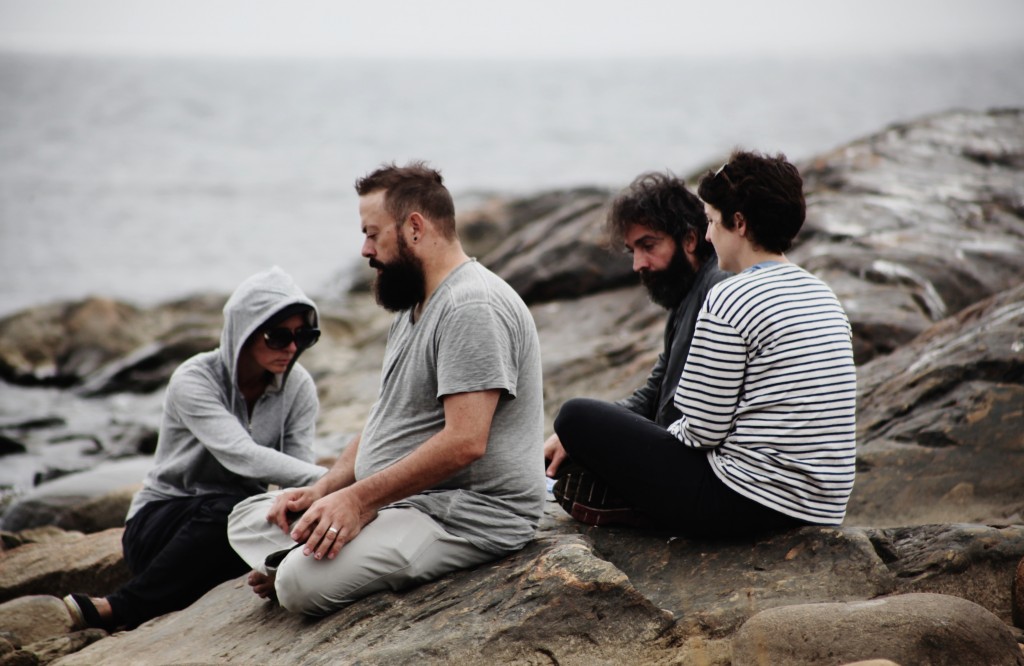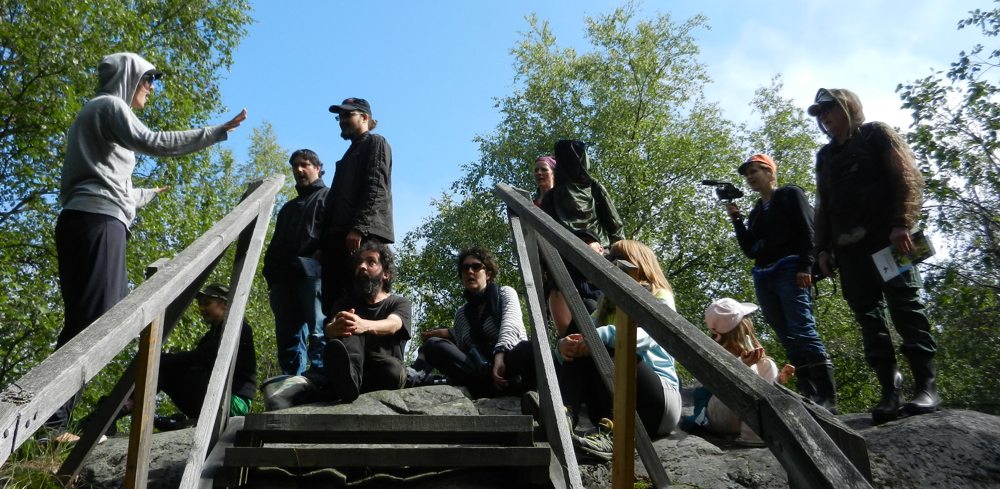 Additionally, here is the Finnish version of the text written and read by Brett at the beginning of Radio Aktiv Sonic Deep Map:
Syväkartta on intensiivistä kartoittamista. Topografia kertoo yleensä korkeuseroista tai onko paikalla metsää, mutta syväkartta ei kuvaa aluetta pelkästään näyttämällä kuinka suunnistetaan kaduilla, missä rakennukset tai järvet ja muut vedet ovat. Se koostuu kerrostumista tarinoita, henkilökohtaisia kuvauksia, historian tapahtumia, pakahduttavia tunteita, sointuvia ääniä, ohikiitäviä vaikutelmia, säätiedotuksia.. kaikki yhdessä erityisessä paikassa. Se kertoo pelkistetyn tarinan, mutta kieltäytyy olemasta yksinkertainen. Se on vastarinnan ja periksi antamattomuuden muoto – voimakas ja elävä.
Tämä äänisyväkartta on kerätty kokoon pienen joukon vaikutelmista, ajatuksista ja kokemuksista. He tulivat eri puolilta maailmaa Pyhäjoelle, Suomeen työskennelläkseen siellä ja liittyäkseen vastarintaan niiden kanssa, jotka vastustavat ydinvoimalan rakentamista Pyhäjoelle. Ydinvoimayhtiö Fennovoima suunnittelee rakentavansa ydinvoimalan kauniille, metsäiselle Hanhikivenniemelle, joka sijaitsee Pohjanlahden rannalla, Itämerellä.
Aallot, kivet, lintujen tulemiset ja menemiset, kasvit ja kalat ovat eläneet omaa elämäänsä ilman ihmistä vuosituhansia – ilman mitään muuta energianlähdettä kuin aurinko itse.
 Ne eivät tarvitse myrkyllistä jätettä, joka on vaarallista vuosituhansia, uhaten ikuisesti kuolemalla.
Ne, jotka haluavat rakentaa voimalan, ovat latistaneet tämän paikan tarinan. Heidän tarinansa kestää vain lyhyen aikaa, ehkä noin 50 vuotta työtä ja taloudellista vakautta. Se on heille riittävä oikeutus tuhon aiheuttamiseksi. Mutta se on turhaa. Se on itsekästä. Vaara on olemassa kauemmin kuin ihmislaji ja monet geologiset aikakaudet.
On vaikea olla samaan aikaan sekä surematta että juhlistamatta Hanhikivenniemeä. Suru tuntuu samankaltaiselta kuin joku läheinen ihminen olisi saanut syöpädiagnoosin. Hän on vielä olemassa ja rakastat häntä, mutta hänen sisällään on sairaus, joka uhkaa rakastamaasi ihmistä ja elämäsi järjestystä.
Se, mitä tulet pian kuulemaan, on lääkettä ja tukea Hanhikivenniemelle sekä niille ihmisille, jotka vastustavat ydinvoimalaa. Hyräilyä ilman sanoja, matkoja jotka tuovat varoituksia uhatusta maisemasta, rohkeiden ihmisten haastatteluja jota taistelevat oman elinympäristönsä puolesta, runoudeksi muutettu säteilymittarityöpaja, satu merenneidosta ja kivestä, huutoja jotka on lähetetty tulevaisuuden katastrofeista selviytyneille, kenttänauhoituksia…
Radio Aktiv Sonic Deep Map (2013)

SUPERKILEN – Extreme Neoliberalism Copenhagen Style

Download our guide:

Video interview:

Watch our interview of SeedBroadcast, a mobile project that is part seed library and part seed-saving-story-collecting machine-recording the stories of seed saving, farming, and food sovereignty work being done around the US.

BOOK: Deep Routes

Bonnie co-edited this collection of essays that reflect on who gets to define a region and what the struggles are in relation to being in a place and demanding social justice across many issues and terrains.

---

Download a poster Bonnie made about biodiversity in a vacant lot in the Amager borough of Copenhagen, in collaboration with biologist, Inger Kærgaard, ornithologist, Jørn Lennart Larsen and botanist, Camilla Sønderberg Brok: A BRIEF TAXONOMY OF A LOT

---

We made and installed a network of bat houses in Urbana, Illinois, to support the local and regional bat population, but also to begin a conversation about re-making the built environment.
READ MORE

---

BOOK REVIEW:

We write often about artists and art groups that work with putting 'culture' back in agriculture. Here is a new favorite: myvillages, a group of three women based in Germany, the Netherlands, and the UK. Read more...