Fall is hitting Copenhagen and we are interested to see if the amount of apartment hunting signs around the neighborhood slows down. One local MQ commenter suggests that the flurry of signs appearing in the city during the summer months could be because of the shortage of housing for students. This may be one cause, but many of the Søger Lejlighed (apartment search)  signs we have documented in the series also include families and people who have already completed their education.
Today's edition of Søger Lejlighed does include a student looking for a shared living situation, as well as a couple. The first one is fairly basic, but the student's flyer includes a nice cat graphic.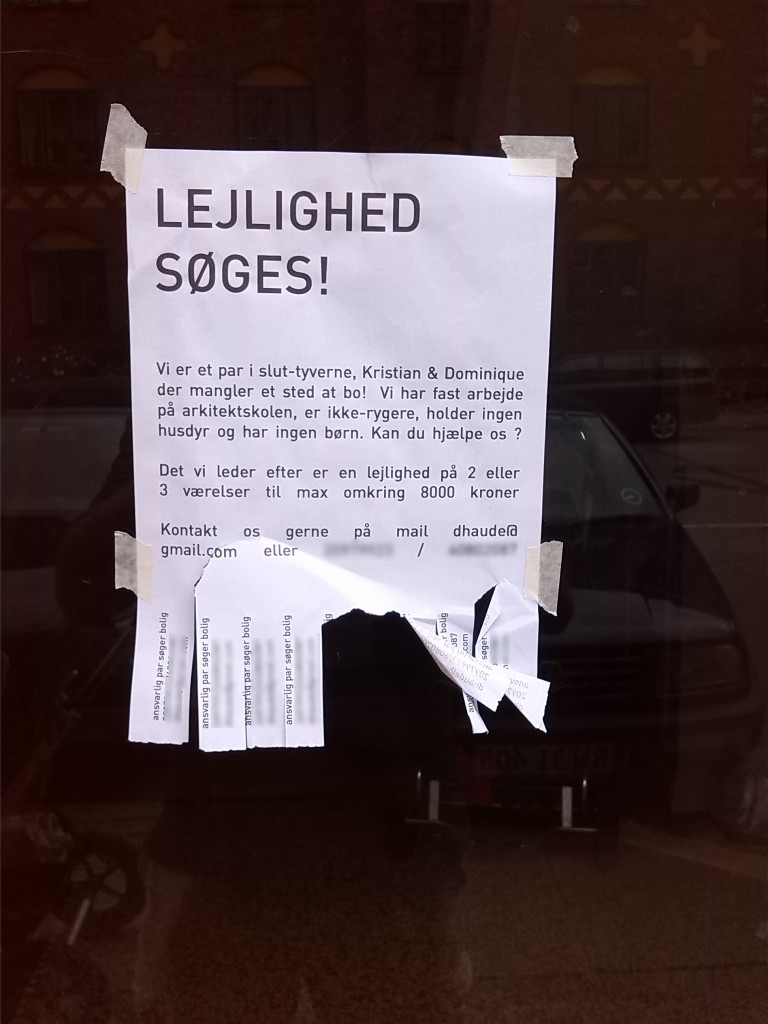 This sign reads:
We are a pair of people at the end of their twenties, Kristian & Dominique. We have steady work at the architect school, we don't smoke, have pets, or children. Can you help us? We are looking for an apartment with 2 or 3 rooms with maximum rent of 8000 kr.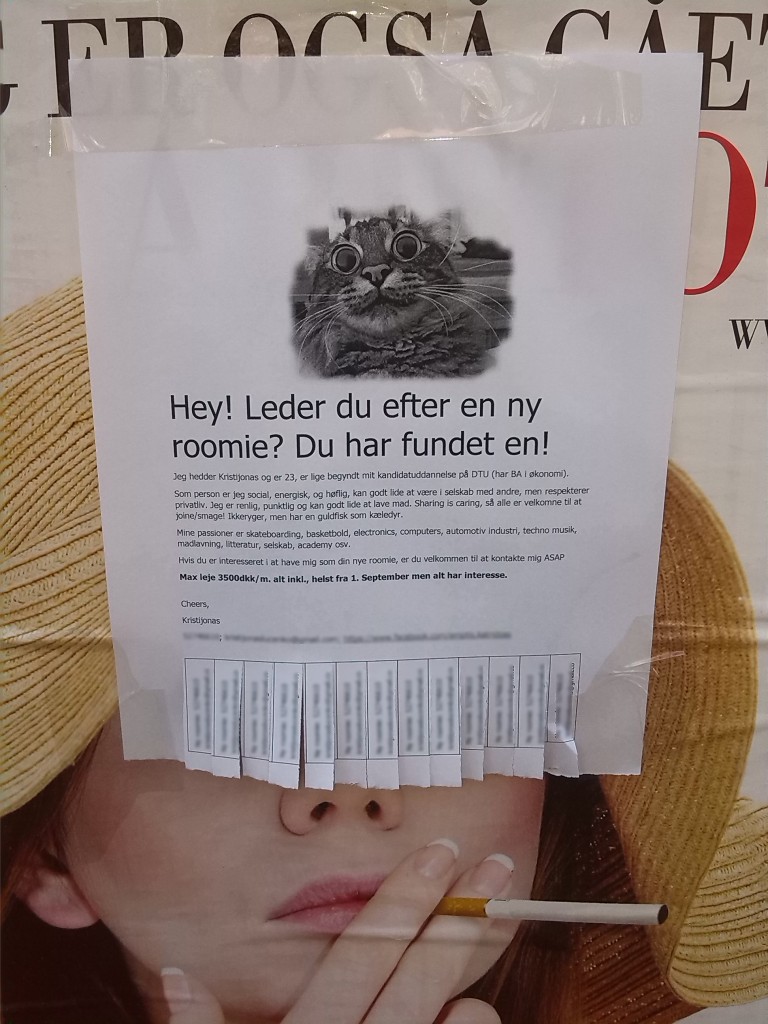 This one reads:
Hey! Are you looking for a new roomie? You have found one!
I am Kristijonas and am 23. I have just started my kandidatuddannelse (like a Masters) at DTU ( have a Bachelor's in economics).
I am a person who is social, energetic, and polite. I am good at being part of a community with others, while maintaining respect for private space. I am clean, punctual, and good at making food. Sharing is caring so all are welcome to join and taste! I don't smoke but I have a pet goldfish.
My passions are skateboarding, basketball, electronics, computers, automotive industry, techno music, cooking, litterature, community, study, etc.
If you are interested in having me as a new roommate, you are welcome to contact me ASAP. Maximum rent 3500 DKK/month with everything included, preferred from 1. September.
Radio Aktiv Sonic Deep Map (2013)

SUPERKILEN – Extreme Neoliberalism Copenhagen Style

Download our guide:

Video interview:

Watch our interview of SeedBroadcast, a mobile project that is part seed library and part seed-saving-story-collecting machine-recording the stories of seed saving, farming, and food sovereignty work being done around the US.

BOOK: Deep Routes

Bonnie co-edited this collection of essays that reflect on who gets to define a region and what the struggles are in relation to being in a place and demanding social justice across many issues and terrains.

---

Download a poster Bonnie made about biodiversity in a vacant lot in the Amager borough of Copenhagen, in collaboration with biologist, Inger Kærgaard, ornithologist, Jørn Lennart Larsen and botanist, Camilla Sønderberg Brok: A BRIEF TAXONOMY OF A LOT

---

We made and installed a network of bat houses in Urbana, Illinois, to support the local and regional bat population, but also to begin a conversation about re-making the built environment.
READ MORE

---

BOOK REVIEW:

We write often about artists and art groups that work with putting 'culture' back in agriculture. Here is a new favorite: myvillages, a group of three women based in Germany, the Netherlands, and the UK. Read more...