Kitchen Gardens in pen and ink
It's been cold and snowy lately in Copenhagen, so I've been thinking about kitchen gardens (køkkenhaver). I've been working on a publication project with MQ friends, Micah and Rachel Bornstein. The pair is launching a small publishing imprint and I wrote a short piece on kitchen gardens, from the counter top to the backyard field. I've been making drawings to go along with my text and I thought I'd share some of the drawings here today. Enjoy, especially if you are dreaming about growing plants again in the spring.
A basil plant, perfect for a countertop kitchen garden.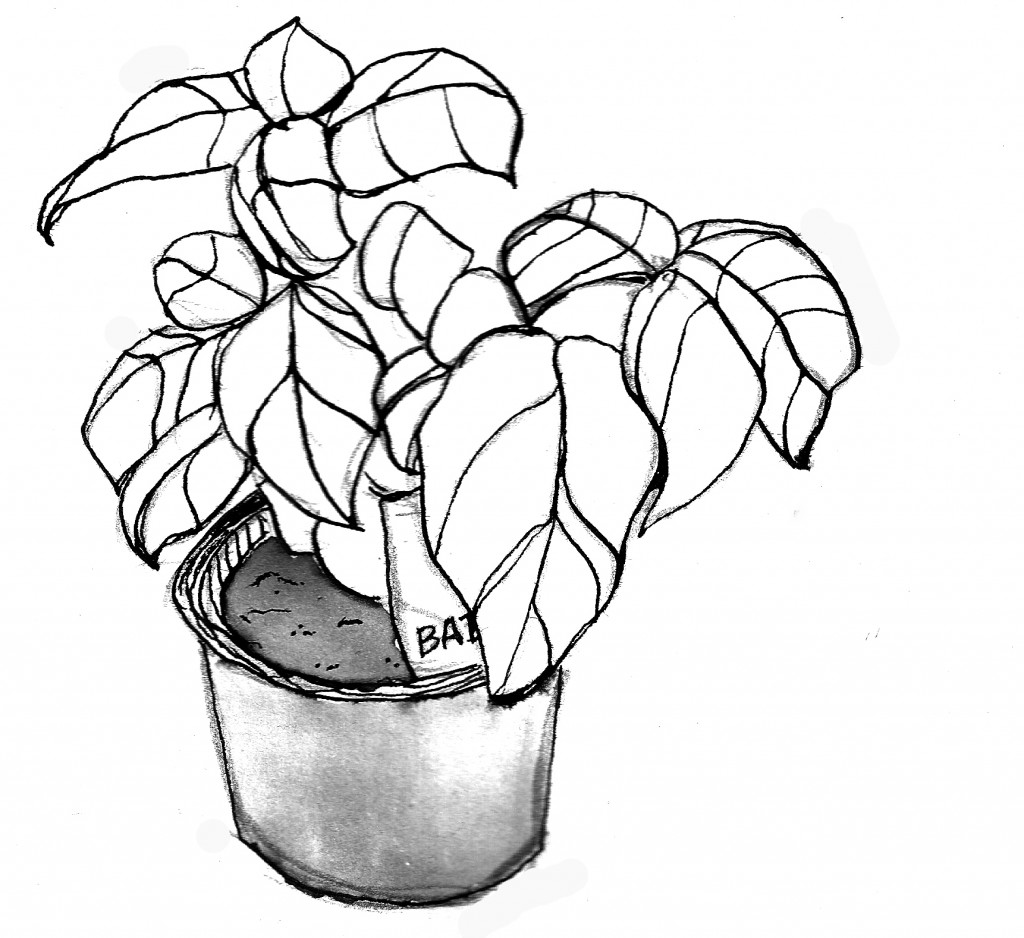 We grew garlic once when we had a backyard garden. We put the bulbs in the ground in the fall and they sprouted in the spring. That was the best garlic I've ever eaten.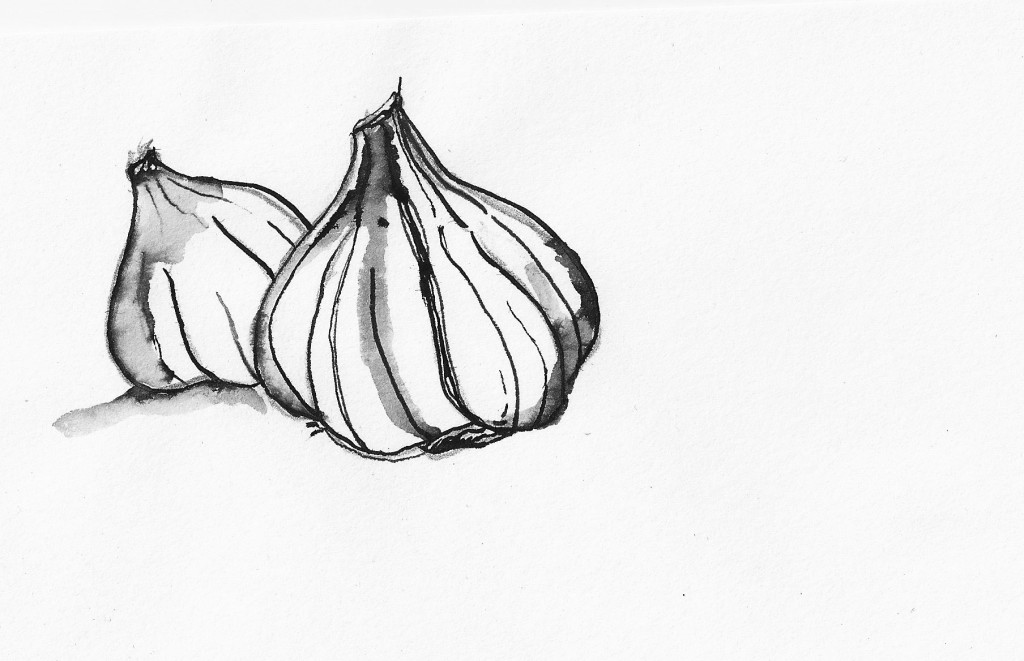 Den Fælles Køkkehave (The People's Kitchen Garden) (2011-2012) was a public art project organized by our neighbors, YNKB in Copenhagen's Nørrebro neighborhood. Anyone could join and grow vegetables in this raised bed "kitchen garden."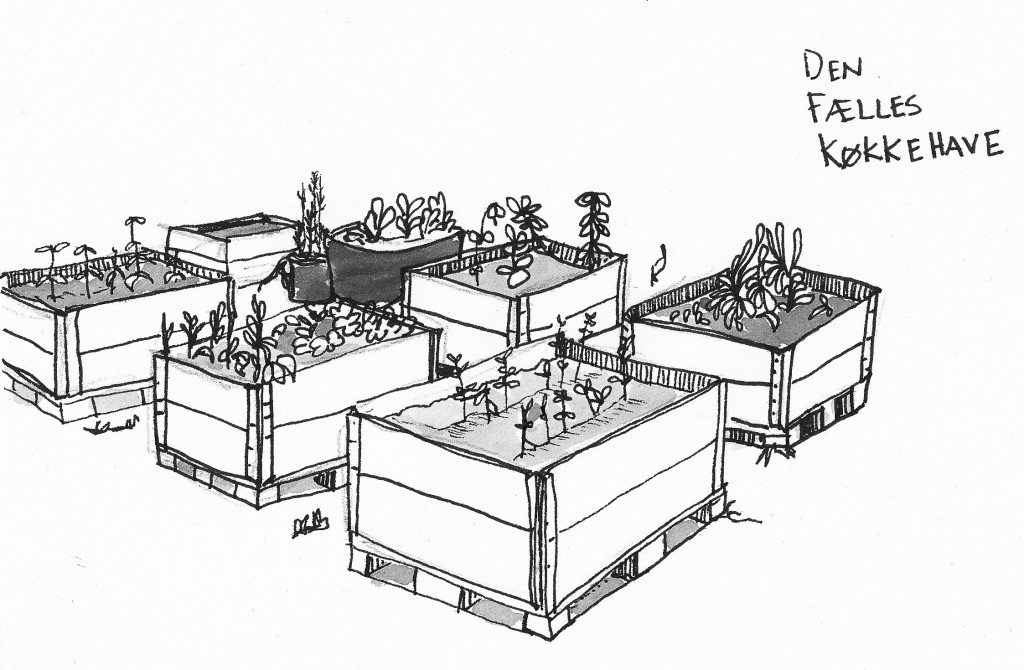 Dryk Nørrebro is an ongoing urban gardening project on the roof of a local Nørrebro school. This drawing shows how Dryk gardeners grew potato plants in an old helmet.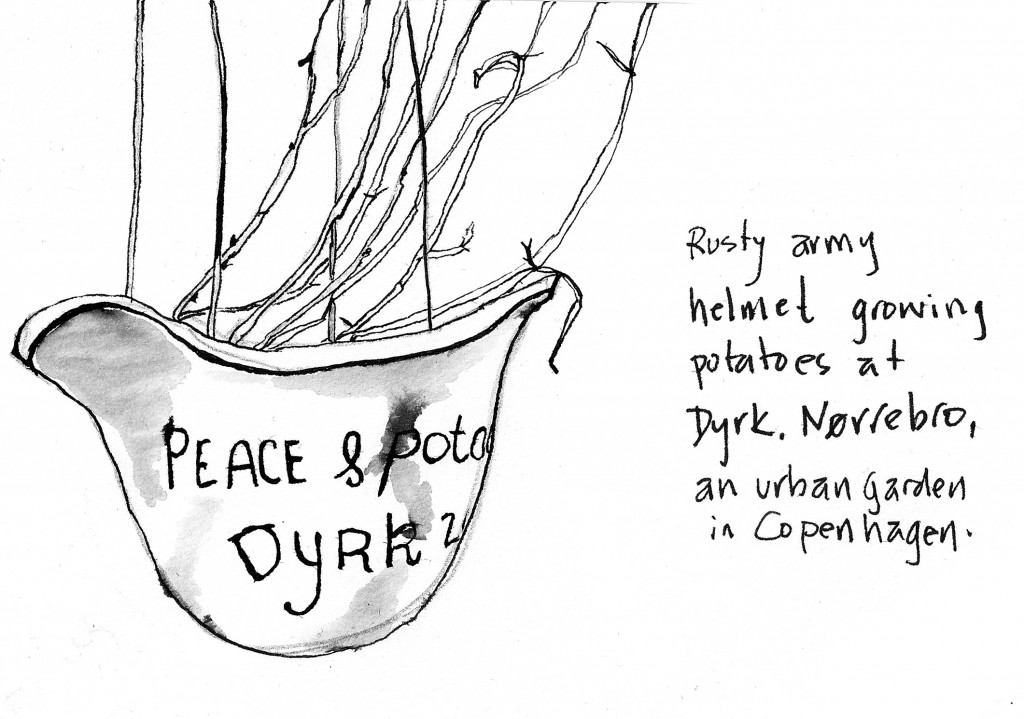 Where  and in what types of containers have you grown plants?
Radio Aktiv Sonic Deep Map (2013)

SUPERKILEN – Extreme Neoliberalism Copenhagen Style

Download our guide:

Video interview:

Watch our interview of SeedBroadcast, a mobile project that is part seed library and part seed-saving-story-collecting machine-recording the stories of seed saving, farming, and food sovereignty work being done around the US.

BOOK: Deep Routes

Bonnie co-edited this collection of essays that reflect on who gets to define a region and what the struggles are in relation to being in a place and demanding social justice across many issues and terrains.

---

Download a poster Bonnie made about biodiversity in a vacant lot in the Amager borough of Copenhagen, in collaboration with biologist, Inger Kærgaard, ornithologist, Jørn Lennart Larsen and botanist, Camilla Sønderberg Brok: A BRIEF TAXONOMY OF A LOT

---

We made and installed a network of bat houses in Urbana, Illinois, to support the local and regional bat population, but also to begin a conversation about re-making the built environment.
READ MORE

---

BOOK REVIEW:

We write often about artists and art groups that work with putting 'culture' back in agriculture. Here is a new favorite: myvillages, a group of three women based in Germany, the Netherlands, and the UK. Read more...