Temporary Travel Office in the Riparian City
"The Doan Brook Watershed is a Riparian City, a living territory where a flowing stream meets the land."
The Doan Brook Watershed can be found coursing through Cleveland, Ohio in the middle of the United States. The water from the Doan Brook runs into Lake Erie, one of the five Great Lakes. The Temporary Travel Office has initiated a new project called Right to the Riparian City  which "re-imagines the geo-hydrological territory of the watershed as political landscape inhabited by human and non-human citizens."
The Right to the Riparian City was made for The Cleveland Convention and Visitors Bureau (May 11 – July 13, 2012). This exhibition at Spaces, a wonderful contemporary art center in Cleveland, proposes a rethinking of Cleveland as a tourist destination. The Temporary Travel Office, run by our friend, Ryan Griffis, has long used the construct of a tourist bureau as a way to investigate the socio-political structures that form our experience of place.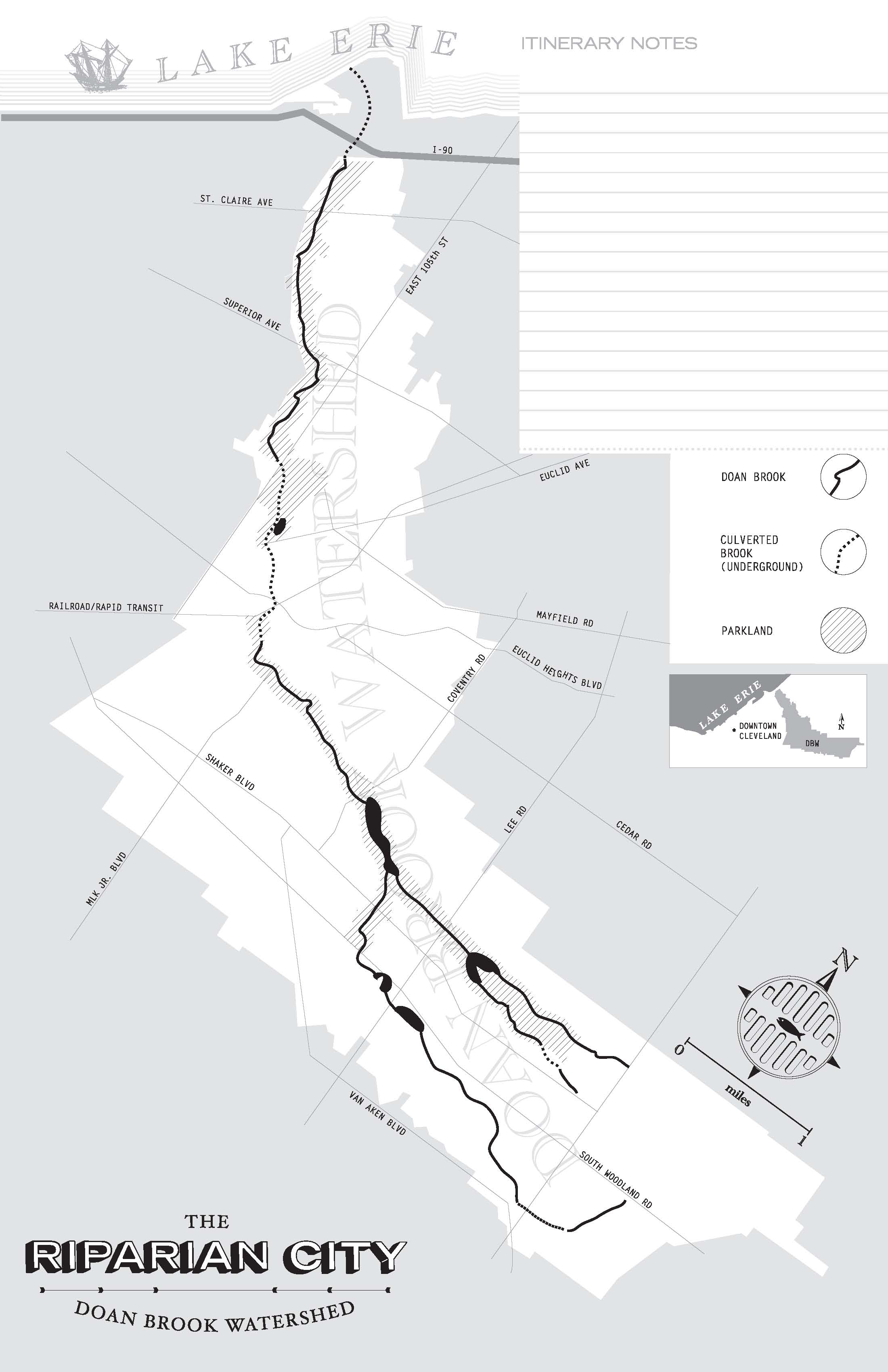 Writing about Right to the Riparian City, Griffs says:
We are forced to recognize passports, drivers' licenses, ports of entry and various other kinds of things (like maps and road signage) that reinforce our relationship to place as one defined by political territories. The movement of air, water, plants and animals, pollution and minerals, all function with no regard for political territories. They follow more fluid boundaries defined by things like the flow of water over land, what we call a watershed.
Griffis has created official documents as part of the piece. The documents are part passport and part guidebook, designed to upset typical relationships to place. The document begins by asking the bearer, "Where do you live?" A quick answer to that question might be resolved with one's address, but further thought can lead to state-imposed boundaries such as national borders, or geological frames such as plateau, escarpment, or lake plain. Crossing national borders is a challenge fraught with paperwork and security checks for humans, but as Griffis says, there is an entire world of non-humans and various materials, that move freely across the imposed concept of state boundaries. With this project, Griffis wants us to think critically about how we view the places in which we live and travel.
The Right to the Riparian City passport entitles the bearer to official passage through the Doan Brook Watershed and the histories of migration and movement contained within. The small booklet becomes a meditation on scale from the overall all geological region to the social relations throughout history that have shaped this place. Griffis blurs the boundaries of how we consider geological language and social language. The Right to the Riparian City passport is organized into three parts: Lake Plain, Escarpment, and Plateau–geographical terms that are defined, in this context, as anything but relating to geography. The Lake Plain section looks at the environmental racism of coal fired power in the Ohio region. The Escarpment section describes how information is received and shared with a brief history of an early people's Internet project, and the Plateau section presents activist projects that successfully resisted racism in the Cleveland area.
This ersatz passport creates an entry point for understanding how the flowing stream of activist projects, state racism, the Underground Railroad, the Internet, animals, plants, and human can meet each other on the land, lake plain, escarpment, or plateau. Through this fiction we are confront our assumptions about how we view the landscape.
Beyond the view, there are social histories that are equally as important in constructing and shaping a landscape as the flows of a waterway.
Note: All images courtesy of the Temporary Travel Office.
Radio Aktiv Sonic Deep Map (2013)

SUPERKILEN – Extreme Neoliberalism Copenhagen Style

Download our guide:

Video interview:

Watch our interview of SeedBroadcast, a mobile project that is part seed library and part seed-saving-story-collecting machine-recording the stories of seed saving, farming, and food sovereignty work being done around the US.

BOOK: Deep Routes

Bonnie co-edited this collection of essays that reflect on who gets to define a region and what the struggles are in relation to being in a place and demanding social justice across many issues and terrains.

---

Download a poster Bonnie made about biodiversity in a vacant lot in the Amager borough of Copenhagen, in collaboration with biologist, Inger Kærgaard, ornithologist, Jørn Lennart Larsen and botanist, Camilla Sønderberg Brok: A BRIEF TAXONOMY OF A LOT

---

We made and installed a network of bat houses in Urbana, Illinois, to support the local and regional bat population, but also to begin a conversation about re-making the built environment.
READ MORE

---

BOOK REVIEW:

We write often about artists and art groups that work with putting 'culture' back in agriculture. Here is a new favorite: myvillages, a group of three women based in Germany, the Netherlands, and the UK. Read more...