OPI – Other Peoples' Ikea: #2 Bigger Desk
In addition to working with Bonnie on the Mythological Quarter, I work with a group of artists called Temporary Services. We recently put up an exhibition of photographs, at the Architectural Association in London, documenting ways in which people modify public spaces either through direct manipulation or collective neglect. We made a poster to accompany the show. On one side are photographs of piles of bikes from Copenhagen and Aarhus. What these photos show is a tremendously wasteful attitude to the much lauded "ecological" bike culture of Denmark. There is an enormous amount of wealth here that produces quite stunning waste streams. The bikes are one waste stream I have been paying attention to for some years. The Ikea-waste-stream is one that is a more recent interest.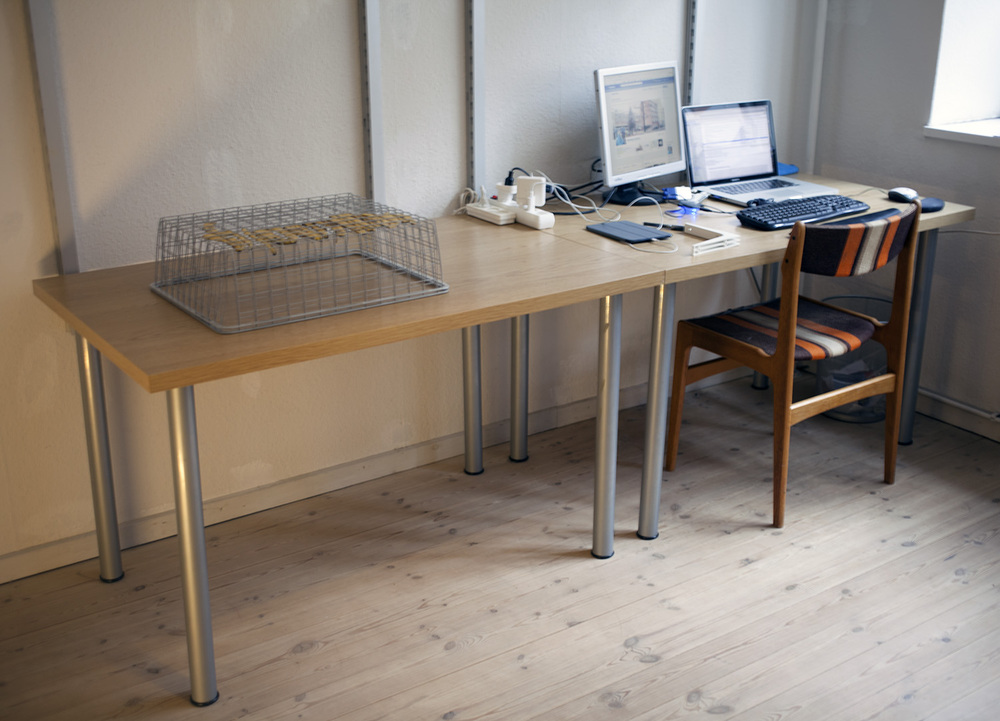 For the past 10-12 years, my work desks have always come from the trash. I had a particularly ugly desk until a couple of days ago when I found two identical Ikea kitchen tables in the garbage. Here they are installed in our office / work room / play room. The quality of these tables is very low. You get a sense of this just from handling them. The wood print on the laminate boards is so bad that it isn't even lined up and makes the pattern appear fuzzy and a bit psychedelic.
For all the hype of Copenhagen being the city of the future – fantasies of carbon neutrality and so forth – there is a baseline consumer culture that needs to be eradicated as it is destructive, hidden and not talked about. This needs to change before claims of sustainability or carbon neutrality can be taken seriously. And this is only a baby step towards a resilient future that reverses the horrible effects of industrialization on our planet.
Radio Aktiv Sonic Deep Map (2013)

SUPERKILEN – Extreme Neoliberalism Copenhagen Style

Download our guide:

Video interview:

Watch our interview of SeedBroadcast, a mobile project that is part seed library and part seed-saving-story-collecting machine-recording the stories of seed saving, farming, and food sovereignty work being done around the US.

BOOK: Deep Routes

Bonnie co-edited this collection of essays that reflect on who gets to define a region and what the struggles are in relation to being in a place and demanding social justice across many issues and terrains.

---

Download a poster Bonnie made about biodiversity in a vacant lot in the Amager borough of Copenhagen, in collaboration with biologist, Inger Kærgaard, ornithologist, Jørn Lennart Larsen and botanist, Camilla Sønderberg Brok: A BRIEF TAXONOMY OF A LOT

---

We made and installed a network of bat houses in Urbana, Illinois, to support the local and regional bat population, but also to begin a conversation about re-making the built environment.
READ MORE

---

BOOK REVIEW:

We write often about artists and art groups that work with putting 'culture' back in agriculture. Here is a new favorite: myvillages, a group of three women based in Germany, the Netherlands, and the UK. Read more...