New Garden City  is an exhibition curated and organized by Art + Inovation Hub (Majken Overgaard and Pernille Skov) with Aukje Lepoutre Ravn, exploring the agricultural past of a Copenhagen suburb. Currently on display at Traneudstillingen (Gentofte Hovedbibliotek, Ahlmanns Allé 6, DK-2900 Hellerup, Denmark) in Gentofte until October 5, the exhibition includes projects by Learning Site, Jette Ellgaard, Søren Dahlgaard and Kenneth Balfelt among others.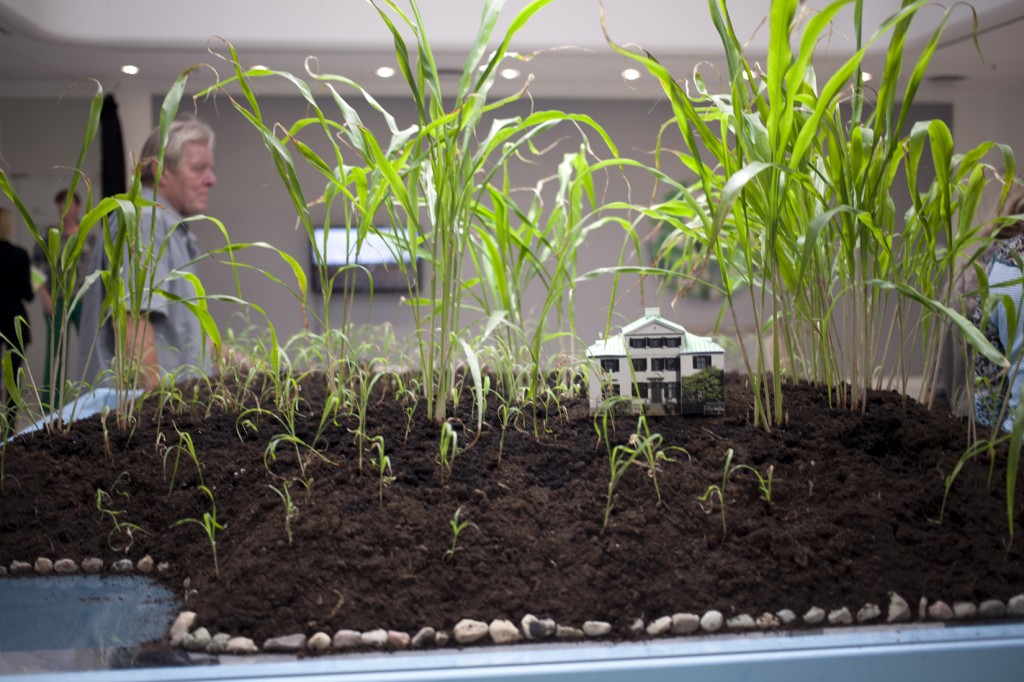 Art + Inovation Hub organized the exhibition to explore 3 themes: community, food production, and rituals. Their starting point was the agricultural history of the exhibition location—a century ago, the suburb of Gentofte was a farm headed by a single land owner with 42 serfs. Pieces in the show explore farming and gardening practices, meditate on agricultural history, reflect on rural culture, and present farming in new contexts, such as  a prison garden project. Traneudstillingen director, Auke Lepoutre Ravn, states:
New Garden City is not a version of utopia. New Garden City is merely pointing out and trying to engage people — especially the local community in Gentofte — in participating and helping develop new ways of producing and acting around food in the suburb.
There are, however, utopian aspirations; the curatorial team was in part inspired by the writing British author, Ebenezer Howard's (1859-1928) book, Garden Cities of Tomorrow. Howard hypothesized innovative urban planning involving suburban garden cities–"social towns" where people would work together to grow food.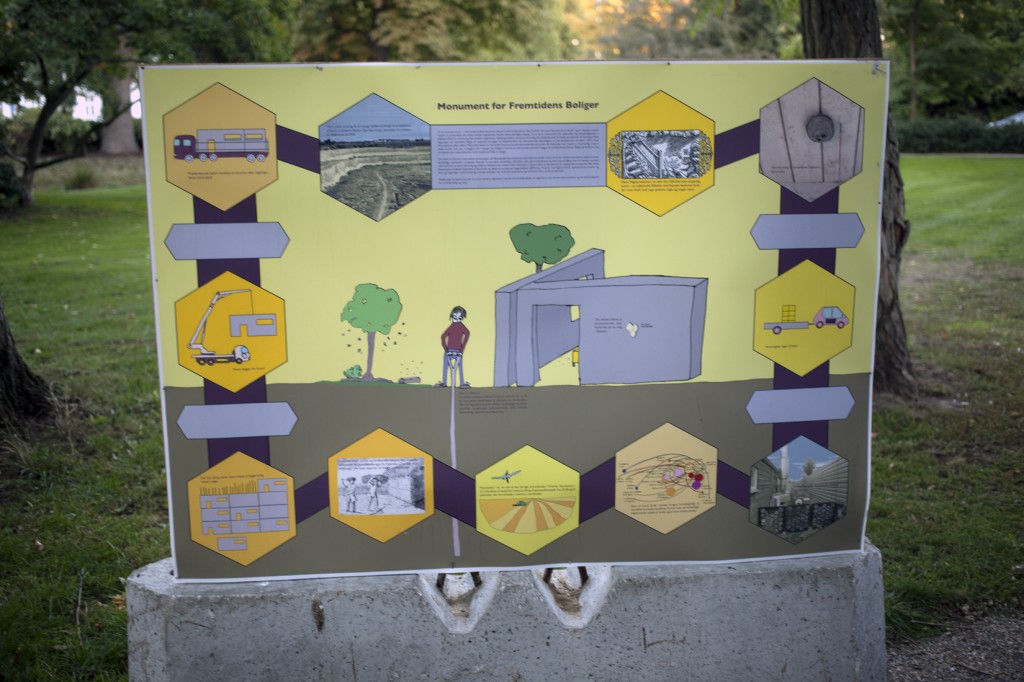 Learning Site (Rikke Luther and Cecilia Wendt) set up a bee hive and a new Learning Poster on the grounds of the library. Their project will continue after the conclusion of the exhibition, a goal of the curators, who write in their description of the exhibition that they desire local community engagement with the project. In addition to the exhibition, New Garden City includes three interdisciplinary workshops, organized by Majken Overgaard and Malthe Martin Borch, focused on creating discussion around how to produce food in the suburbs. Auke Lepoutre Ravn says that local food production was a big interest for the organizers.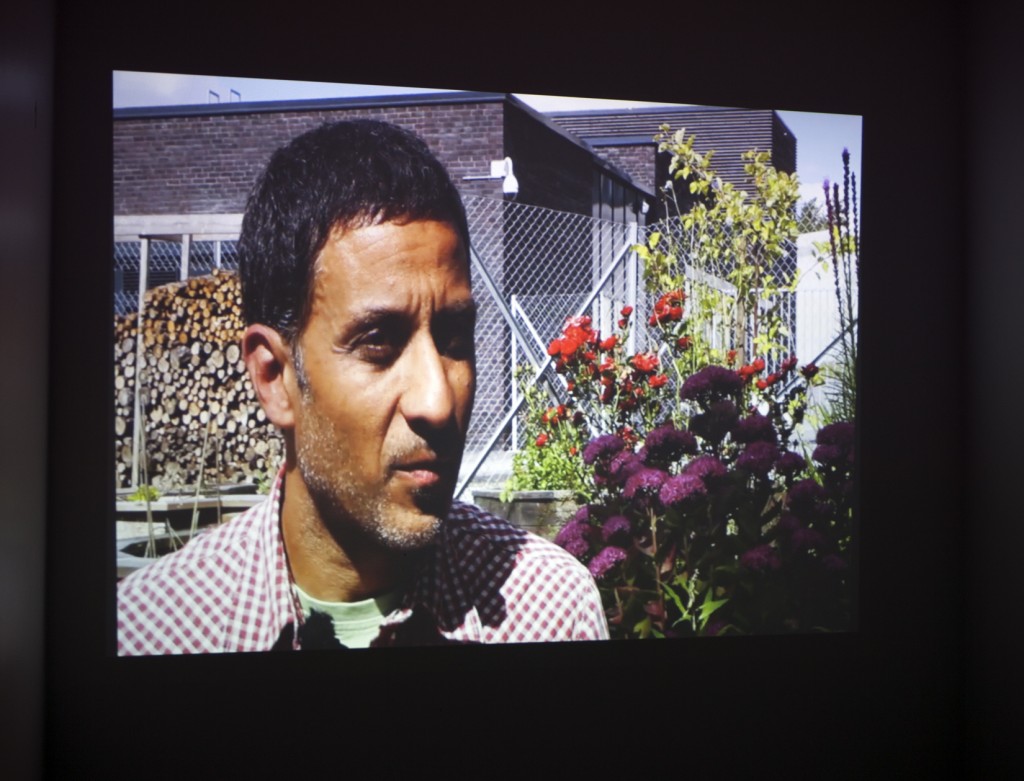 One of my favorite pieces in the show was a film documenting Kenneth Balfelt's Livs Udviklings Have (Life Development Garden). Balfelt, who has worked for many years with marginalized populations on various projects, now collaborates with prisoners at a newly built prison in Norway to design and grow a therapeutic garden inside the prison. The prisoners, like in all of the artist's projects, are the main designers and leaders of the project. Through interviews with the prisoners, prison guards, and Balfelt, we learn about the process of making the garden.
The piece is interesting in the context of a many recent stories about the transformative potential of urban agriculture projects in which people outside mainstream society are able to find new footing growing gardens or working with bees. For example, this recent story from Chicago and this one in Copenhagen.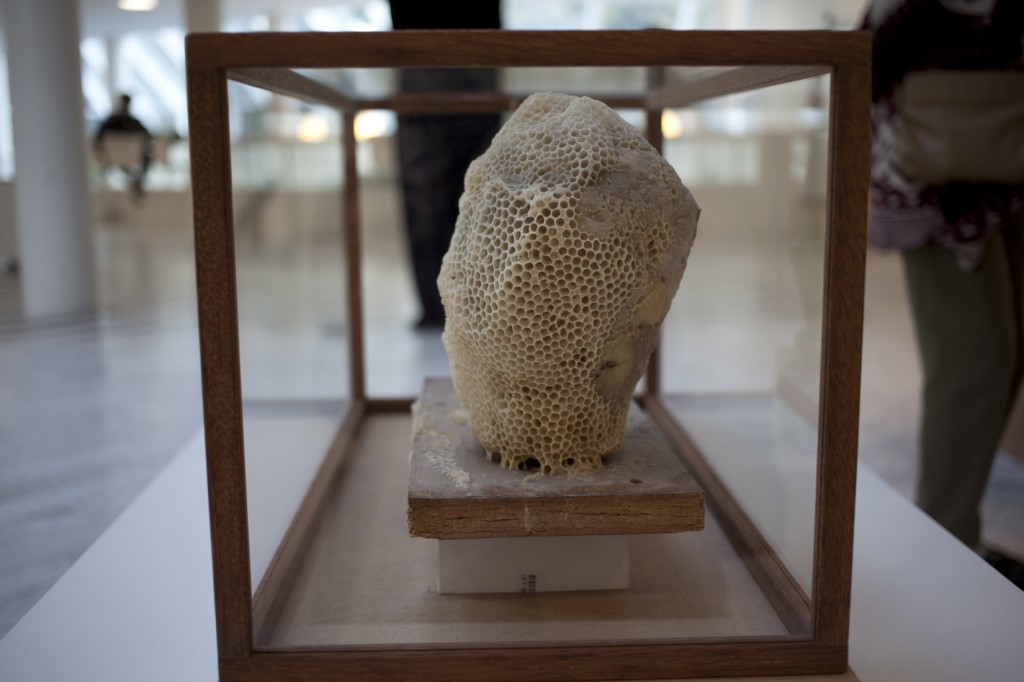 New Garden City moves from practical explorations of communities and agriculture, like in the works of Balfelt and Learning Site, to the more poetic. Two successful examples of more poetic explorations of agricultural life where pieces by Emil Westman Hertz and Jette Ellgaard.
Ellgaard grew up in an agricultural community in rural Denmark and her work continues to be inspired by that experience. She presented 4 video pieces  documenting various aspects of rural life from fetishization of big farm machines to the convivial spirit of singing together in a community meeting hall.
Emil Westman Hertz was also inspired by his childhood in rural Denmark with family members who kept bees. For his contribution, he made a new sculptural work in collaboration with bees. By setting a model of his head inside a hive, he was able to coax the bees into building a comb in the shape of his head.  Hilarious.
If you are in Denmark, hurry out to Gentofte before the show closes. Everyone else, read the exhibition catalog in Danish and English here.
Radio Aktiv Sonic Deep Map (2013)

SUPERKILEN – Extreme Neoliberalism Copenhagen Style

Download our guide:

Video interview:

Watch our interview of SeedBroadcast, a mobile project that is part seed library and part seed-saving-story-collecting machine-recording the stories of seed saving, farming, and food sovereignty work being done around the US.

BOOK: Deep Routes

Bonnie co-edited this collection of essays that reflect on who gets to define a region and what the struggles are in relation to being in a place and demanding social justice across many issues and terrains.

---

Download a poster Bonnie made about biodiversity in a vacant lot in the Amager borough of Copenhagen, in collaboration with biologist, Inger Kærgaard, ornithologist, Jørn Lennart Larsen and botanist, Camilla Sønderberg Brok: A BRIEF TAXONOMY OF A LOT

---

We made and installed a network of bat houses in Urbana, Illinois, to support the local and regional bat population, but also to begin a conversation about re-making the built environment.
READ MORE

---

BOOK REVIEW:

We write often about artists and art groups that work with putting 'culture' back in agriculture. Here is a new favorite: myvillages, a group of three women based in Germany, the Netherlands, and the UK. Read more...