This summer we were part of a deeply inspiring camp of artist, activists, and researchers called Case Pyhäjoki in Pyhäjoki, Finland. We've written about it here and here. The camp was focused on bringing people together to talk about a nuclear power plant proposed for this rural Finnish town. Before we went, we thought this would be a great opportunity to make a project that we have been talking about for years: The Powerless PowerPoint! The Powerless PowerPoint remakes the ubiquitous digital slide show using non-electronic means. It allows us to tell the story of our art practice without using power, a perfect gesture at a conference focused on problems with nuclear power and increased energy consumption.
The Powerless PowerPoint starts with a quote from the Environmental Design Primer by Tom Bender: "We seek a lower standard of living for a higher quality of life." This book was part of our Library of Radiant Optimism — how-to books published in the late 1960s and early 1970s from the counterculture. The quote reflects on shifting away from a society based on limitless growth.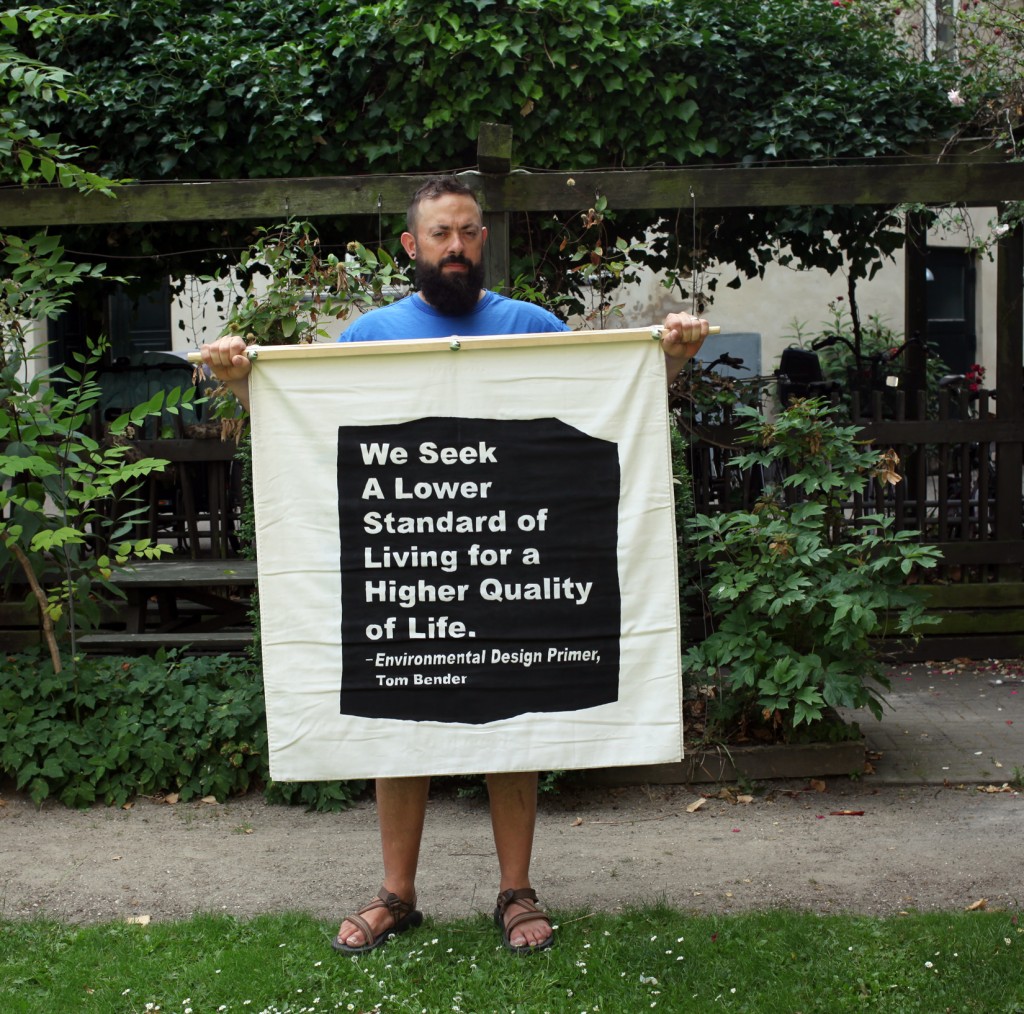 The second slide says Habitat and refers to our various projects focusing on documenting and increasing animal habitat in the built environment. See some of those projects like Bat House (Urbana, 2010) and others here and here.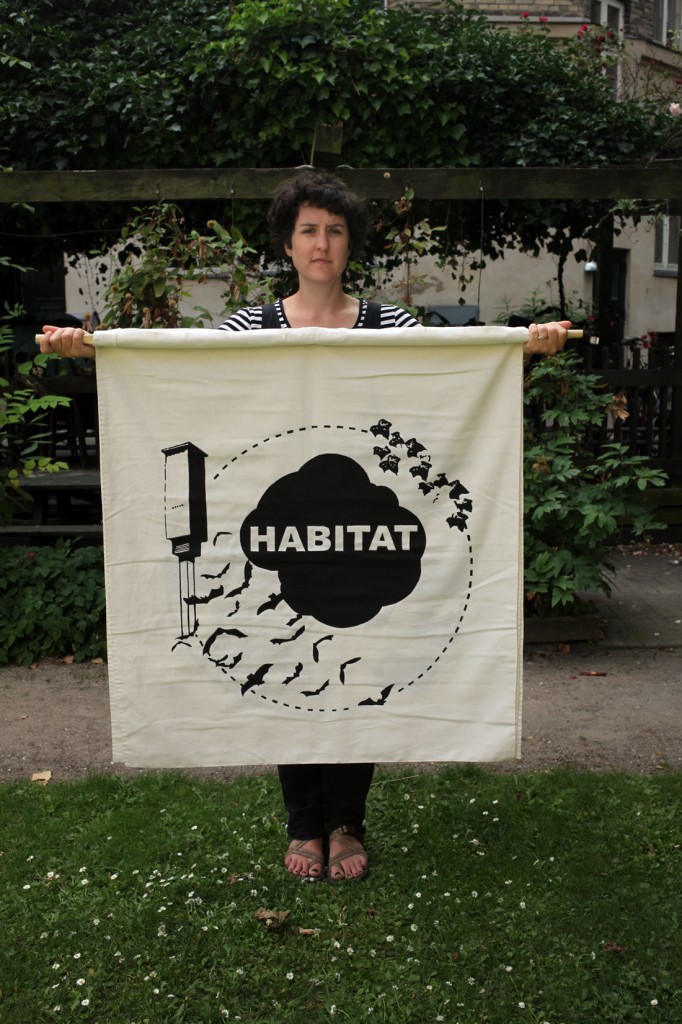 The third slide says Energy and is a reference to our work with the Midwest Radical Culture Corridor . We worked with this group of artists and scholars when we lived in the Midwestern United States.Together we made several projects reflecting on regional infrastructures from the power grid to self-organized economies, including the mapping project Region from Below: Power Plants.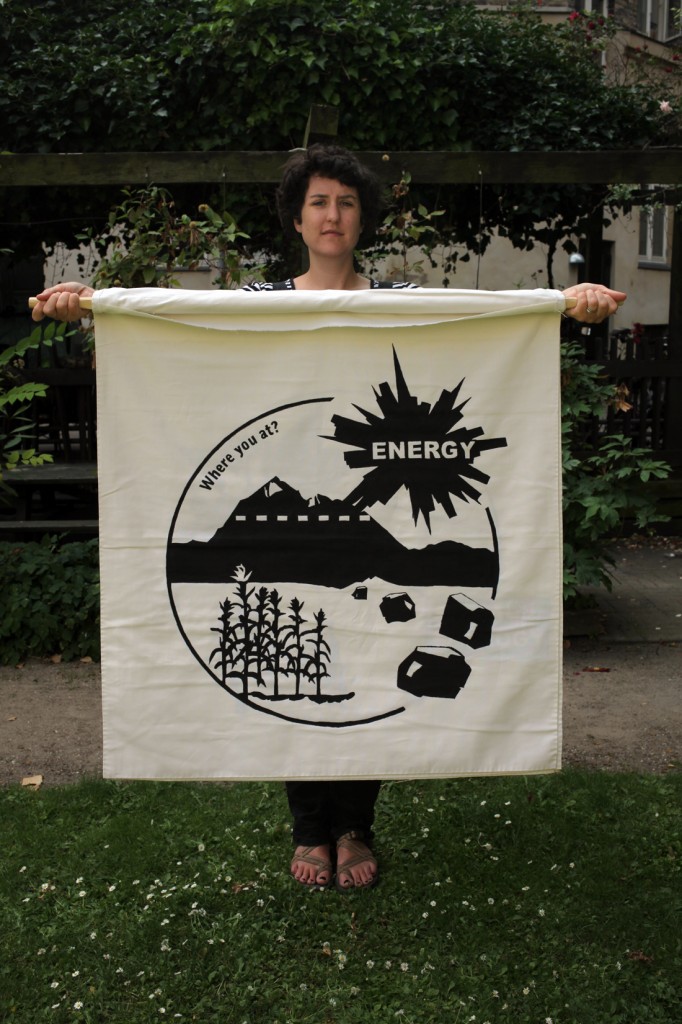 The Social Ecology slide refers to the communities we are part of, and try to facilitate, in relation to building a sustainable and diverse network of people creating strong cultures of support. Projects like Mess Hall, The Alphabet Tower, and the Midwest Radical Culture Corridor all reflect the concept of social ecology– a term I first picked up from the Post Carbon Reader, a publication from the environmental think-tank, the Post Carbon Institute.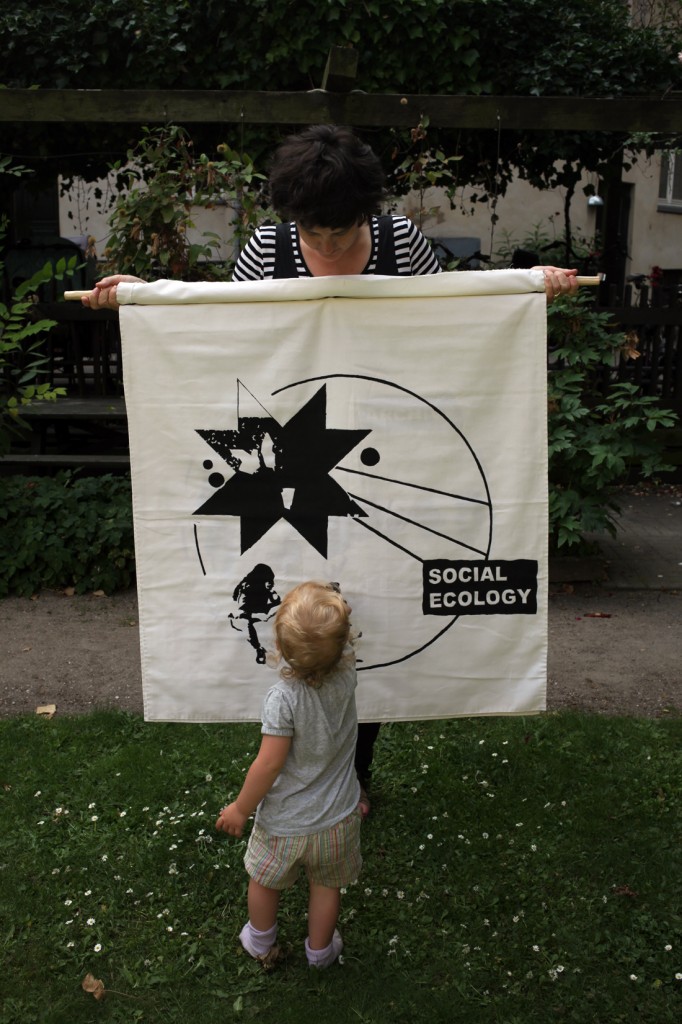 Archive and Publish, the final slide, is about our sustained interest in artistic research as part of our practice. This thread runs through our work together and our work in other collaborative configurations. Archives from The Library of Radiant Optimism to the Self-Reliance Library (PDF by Temporary Services) and publishing projects from zines to artist books, this is an important aspect of how we gather and present information on the topics we care about. We also collect image archives, bringing together years worth of photographs on a topic, like Brett's work with the art group Temporary Services, Mobile Phenomena and our recent image collection, Søger Lejlighed. These image archives produce visual information about how our city spaces are shaped.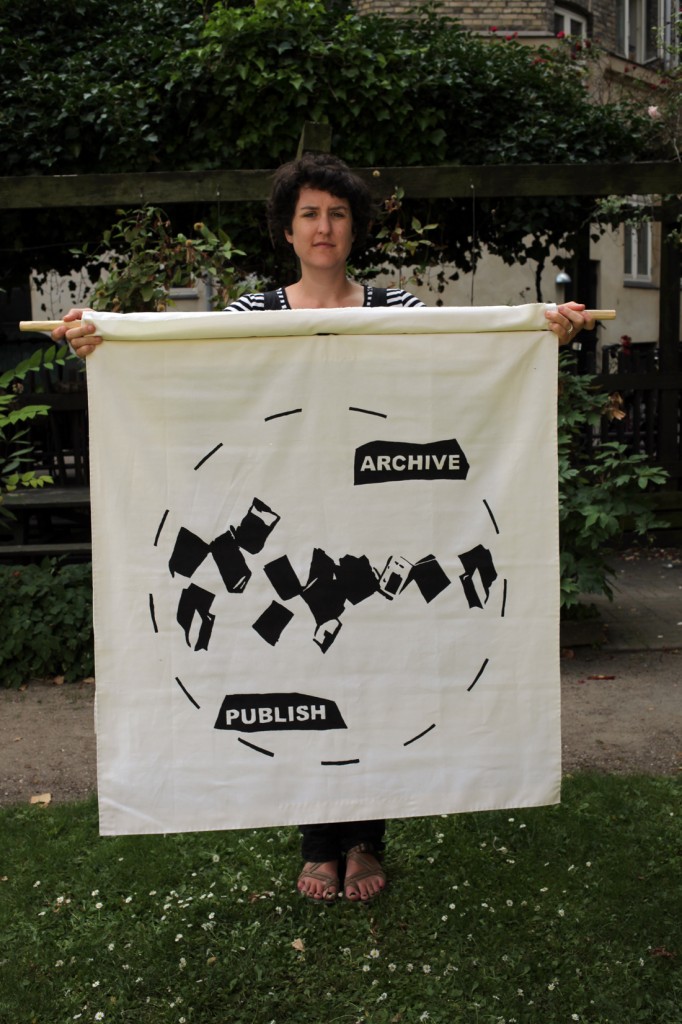 Each slide was painted on to canvas and then attached to a handle system via riveted holes in the cloth. We never did present the Powerless PowerPoint in Finland but we hope to add to it and present it in the future. If you need a Powerless Powerpoint, let us know.
Radio Aktiv Sonic Deep Map (2013)

SUPERKILEN – Extreme Neoliberalism Copenhagen Style

Download our guide:

Video interview:

Watch our interview of SeedBroadcast, a mobile project that is part seed library and part seed-saving-story-collecting machine-recording the stories of seed saving, farming, and food sovereignty work being done around the US.

BOOK: Deep Routes

Bonnie co-edited this collection of essays that reflect on who gets to define a region and what the struggles are in relation to being in a place and demanding social justice across many issues and terrains.

---

Download a poster Bonnie made about biodiversity in a vacant lot in the Amager borough of Copenhagen, in collaboration with biologist, Inger Kærgaard, ornithologist, Jørn Lennart Larsen and botanist, Camilla Sønderberg Brok: A BRIEF TAXONOMY OF A LOT

---

We made and installed a network of bat houses in Urbana, Illinois, to support the local and regional bat population, but also to begin a conversation about re-making the built environment.
READ MORE

---

BOOK REVIEW:

We write often about artists and art groups that work with putting 'culture' back in agriculture. Here is a new favorite: myvillages, a group of three women based in Germany, the Netherlands, and the UK. Read more...