Currently viewing the tag: "exhibition"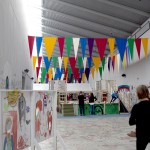 Unleash children's joy, fantasy, and creativity–then they are free, social, and curious children." – Palle Nielsen
Living in Copenhagen now, there are a lot of options for children. Most neighborhoods have imaginative playgrounds with interactive play areas based on themes like a Bermuda Triangle shipwreck, […]
Continue Reading

→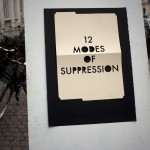 Traveling artist, environmental activist, and friend of the MQ, Katherine Ball was recently in Copenhagen on an artist residency. Ball put her series 12 Modes of Suppression  at YNKB, the very local (it's right next door) art space and artist-activist meeting center.
She wrote this about the exhibition:
Continue Reading →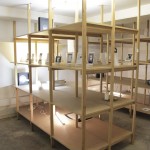 A new art space opened in Copenhagen last Friday–Odradek (Gammel Kongevej 23, baghuset, 1610 København V) with the collectively curated exhibition Family Man. The space is run by eight artists: Timothy Citizen, Simen Joachim Helsvig, Kim Young Kilde, Mathias Kryger (sub), Asle Lauvland Pettersen, Trine Mee Sook Gleerup, Tue Sprogø and Marie Thams. I was invited to participate […]
Continue Reading

→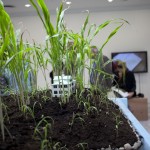 The Mythological Quarter was in residence in Berlin last year in the early spring at Lichtenberg Studios in Berlin. Uwe Jonas, the director of the residency program, puts together an exhibition each year of the work of the residents at the studios. We have a couple of things in this show reflecting on urban bird […]
Continue Reading

→
Last Friday, I went over to Malmö for the opening of Flora & Friends at the Skånes Konstförening. This tiny, independently run artspace above a paint store on outskirts of Malmö often has good exhibitions. It gives artists and students working with experimental projects a place to exhibit. Artist/curator, Jeanette Land Schou put together […]
Continue Reading

→
Mythological Quarter speaks with Copenhagen resident Inger Kærgaard about her environmental activism:
Danish biologist and teacher, Inger Kærgaard loves forests. Her love led her to develop two cultural exhibitions that not only educate the public about forests, but also about how they can help preserve and protect them. She is an […]
Continue Reading

→
Radio Aktiv Sonic Deep Map (2013)

SUPERKILEN – Extreme Neoliberalism Copenhagen Style

Download our guide:

Video interview:

Watch our interview of SeedBroadcast, a mobile project that is part seed library and part seed-saving-story-collecting machine-recording the stories of seed saving, farming, and food sovereignty work being done around the US.

BOOK: Deep Routes

Bonnie co-edited this collection of essays that reflect on who gets to define a region and what the struggles are in relation to being in a place and demanding social justice across many issues and terrains.

---

Download a poster Bonnie made about biodiversity in a vacant lot in the Amager borough of Copenhagen, in collaboration with biologist, Inger Kærgaard, ornithologist, Jørn Lennart Larsen and botanist, Camilla Sønderberg Brok: A BRIEF TAXONOMY OF A LOT

---

We made and installed a network of bat houses in Urbana, Illinois, to support the local and regional bat population, but also to begin a conversation about re-making the built environment.
READ MORE

---

BOOK REVIEW:

We write often about artists and art groups that work with putting 'culture' back in agriculture. Here is a new favorite: myvillages, a group of three women based in Germany, the Netherlands, and the UK. Read more...