An artist talk in a greenhouse…
I recently participated in the Greenhouse Artist Talks in Malmö, Sweden. Independent curator and researcher, Veronica Wiman is organizing this series of intimate gatherings in the Slottsrädgården greenhouse near Malmö's main train station. Wiman, who has worked at the Yerba Buena Center in San Francisco and for several years in Cali, Columbia, is currently focusing her research in Malmö on urban gardens and their social effects.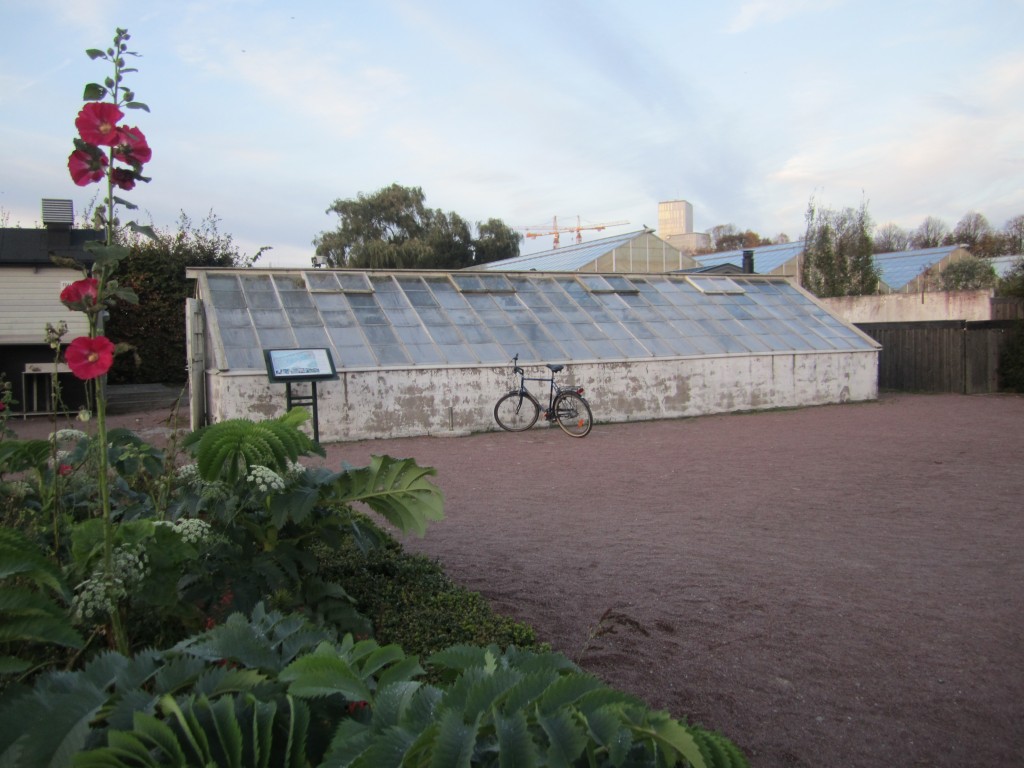 It was an honor to be included in Wiman's series curated to explore urban gardening and archival practices. The series includes Zeenath Hasan, the Sunshine Socialist Cinema, and Learning Site among others. Hasan, an ethnographer and food entrepreneur who runs Malmö's radical food project Tapori Tiffins, talked about foraging as an act of resistance! You can read more about the program here.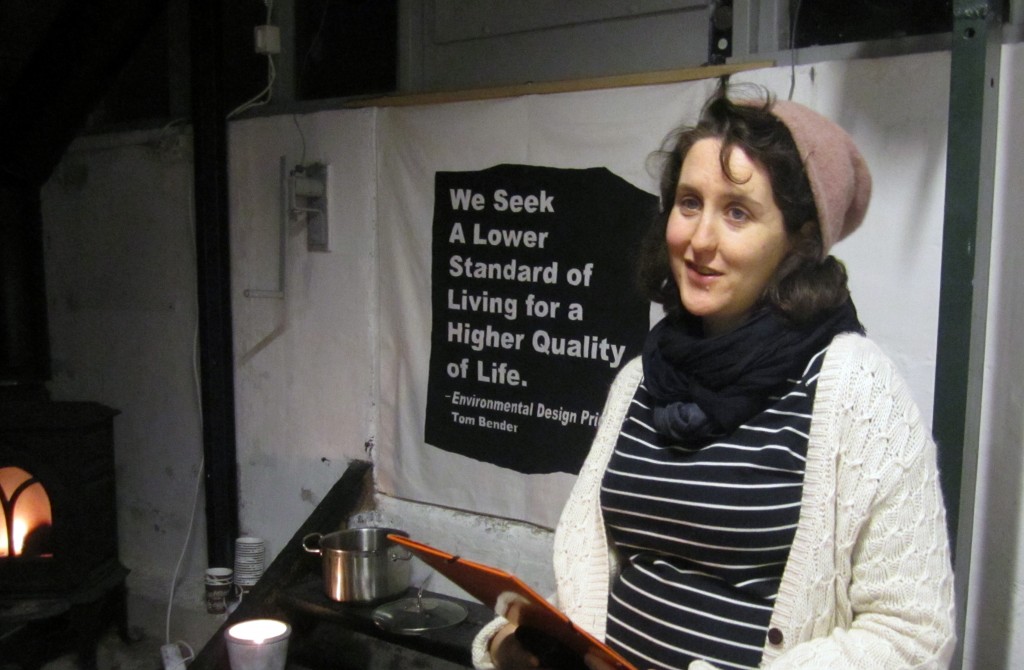 For my presentation, I talked about powering down using the Powerless PowerPoint we made last year. The first Powerless PowerPoint is a series of five slides describing the collaborative art practice Brett and I share.  It made sense to have a low power presentation, i.e. no computer, no project in the greenhouse.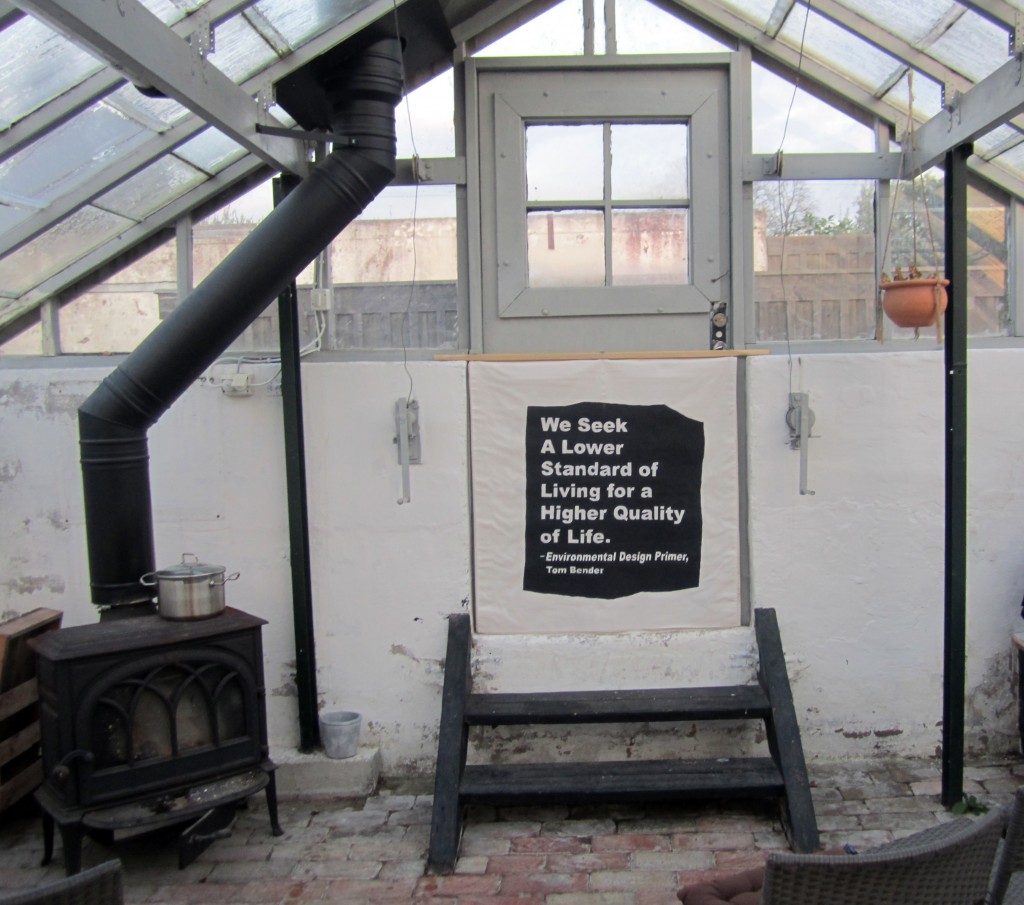 The first slide in the Powerless PowerPoint refers to a quote from Environmental Design Primer , a book in the Library of Radiant Optimism project Brett and I ran until 2010. We chose this quote because it reflects on turning away from a culture based on unlimited growth and consumption and turning towards a richer culture based on deeper connections and relationships–to each other, to place.
I also talked about the release of my new book project, An Edge Effect: Art and Ecology in the Nordic Landscape (Half Letter Press, 2014). I'll be sharing more about that here next week.
One of my favorite parts of giving artist talks is meeting new friends. Not only was I re-introduced to Veronica's curatorial work which weaves social politics with urban design, but I got to meet the Swedish artist, Malin Lobell. Lobell works with plants in clever and interventionist modes. Her public projects look at how plants appear in urban spaces and how plants might be considered political. She has combined an art education with a life long research into cultivating her knowledge of plants. Check out more of her work here.
Radio Aktiv Sonic Deep Map (2013)

SUPERKILEN – Extreme Neoliberalism Copenhagen Style

Download our guide:

Video interview:

Watch our interview of SeedBroadcast, a mobile project that is part seed library and part seed-saving-story-collecting machine-recording the stories of seed saving, farming, and food sovereignty work being done around the US.

BOOK: Deep Routes

Bonnie co-edited this collection of essays that reflect on who gets to define a region and what the struggles are in relation to being in a place and demanding social justice across many issues and terrains.

---

Download a poster Bonnie made about biodiversity in a vacant lot in the Amager borough of Copenhagen, in collaboration with biologist, Inger Kærgaard, ornithologist, Jørn Lennart Larsen and botanist, Camilla Sønderberg Brok: A BRIEF TAXONOMY OF A LOT

---

We made and installed a network of bat houses in Urbana, Illinois, to support the local and regional bat population, but also to begin a conversation about re-making the built environment.
READ MORE

---

BOOK REVIEW:

We write often about artists and art groups that work with putting 'culture' back in agriculture. Here is a new favorite: myvillages, a group of three women based in Germany, the Netherlands, and the UK. Read more...