BIRD HABITAT: FOUND vs. DESIGNED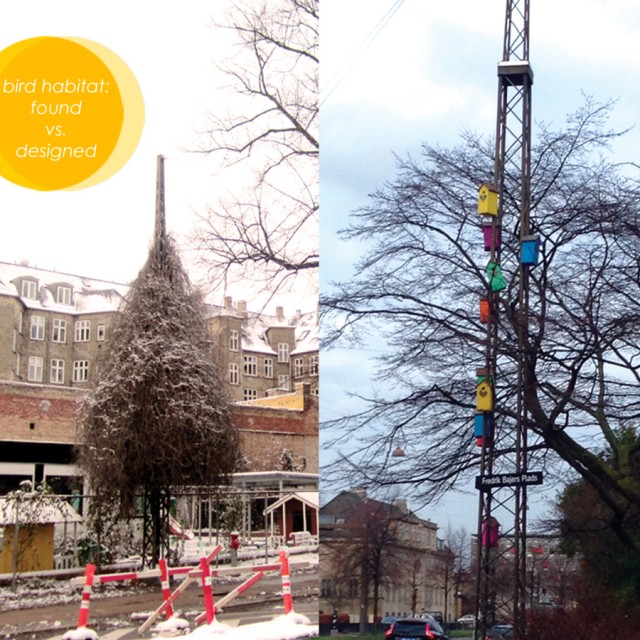 A big obsession of ours is urban habitat–animal and human made. We think about cities that are designed to accommodate both human and animal populations in a sustainable and thoughtful manner. We have made our own urban animal habitat projects, so we are interested when others work in this vein, as well.
Street artist, Thomas 'Dambo' Winter makes birdhouses from recycled materials to draw attention to consumption and bird habitat in cities. The bird houses are brightly colored and can be seen all over Copenhagen. His bird house project began in Denmark and has since spread to other countries around the world. He calls his initiative Happy City Birds.
I see the Happy City Birds birdhouses on my walks around the neighborhood, their bright colors interrupting the otherwise totally grey Copenhagen landscape.  Here are a bunch at the corner of Nørre Allé and Frederik Bajers Plads.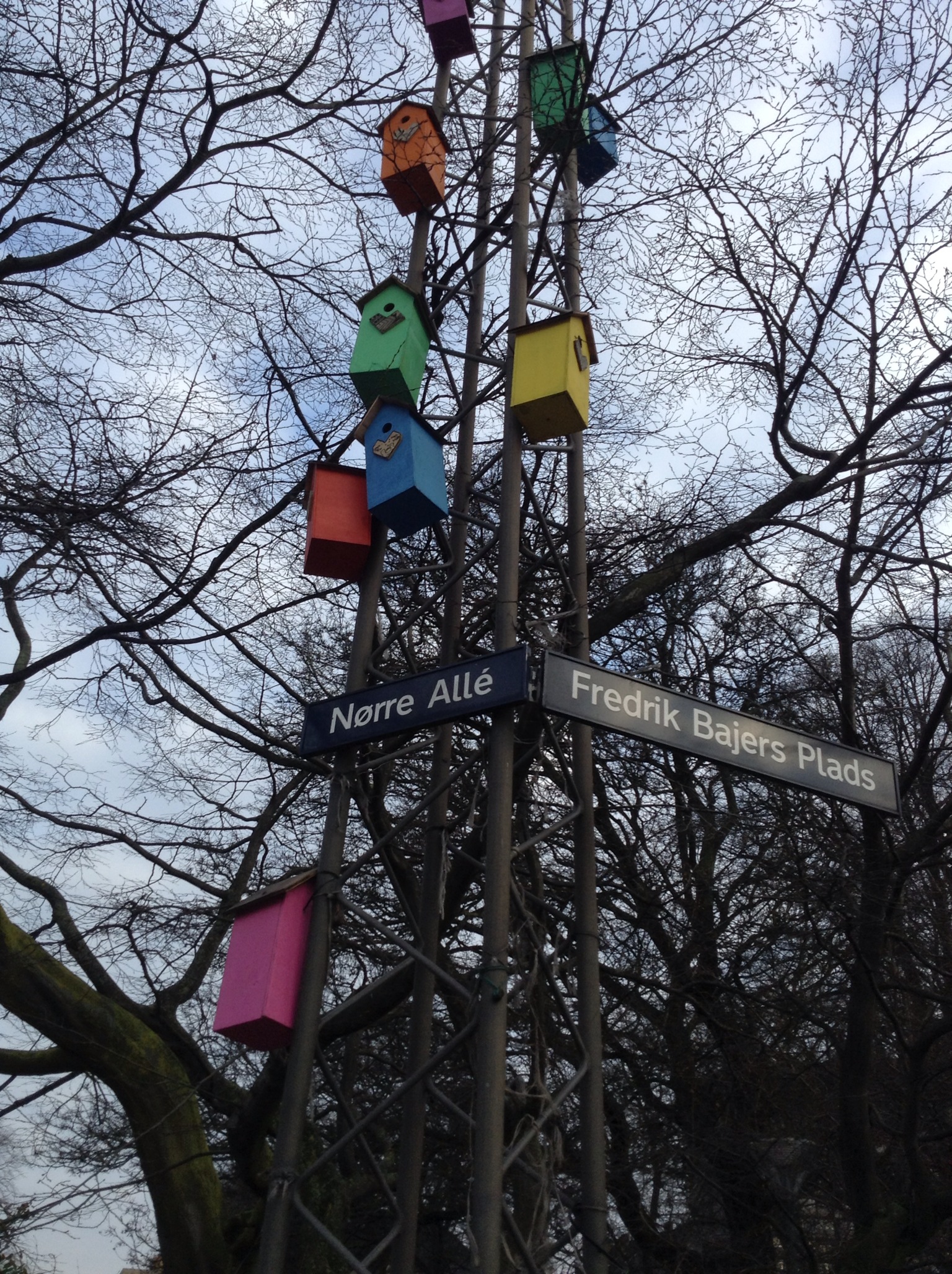 I recently made a post about another kind of birdhouse. This bird-made, or rather bird found, habitat, is also a central part of our Nørrebro neighborhood. Thought is does not boast bright colors and shapes, it re–purposes this giant, viney bush as a bird hotel. It also sits on a comparable piece of municipal architecture–the street light wire pole.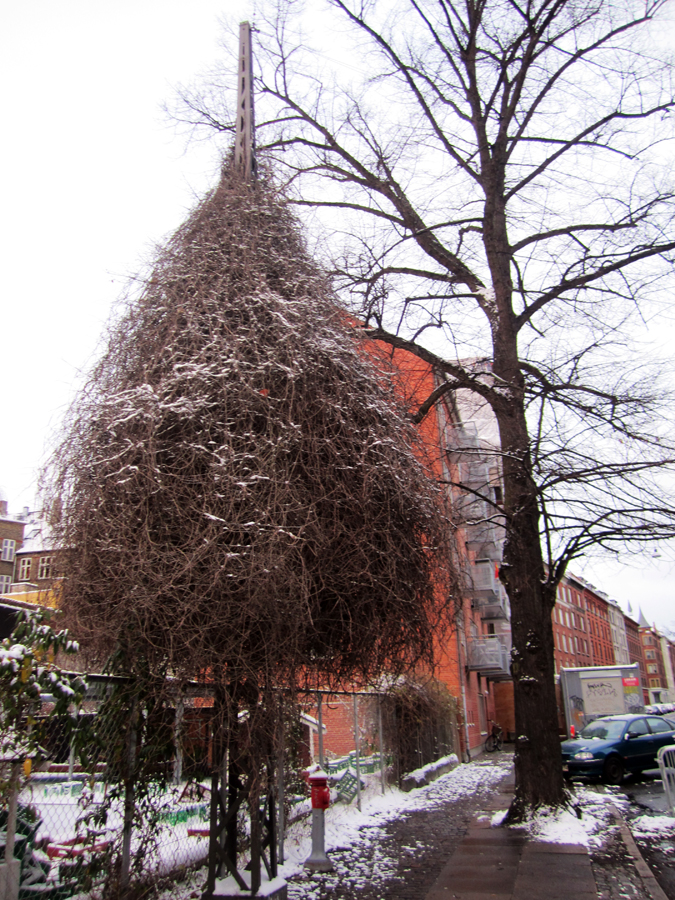 I see birds coming in and out of the vine all the time. I have never seen any birds in the Happy City Birds birdhouses, or any other human made birdhouses in the neighborhood, for that matter. The Happy City Birds birdhouses, do indeed make the city a brighter place, but they are definitely more for people than for actual birds.
Can people actually encourage specific habitats to be used by birds and animals through design, or will the creatures consistently find something that works for them, while avoiding the well intended, human-made habitat options? What can we do to give more spaces over to natural habitat that will house animals rather than imposing things like human-made houses on them?
Radio Aktiv Sonic Deep Map (2013)

SUPERKILEN – Extreme Neoliberalism Copenhagen Style

Download our guide:

Video interview:

Watch our interview of SeedBroadcast, a mobile project that is part seed library and part seed-saving-story-collecting machine-recording the stories of seed saving, farming, and food sovereignty work being done around the US.

BOOK: Deep Routes

Bonnie co-edited this collection of essays that reflect on who gets to define a region and what the struggles are in relation to being in a place and demanding social justice across many issues and terrains.

---

Download a poster Bonnie made about biodiversity in a vacant lot in the Amager borough of Copenhagen, in collaboration with biologist, Inger Kærgaard, ornithologist, Jørn Lennart Larsen and botanist, Camilla Sønderberg Brok: A BRIEF TAXONOMY OF A LOT

---

We made and installed a network of bat houses in Urbana, Illinois, to support the local and regional bat population, but also to begin a conversation about re-making the built environment.
READ MORE

---

BOOK REVIEW:

We write often about artists and art groups that work with putting 'culture' back in agriculture. Here is a new favorite: myvillages, a group of three women based in Germany, the Netherlands, and the UK. Read more...