Oda Projesi at Astrid Noaks Atelier
Oda Projesi is Özge Açıkkol, Güneş Savaş and Seçil Yersel. They are early pioneers of what is now called socially engaged art practice by many. Their collaboration  began in a room in Istanbul in 2000. Seriously, their name translates as "Room Project" from Turkish. You can watch a talk given by Seçil  about their work at the 2012 Creative Time Summit here that explains the group's history.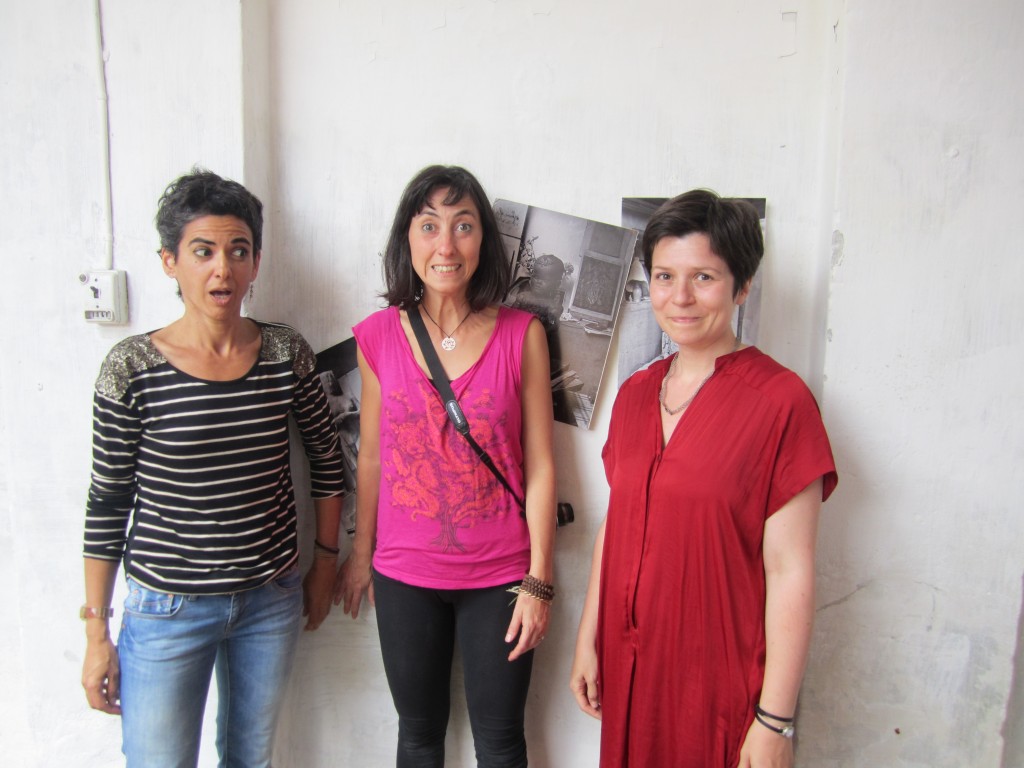 Oda Projesi were recently artists in residence in our neighborhood as a part of the Astrid Noaks Atelier (A.N.A) residency program. When they began collaborating in the room in Istanbul, they worked with neighborhood children on art projects. Their process is heavily embedded in discussion, neighbors, and the beauty of everyday life. They look at how social relationships create places. Their work at A.N.A was no different.
Ana means "mother" in Turkish.  The 3 artists brought their children–the youngest 10 months, the oldest 6 years–along with them on the 3-week residency. The work they did here at A.N.A took its inspiration from motherhood–concepts of motherhood, how motherhood effects an art practice, etc. The project was both personal and expansive.
They arrived in sleepy Copenhagen from tumultuous Istanbul with daily protests and police presence over the last bit of green space in the city–the public park Taksim Square / Gezi Park. They took the first week to acclimate to the new surroundings figuring out how to manage time with children, going to the grocery store, and soaking up the quiet in Copenhagen.
The second 2 weeks were focused on giving presentations and making work in the community. One of their local pieces was a performance acknowledging the protests happening back in Turkey–Stand for Gezi Park, took place in Copenhagen's Superkilen, and was inspired by a standing protest that had taken place in Istanbul.
The motherhood project was their main focus, however.  In relationship to this research, they made the ANA F(Acts) flier here, which pragmatically lists out their daily activities while participating in the A.N.A residency. They also made a small, sandbox playground outside of the Astrid Noaks Atelier for children to play in.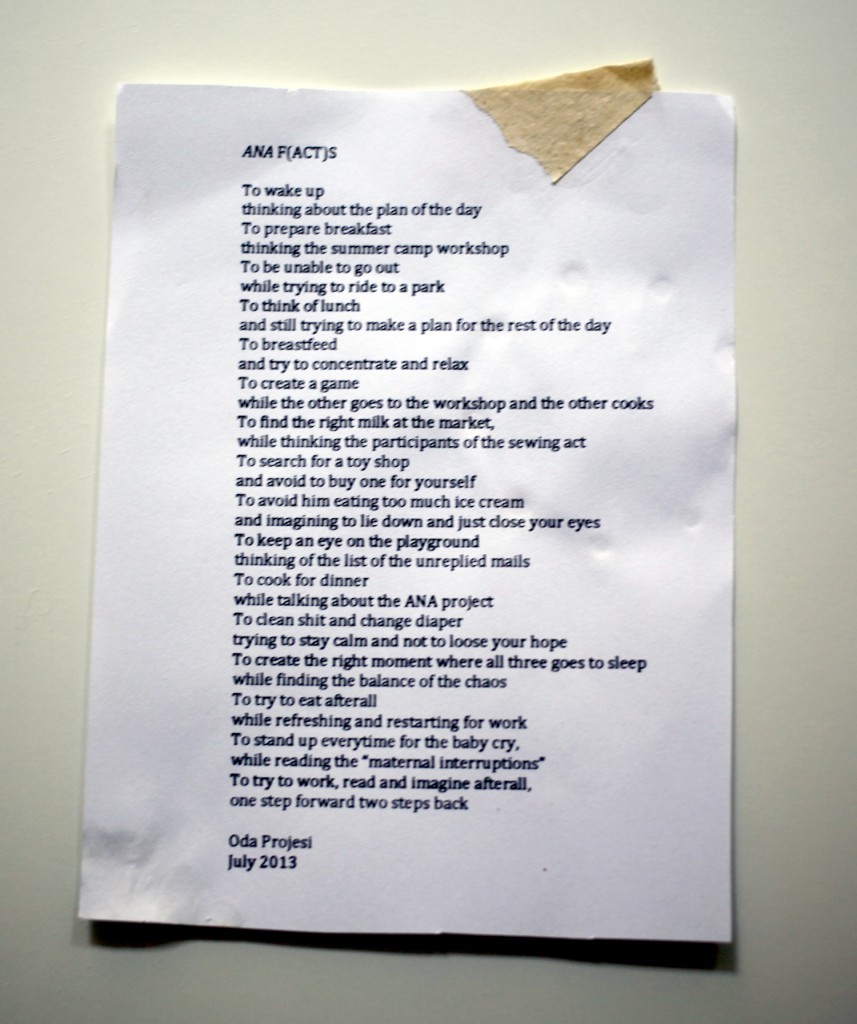 In addition to the work in the neighborhood, Oda Projesi,  along with the artist, Deidre M. Donoghue,  took a group of people out to the Danish forest of Hareskov for a discussion of maternal atitude next to an ancient fertility rune stone half-buried in the ground. This tour is part of Deidre's larger research–(M)other Voices. Read more here. On the tour was a spiritualist guide, Ada, who lead a group meditation around the stone.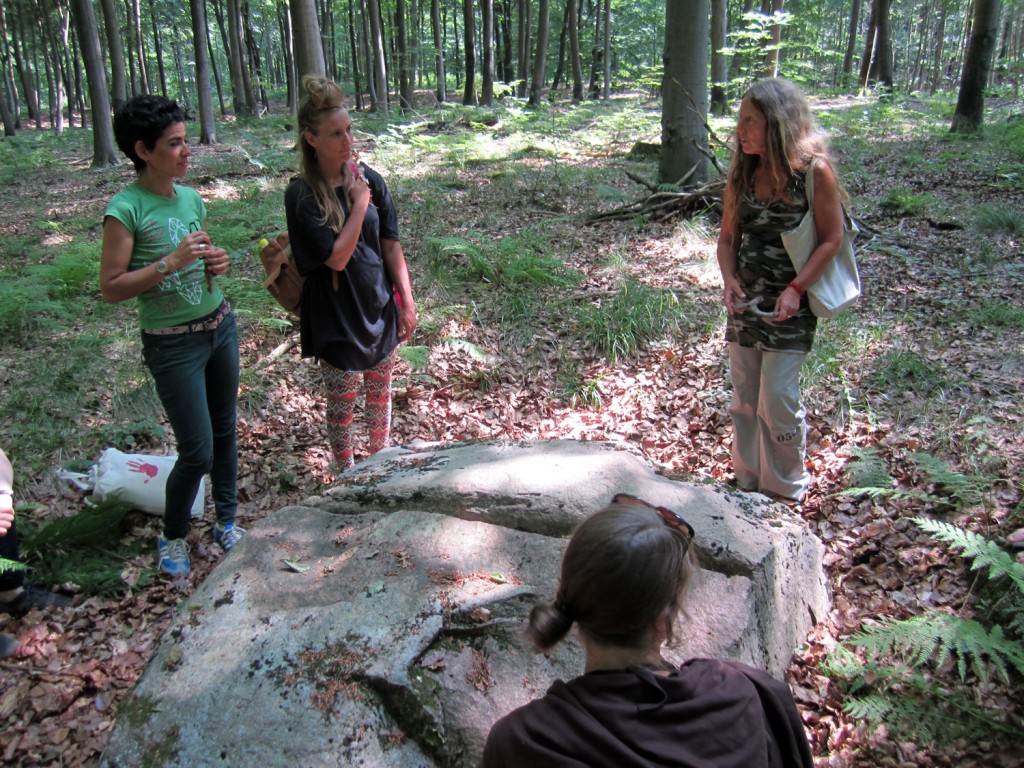 Oda Projesi's ability to make connections in the everyday, bringing disperate communities together is an amazing strength. It was wonderful to be around their energy. Their focus on daily details has developed an art practice that produces knowledge about how social situations create spaces–communities, cities, and parks.
My favorite part of their visit was their moving report back on Taksim Square / Gezi Park and the hectic texture of life in Istanbul. These three women observe, communicate, and connect and I am happy that for a few hours I was able to be pulled into their wake.
Radio Aktiv Sonic Deep Map (2013)

SUPERKILEN – Extreme Neoliberalism Copenhagen Style

Download our guide:

Video interview:

Watch our interview of SeedBroadcast, a mobile project that is part seed library and part seed-saving-story-collecting machine-recording the stories of seed saving, farming, and food sovereignty work being done around the US.

BOOK: Deep Routes

Bonnie co-edited this collection of essays that reflect on who gets to define a region and what the struggles are in relation to being in a place and demanding social justice across many issues and terrains.

---

Download a poster Bonnie made about biodiversity in a vacant lot in the Amager borough of Copenhagen, in collaboration with biologist, Inger Kærgaard, ornithologist, Jørn Lennart Larsen and botanist, Camilla Sønderberg Brok: A BRIEF TAXONOMY OF A LOT

---

We made and installed a network of bat houses in Urbana, Illinois, to support the local and regional bat population, but also to begin a conversation about re-making the built environment.
READ MORE

---

BOOK REVIEW:

We write often about artists and art groups that work with putting 'culture' back in agriculture. Here is a new favorite: myvillages, a group of three women based in Germany, the Netherlands, and the UK. Read more...