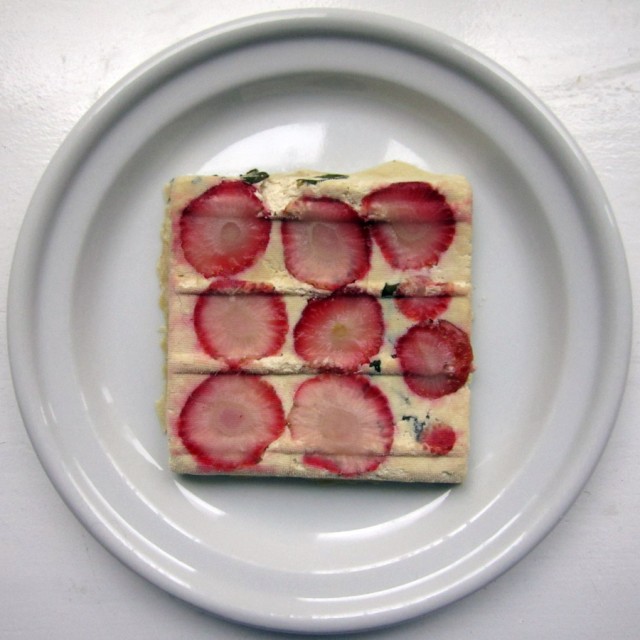 It has been a while since I have made any tofu. I am happy to be back at it again experimenting and learning this ancient craft. The tofu I am making is seeming more and more like artisanal cheese. I made this batch by heating the tofu with mint and lemon balm mixed in. This seems to have diminished the amount of soy milk that curdled producing a smaller amount of tofu. I will probably marinate the tofu in an herbal tea in the future and not add herbs to the heated soy milk. The combination of the herbs, strawberries and tofu smells incredible though. This is the best smelling batch I have made so far. We will probably bake it and eat it with a sweet and sour compote.
Radio Aktiv Sonic Deep Map (2013)

SUPERKILEN – Extreme Neoliberalism Copenhagen Style

Download our guide:

Video interview:

Watch our interview of SeedBroadcast, a mobile project that is part seed library and part seed-saving-story-collecting machine-recording the stories of seed saving, farming, and food sovereignty work being done around the US.

BOOK: Deep Routes

Bonnie co-edited this collection of essays that reflect on who gets to define a region and what the struggles are in relation to being in a place and demanding social justice across many issues and terrains.

---

Download a poster Bonnie made about biodiversity in a vacant lot in the Amager borough of Copenhagen, in collaboration with biologist, Inger Kærgaard, ornithologist, Jørn Lennart Larsen and botanist, Camilla Sønderberg Brok: A BRIEF TAXONOMY OF A LOT

---

We made and installed a network of bat houses in Urbana, Illinois, to support the local and regional bat population, but also to begin a conversation about re-making the built environment.
READ MORE

---

BOOK REVIEW:

We write often about artists and art groups that work with putting 'culture' back in agriculture. Here is a new favorite: myvillages, a group of three women based in Germany, the Netherlands, and the UK. Read more...