What is in the Vorratskammer (Pantry)? On myvillages and feeding 8,000 people
We expected 5,000 and 8, 000 came.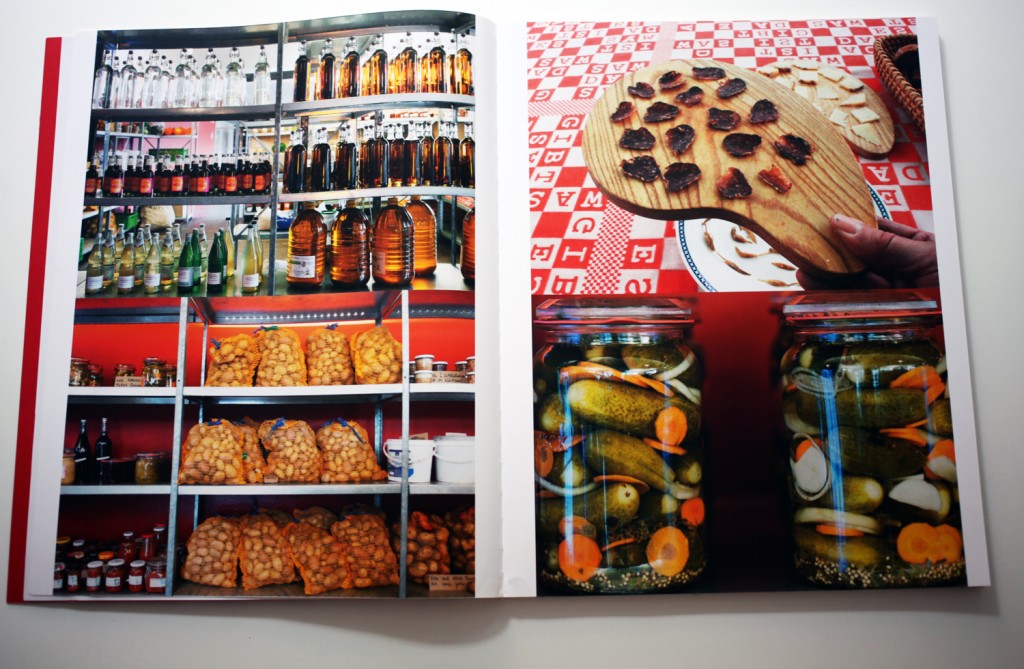 Wild boar meat (sausage, paté, etc.), homemade cheese, candied violets, 5kg garlic, 21 jars of plum jam, 4 liters rhubarb syrup, 6,000 Salanova lettuce heads, 25 kg pearl barley, 20 kg tomatoes, 1,000 chicken eggs, 50 kg carrots,10 liters pumpkin seed oil, and this list continues. It is not a recipe for a strange dish, but rather a sampling of the stock of foodstuffs–the pantry–put together by myvillages (Wapke Feenstra, Kathrin Böhm, and Antje Schiffers) and collaborators for the Über Lebenskunst festival at the Haus der Kulturen der Welt in Berlin in August 2011.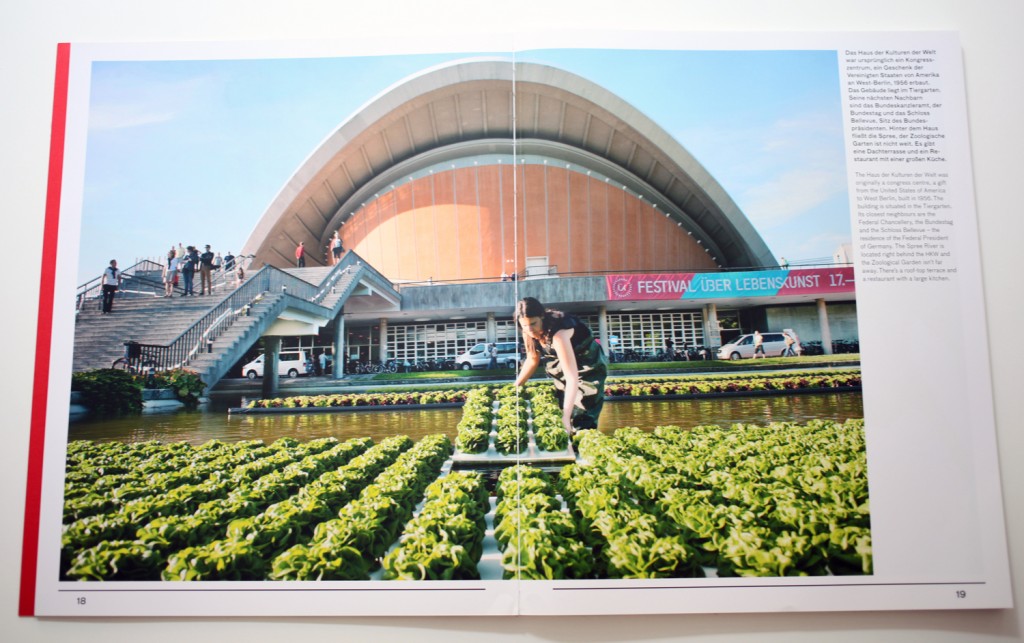 Today, I am only looking at the book. Even if I were to go to Berlin, the pantry is empty, the 1000 liters of beer tapped on the first night,  and the lettuce fields floating in front of the museum have long since been eaten by people and ducks, before being removed. The over-sized, eccentric book, its cover patterned with the checkered table cloth designed especially for the event, tells the story, in English and German, of the elaborate preparations made over 1 year to feed guests for a 5 day event. Woven into the table cloth pattern– What's there is there.  "It's what you say about pantries, about what is locally available," reads the book.  And that is the project–to produce 5 days of food as locally as possible, as close to the event as possible, through the community surrounding the artists and the cultural institution.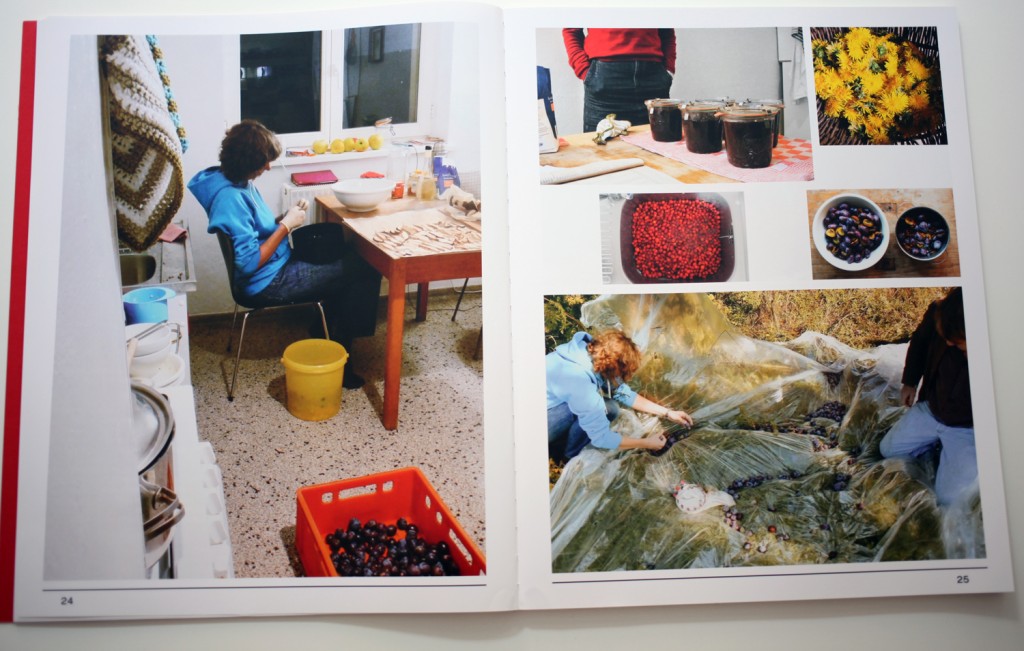 The focus of the myvillages artist initiative, now in its 10th year, is "the rural as a space for and of cultural production." All members of the group come from farming communities in the Netherlands or Germany. This common connection inspires their collaboration and the projects that they focus on. For the Vorratskammer (Pantry) project, they worked with community gardens in Berlin, hunters and universities, but they also returned to their friends and neighbors in rural areas to gather the incredible amount of foodstuffs. For example, myvillages member Antje Schiffers, went out with her uncle Jörg in the German forest to forage porcini mushrooms to be preserved for the dinners. Foraging was an important element in the creation of the Vorratskammer. Plums, mushrooms, dandelions, violets, walnuts, raspberries–among many other foodstuffs were collected because they were "free and belonged to everyone," writes Antje.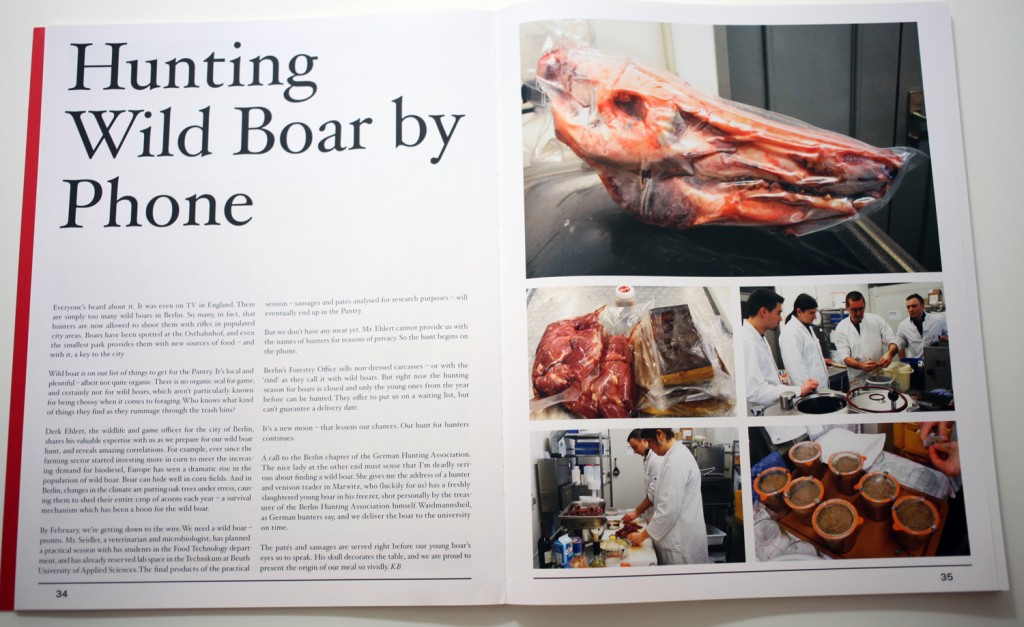 Wild boar roam in and around Berlin. Kathrin Böhm writes that their populations are exploding because of a rise in corn production to meet European biodiesel demands. The dense corn fields provide the perfect shelter for the species to thrive. This particular boar was shot by the treasurer of the Berlin Hunting Association and processed into sausages and patés by the Food Technology Department at the Beuth University of Applied Sciences.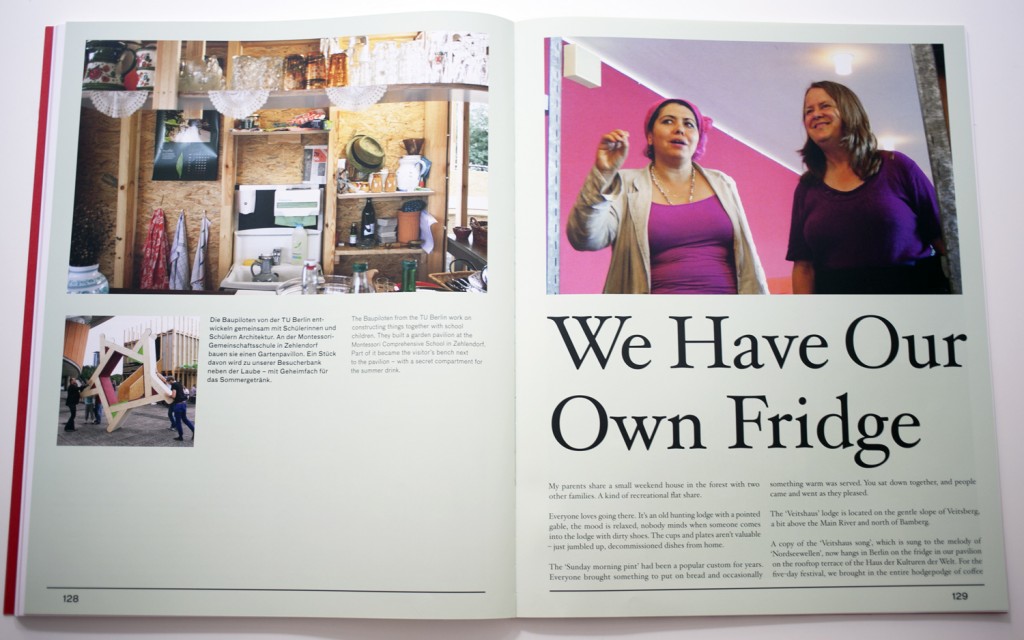 The ambitious Vorratskammer was a seductive exploration of food, place, and community purpose. Drawing in rural networks with urban institutions, the project united many different social groups around delicious food. The large format book design draws the reader into what can only be described as sensuous experience-large format images of the beautiful food, laughing guests, and serious forages and food preparers capture this ambiance of the event. The book reads like a scrapbook from a year of a local foodie–a rich personal experience, that makes you wish you had been there to sample what was on the pantries shelves–appearing bare at the end of the book.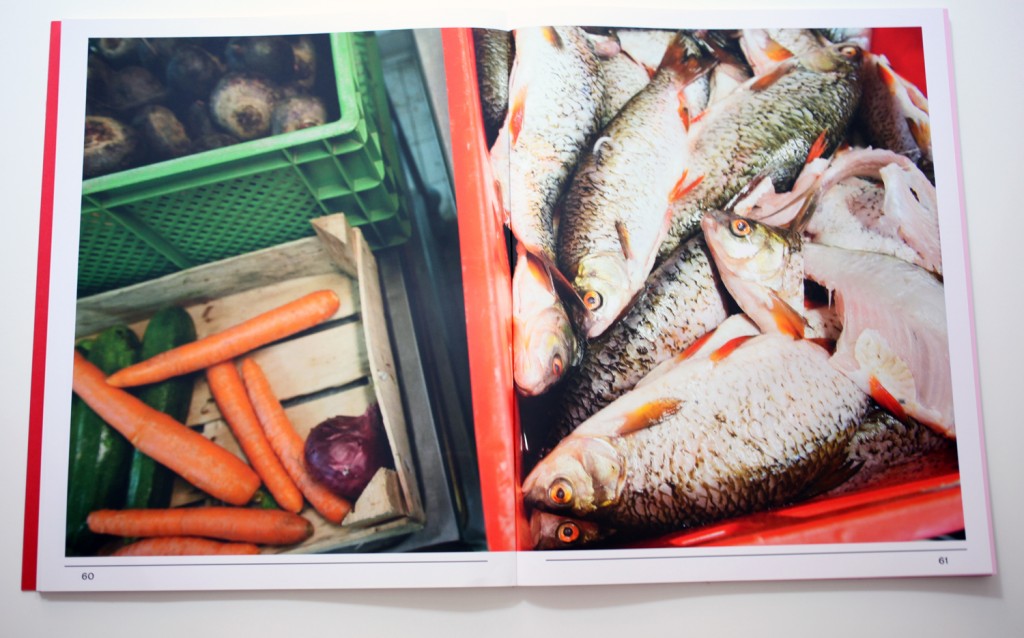 Thanks to Wapke Feenstra for sharing this book with The Mythological Quarter.
Radio Aktiv Sonic Deep Map (2013)

SUPERKILEN – Extreme Neoliberalism Copenhagen Style

Download our guide:

Video interview:

Watch our interview of SeedBroadcast, a mobile project that is part seed library and part seed-saving-story-collecting machine-recording the stories of seed saving, farming, and food sovereignty work being done around the US.

BOOK: Deep Routes

Bonnie co-edited this collection of essays that reflect on who gets to define a region and what the struggles are in relation to being in a place and demanding social justice across many issues and terrains.

---

Download a poster Bonnie made about biodiversity in a vacant lot in the Amager borough of Copenhagen, in collaboration with biologist, Inger Kærgaard, ornithologist, Jørn Lennart Larsen and botanist, Camilla Sønderberg Brok: A BRIEF TAXONOMY OF A LOT

---

We made and installed a network of bat houses in Urbana, Illinois, to support the local and regional bat population, but also to begin a conversation about re-making the built environment.
READ MORE

---

BOOK REVIEW:

We write often about artists and art groups that work with putting 'culture' back in agriculture. Here is a new favorite: myvillages, a group of three women based in Germany, the Netherlands, and the UK. Read more...